Literature is an important subject that needs to be a vital part of your children's homeschooling journey. They need to read books that expand their horizons, challenge them and make them dream of big things! Lord of the Rings is a trilogy that will do just that! Encourage your middle and high schoolers to enjoy reading these classics from J.R.R. Tolkien with The Hobbit Book Study and The Fellowship of The Ring Book Study.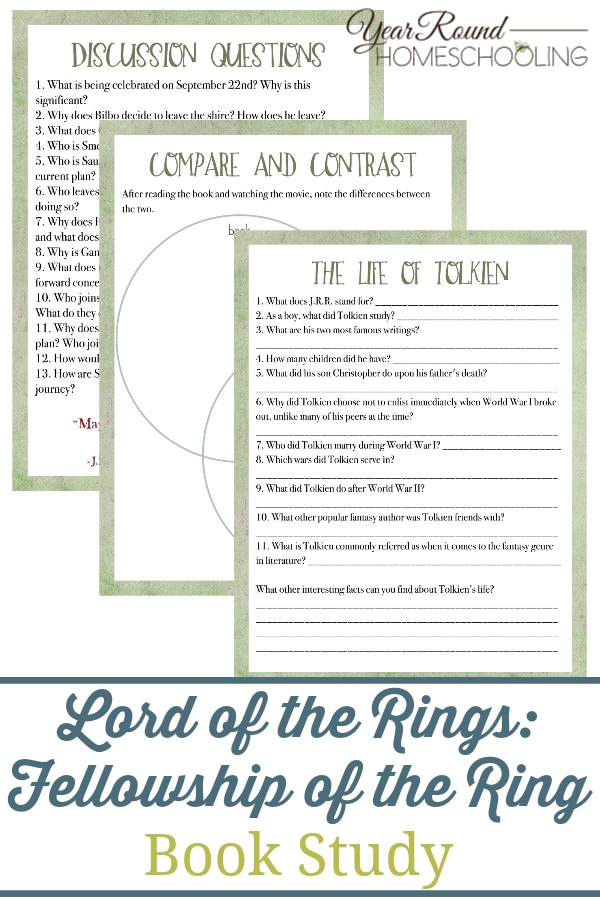 The fantasy world of J.R.R. Tolkien is filled with Elves, Orcs, Hobbits, Wizards, and evil Overlords bent on world domination. If your children enjoy filling their days with adventure, magic, and fantasy, they will enjoy this book. Not only will they enjoy it though, you can as well! Whether you are reading Fellowship of the Ring as a bedtime story, a homeschool assignment, or just reading it for pleasure, J.R.R. Tolkien's Fellowship of the Ring is a classic that fill you with awe, touch your heart, and make you cry until you have no tears left.
You can easily incorporate this Fellowship of the Ring Book Study into your middle and high schoolers homeschooling! It includes discussion questions, the legacy of J.R.R. Tolkien, compare and contrasting and more!