You might hate me when I tell you this, but I've had all four of my children beg to start school early this year. Some of you understand, some of you are desperate to hear how such a thing is possible and some of you growled and closed this article before finding out more. And I understand. I've seen the magazine ads going on about "love of learning" and wanted to burn them. I've been there.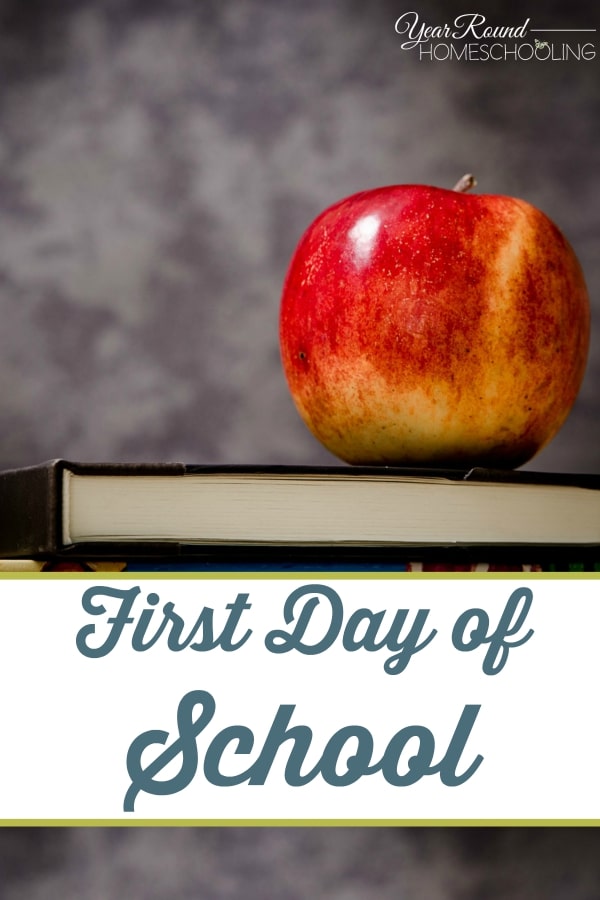 My children don't always have this enthusiasm. It certainly waxes and wanes throughout the year, but they really do enjoy homeschooling, for the most part. I attribute this to 2 things: A need for a routine and a fun first day.
Routine
First, please note that a schedule is not the same as a routine. If you're like me, schedules start with a hefty dose of enthusiasm as you build pretty charts and plans. That enthusiasm lasts all of one day, maybe two, before anxiety sets in. By the end of day one, we're already behind by three hours and the schedule is useless. You probably aren't like me; you're probably much more stable. Regardless, schedules and routines are not the same thing. Schedules tie you down, routines give you freedom.
A schedule might say that you do math from 8:00 to 9:00. A schedule does not account for the trip you took yesterday that had everyone up three hours past their bedtimes. It doesn't allow for the fact that math sometimes takes 15 minutes and sometimes takes 2 hours.
A routine says that everyone knows what is expected of them as the day begins. First they make their bed, then they do their chores. Bible studies and breakfast precede math, but if breakfast is cooked before Bible studies are finished, it's really okay to pause and go back to it after eating. Though we school year round, we lose steam through the summer. There are so many activities going on that we can't keep a consistent routine. By the time August rolls around, they begin getting antsy and snippy with each other. Too much freedom leaves them dissatisfied. Isn't that the way of all of us, really?
Find your routine. Figure out what fits your family's needs. Help them know what is expected of them. It gives a sense of security and brings peace to the home. They may fight it at first, but deep down, we all crave expectations to live up to. They will appreciate it, eventually
First Day
I get excited about our First Day every year, which may sound strange for a year-round homeschooler. I've found that we all benefit from having a formal day to celebrate jumping back into a healthy routine. We choose the day after Labor Day to begin ours each year. While it does celebrate the new routine, it rarely exemplifies the routine. We allow for a relatively slow week, gently easing into it. Day one includes fun and an introduction to any new books they are about to receive. We discuss the goals for the year and get a glimpse of the big picture we're to study in history.
The Fun
Our first day begins with a Scavenger Hunt. We've done these every year for as long as they can remember. They all work together to find the prize: Breakfast and School Supplies. I usually make my kids eat boring, protein-filled breakfasts, but First Day of School breakfasts involve a coffee cake loaded with brown sugar crumbles on top. School supplies include new markers, crayons, geeky math tools, stickers, cool folders, etc.
I try to keep the hunts simple. For non-readers, I've drawn pictures of the location of the next clue: a bed, a couch, the bathtub, etc. As they get older, I try giving riddles. For example, "You can eat me at Thanksgiving or you can find me on the globe," leads to a clue taped to Turkey on our globe. For more (read: less lame) clue ideas, check out iMom, Scavenger Hunt Fun, and Coolest Kid Birthday Parties.  Tip: make a list of the clues and where you're hiding them. You might even want to number them. It can get confusing once you get started. I hide about 5-7 clues while they're still asleep.
Mine love this tradition and always beg to do more throughout the year, but I don't give in. #1, it's HARD! and #2, I want it to stay special for all twelve years of each child's schooling.
The Memories
Our other big tradition is to fill in an information sheet. This has their name and age, height, and weight. It lists their goals for the year and even a spot for their signature. They love comparing these to previous year's information sheets and seeing how far they've come! Feel free to use this first day of school form I created.
What school traditions does your family look forward to each year?