When we began homeschooling, I created a rigid schedule for us to follow. Our oldest had attended a local church preschool and the schedule seemed to help keep him on task and focused. So I began planning and set it up, posted it on the wall and we were off. It was great for about the first month, until he learned to tell time. Then, it quickly became a nightmare. He became like Rainman and began counting down the minutes until it was lunch time or when we needed to start the next subject.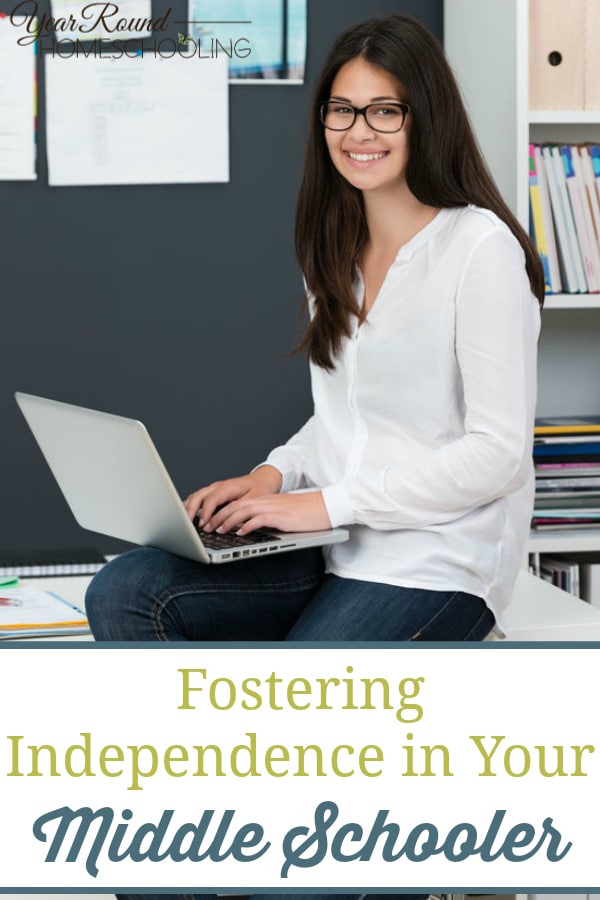 That lasted about two weeks and the schedule came down. It was so much pressure to stay on task and keep him focused while taking care of two other children under the age of 2. It was time for a new plan that would help him gain independence as he grew.
In the Elementary years, kids are given a worksheet and they complete the assignment, then move on to the next. However, in middle school, we expect them to have the necessary tools to stay on task and complete assignments on their own.
As the teacher, it is essential that we take steps to prepare our middle schoolers for the expectations we have for them. We can not for a moment think that our children can read our minds, so we must ensure our children know how to complete that which we expect. Successful independence can only be achieved when given guidance and steps to follow as part of the learning process.
6 Steps to Encouraging Independence in Your Middle Schooler
Give a monthly overview – Even if you choose to follow a child-led approach, planning assignments or goals for the month is important. Giving your child an overview of the focus for the month and what you want accomplished helps them see the bigger picture and more than just their day-to-day tasks. As they continue to mature, the monthly overview will help them work ahead if they choose and even push themselves to do more.
Have an assignment list – The biggest change in our oldest child came when we gave him an assignment list. Instead of me nagging him every day about whether or not he completed his work for the day, he began completing them on his own. The daily assignment list gave him the freedom to pick and choose what subject he did first as well as how to manage his time. Most days he is completely finished with his assignments by noon, because he gets up and starts school early.
Create a weekly schedule – As you see them mature, you can move to a weekly schedule to give them even more freedom. With a weekly schedule the child can pick and choose when and what assignments they want to complete first and on what day. Maybe they dislike math, so they choose to do all of their math on Monday, so it is done for the week. Or they struggle with Science or History, so they choose to knock those assignments out first. Whatever they choose to do, so long as the assignments are completed each week, they are good.
Give due dates – I know many homeschoolers don't give due dates, but I would encourage you to assign some throughout the year. Not only will it help them work on time management, but it will also help prepare them for high school, college and beyond. I usually assign one creative writing paper a month in 6th grade, two in 7th grade and three a month in 8th grade, which leads them to one-a-week in 9th grade. All of those due dates are to help them work on their time management skills gradually, so they won't fail, but improve.
Set consequences – With due dates come consequences. Without consequences, there would be no reason to give a due date. However, in college and later in the business world, aka life, there are real consequences. The sooner they learn their actions (or lack thereof) have consequences, the better. I cannot tell you what consequence is appropriate, but it can range from removal of technology, time away from sports, friends or something completely different. You know your kids best. Whatever you choose, make sure it has value and meaning to them or it won't matter.
Demand more – As your middle schooler matures, demand more from them. They need to be pushed. Not pushed to the point of frustration, but pushed to show them (and us) they are capable of more. We encourage our children to do their best at all times, but we forget to demand more from them as they mature. Often times we get caught up in the day-to-day tasks that we forget to push harder and help our children do the same. Demanding more from your middle schooler is the difference between just completing assignments and really learning.
Even though we, personally, begin fostering independence in our children long before middle school, it's not too late to start now. In fact, with these simple steps, your middle schooler will be on their way to independence in just a few short weeks!
How do you encourage independence in your middle schooler?