There may come a time when you need to figure out where your child fits in, whether it be for a new homeschool curriculum or simply determining a grade level. Thanks to a variety of free homeschool placement tests, the task is probably easier than you think!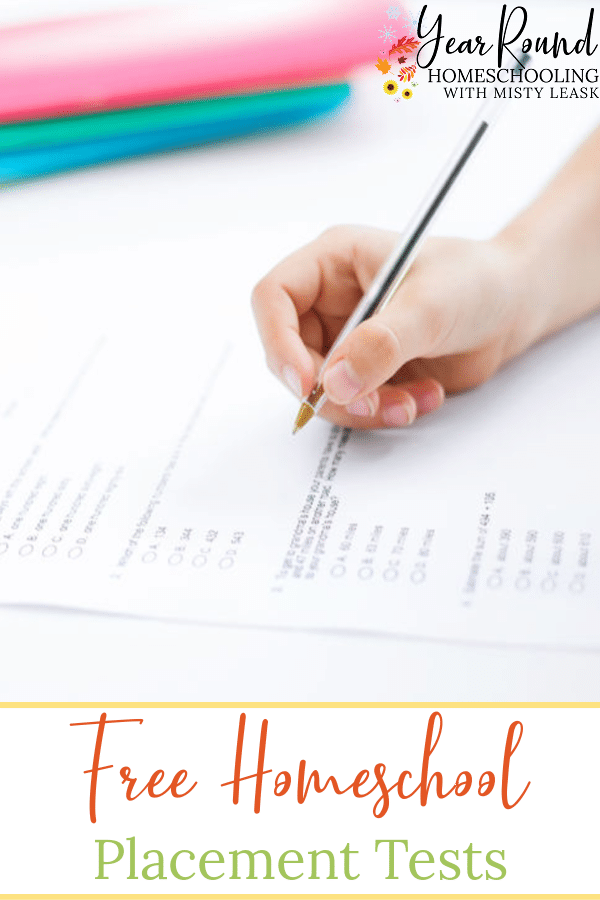 While I do not believe that any type of testing should be the basis of our children's education, it can be helpful in some ways. I've used standardized tests to aid homeschool planning and have found them to be refreshing and helpful. If you're just getting started with homeschooling or are considering changing up your homeschool curriculum, these free homeschool placement tests will be helpful to you!
15 Free Homeschool Placement Tests
Free Online Placement Tests
With Easy Test Maker's free service you're able to create up to 25 tests for your students. You can choose to either have them complete the tests online or print them out. Each test you create comes with an answer key as well.
There are yearly payment options with more features if you find that you like their testing resources.
Edinormatics is the place to go to get access to specific state benchmark tests and assessments. It's a resource that you can use to help figure out where children stand in regard to several subjects. Depending on the state, you have access to complete tests or a wide variety of sample questions.
Please note that these tests may be aligned with Common Core Standards.
Internet4Classrooms is another popular homeschool placement test resource. They range from first grade through college preparation. You'll be pleasantly surprised by the number of options available for each grade level.
If you'd rather administer paper tests, you'll find the printable options here.
The online reading and math assessment from K5 Learning is good for your youngest students! You can access it for free with a 14 day trial that also includes their entire program! You'll also receive a free report providing an objective evaluation of your student's reading and math skills.
This curriculum allows your children to receive a personalized online learning program so that they learn at their own pace and level.
Free Math Homeschool Curriculum Placement Tests
Math Mammoth provides you with free math placement tests for Grades one through seven. The company offers a complete math curriculum course. However, no purchase is necessary to take the tests.
It's recommended that you first choose the grade level you think your child will pass and then go from there. The site also features teaching tips and a variety of math-related freebies.
Teaching Textbooks offers free placement tests for all of their math curriculum from Grade 3 through Pre-Calculus. Their curriculum is available on CD-Rom, Textbook and Online.
You can also see if their curriculum is right for you with a free trial for all grades offered up to lesson 15!
Discover what grade your children need to start math with using Singapore's free placement tests for Grades 1-5. They also feature free math practice options for each grade from 1-5.
Please note that this math curriculum is aligned with Common Core Standards.
Learn Math Fast's curriculum features 7 volumes covering math topics from addition/subtraction through high school geometry. They offer a free online or printed placement test to determine which volume your child should start.
They also have several free printable resources for your homeschool math class as well.
While their curriculum doesn't follow the standard grade level approach, you'll find Math U See provides math class options for your youngest students through Calculus. Their free placement tool is online and you'll receive recommendations online and can call customer support for more advice as well.
You'll also find many free resources available through the parent and teacher resource pages including worksheets, drills, webinars and more.
This is a traditional Textbook based math curriculum that covers Kindergarten through Advanced Mathematics. You can determine where your children will need to start with the free printable placement tests for their curriculum.
While these placement tests are featured on Sonlight's website you can purchase Saxon math at various places online after completing the free placement test.
Horizon's features math curriculum for students in Grades 1-6. This was the first math curriculum that my son in Kindergarten. You'll find free placement tests to print for your students to try here. Each test can take 30-60 minutes to complete.
While the placement tests are featured on Sonlight's website you can purchase Horizons math at various places online after completing the free placement test.
Free Curriculum Based Placement Tests
You'll need to create an account to access the Monarch Math and Language Arts placement tests for your students to take. They offer online curriculum for all grades and subjects!
If your students enjoy completing their work online then definitely check out this curriculum, just keep in mind you'll need an internet connection to complete all lessons.
Sonlight is a Christian-based curriculum company, also providing free homeschool placement tests. No need to make a purchase. Test options include language arts, a general reading assessment and tests for several popular math curriculum programs.
This curriculum is literature based, a wonderful option for kids who love to read!
This homeschool curriculum features workbooks that are student paced for Kindergarten through 12th Grade. They offer curriculum for Bible, Math, Language Arts, Science, History and more! There are free printable placement tests for Bible, History/Geography, Language Arts, Math and Science covering Grades 1-8 and 7-12.
Before it comes time for your homeschooler to take the SAT, it's time to practice, practice, PRACTICE! This site gives you access to full-length SAT practice tests, of the official variety. Students have the option of taking them online or printing or taking them in audio format.
At the time of this writing, there are eight separate tests available. Quite honestly, it doesn't hurt to take all of them. Remember, there's no such thing as too much learning!
This is just a sample of free placement tests available to homeschool parents. It's a great idea to test your child, before purchasing a curriculum package or creating your own lesson plans. This way, things won't get boring because the work is too easy or frustrating because it's too difficult.
If you know of any other free homeschool placement tests available, please let me know in the comments below so that I can add them.
How do you determine which homeschool curriculum grade or level to use with your children?