History is not often a child's favorite subject. It is referred to as 'dry and boring' oftentimes. This History Challenge will help your children see that learning history can be fun!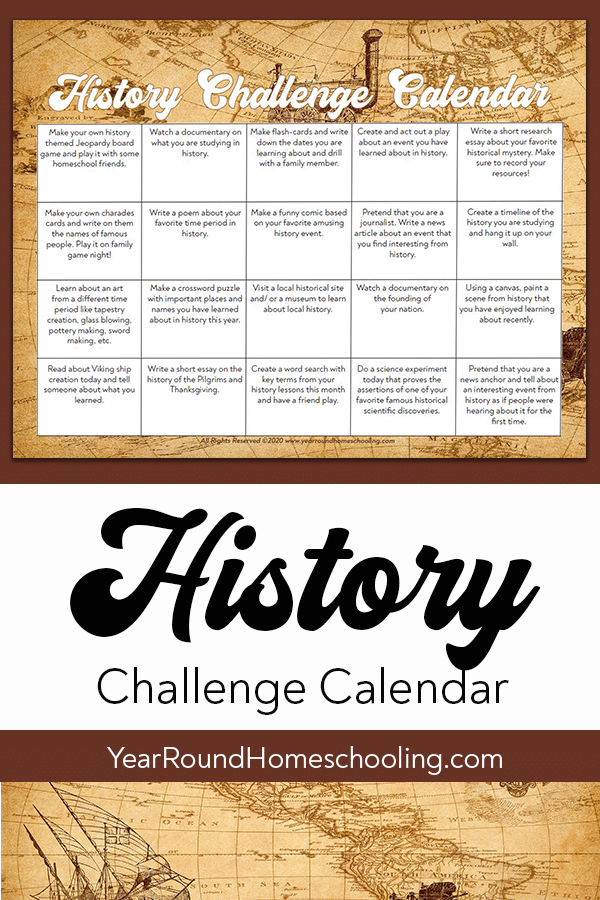 Growing up, I did not like history. My mom, on the other hand, loves history.
I'm sure it was very frustrating to her that I had zero interest in the subject.
As a grandmother, she was thrilled when both of my kids showed an interest in history from an early age.
She loves talking about history, watching the History Channel and reading history books.
I don't love history now, but I do have an appreciation for it. I love historical fiction and am quite certain I was born in the wrong decade…possibly the wrong century.
Whether your kids show a specific interest in history or not, it is important that they study history. After all, if we don't learn from it we're doomed to repeat it, right?
This History Challenge Calendar features fun history ideas like creating a play, visiting a museum, writing a poem, creating a board game and much more.
For even more monthly challenges to use throughout the coming year, be sure to check out my store page here.