If you have multiple children, homeschooling can be expensive. Once kids enter middle school, curriculum and supplies get even pricier. Honestly, after being able to find great deals on elementary curriculum, I was a little worried that our small homeschool budget wouldn't be able to handle the increase in prices. However, after doing some searching and finding curriculum we love, we have learned to make it work with our very tight budget.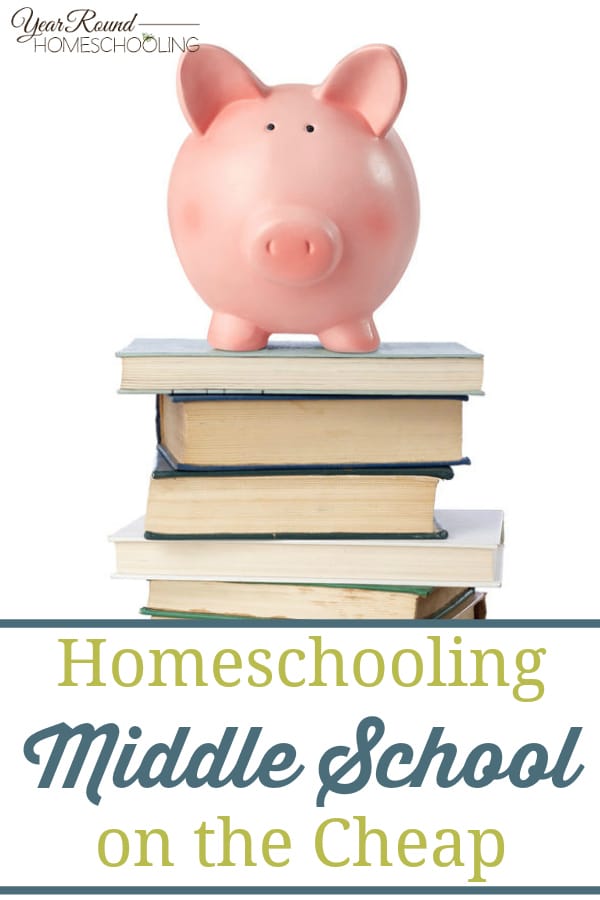 Over the last two years, we have managed to keep our middle school budget for one child under $100 per year by following a few simple guidelines, doing some research and planning ahead. However, before you can save money, you need to know what you're using. So, I always create a spreadsheet to outline what subjects we plan to cover and an idea of the curriculum we want to research. Sometimes we have specific companies we prefer for a certain subject, but we still research and make sure its still the best option. I record everything on the spreadsheet and go from there. Whether you have been homeschooling for years, need a tighter budget or are looking ahead to a new year with a middle schooler, I have some tips that I think will help scale back your homeschool spending.
Buy Used or On Sale – One of the best ways to save money, is to buy used or on sale. We buy most of our children's clothes at the consignment shop, so why not shop consignment for our homeschool curriculum too? There are several places you can find good curriculum at a fraction of the price, but here are some of my favorites.
*Build Your Bundle Sale – We love the Build Your Bundle Sale. Not only because the prices are fantastic and fit any budget, but because we can pick and choose what we need. Their unique build your own bundle option allows you to create a bundle that truly fits your need, regardless of age group.
*Homeschool Classifieds.com – This is just one site where you can find homeschool curriculum. All the ads are divided up by subject and/or age group, as well as by Publisher and title. It is very easy to navigate, so long as you know what you're looking for. You can also come back and sell your used curriculum after you're finished!
*Sales & Clearance – Whether you watch sales on Amazon, your favorite curriculum or homeschool Facebook groups, everyone loves a sale. So when can you find them? Many curriculum companies will offer different sales throughout the year, but several times a year you will want to pay close attention – Black Friday-Cyber Monday and End of the Year Clearance. In my experience, those two sales are usually the largest for most homeschool curriculum.
Non-Consumable – In my search for curriculum, I love to find non-consumable materials. These materials are not used up with each child, usually meaning they can be copied like workbooks. These are perfect for families with multiple children, because the expense only occurs one time for the main purchase and then it is just paper and ink.
Family Memberships & Multi-Level Curriculum – Another easy way to consolidate and save money is to utilize websites that offer family memberships and multi-level curriculum. Many curricula can be used with a wide range of ages, so you not only save time, but money. This is a great option for families on a tight budget. You can also look into sites with family memberships. We have several different family memberships on different sites, that have saved us a ton of money.
* CTCMath – When our second and third child started homeschooling, we realized math curriculum was quickly adding up, as we needed workbooks for everyone. That's when we discovered CTCMath and absolutely fell in love. The wonderful part for homeschoolers is that they only pay 60% of the regular price! Plus, with a family membership you have access to every single level from Kindergarten – Trigonometry. That means kids can go at their own pace and move up or down as needed! That in itself saves money.
* Schoolhouse Teachers – If you've never checked out Schoolhouse Teachers, you are missing out! They offer over 300 courses from PreK thru 12th grade and 14 different subjects, plus electives! Classes range from Bible to Geography to Science to Foreign Language – including Greek, Latin, ASL, French, Spanish and more! This is a fantastic way for families to bring in a little extra to their homeschool for a minimal cost. Many families use only Schoolhouse Teachers for all their subjects, so that is a big money saver!
* Skill Trek – Academics is only part of the homeschooling experience. We are diligent to teach our children the basic subjects and even some electives, but are we as diligent in teaching them life skills? Skill Trek is "an A to Z collection of life skills we believe all children should know in addition to their traditional schooling or homeschooling. The skills are fun and creative and include professionally designed lessons and videos." They also offer two options for you to receive the lessons – an Online Subscription to our Web App or as individual Skill Trek Express bundles delivered to your email.
Free Printables – After I have scouted out and narrowed down the curriculum we'll use, I start the search for free printables. I have had a motto for years, if its free…its for me! I love seeing what I can find absolutely free for my kids. Whether as a full curriculum or a supplement, free printables don't cost you anything more than the ink and the paper you use. Of course, the printer will cost you upfront, but you'll get plenty of use out of it to justify the purchase!
Virtual Field Trips – One of the aspects I looked forward to most with homeschooling was the field trips. We could literally pick up and take a field trip whenever we wanted. However, with 5 kids they can get pricey. Not to mention we can't just pick up and fly across the world to take a field trip to Greece at a moment's notice. The answer: Virtual Field Trips. My kids love taking virtual field trips, because we can go anywhere, regardless of our budget.
Utilize the Library – Another favorite outing of my children is the local library. They love visiting the library, finding new books, sitting and reading books and the little ones enjoy the activities. As a middle schooler, the library is an invaluable resource. They can find books and resources not available online. The library is also a great way to introduce them to new literature, authors and genres. Plus, with a library card…it's all free!
Chores double as school – By middle school, if not before, most kids have regular chores. Yet, they don't have to be mindless tasks, they can double as school too. For instance, learning to cook is Science and Math. It involves radiant heat, infrared heat, chemistry, forms of measurement, ratios and more. Yard work and/or gardening is also a great way to incorporate Science. Making chores relative to what they're learning shows them that they are not just mindless actions.
Homeschooling through Middle School doesn't have to break the bank. With these simple tips and tricks, you can create a budget, even a tight one, that you can stick to without compromising on quality curriculum.
How have you saved the most on your homeschooling journey?