When my children were younger, their learning differences were less apparent – especially in homeschool groups. It seemed like every mom was trying to figure out hands-on activities and interest learning. The kids all played together, without noticing the details of one child's differences vs. another. If anything, there was a sense that because we homeschooled, we were all "kinda different."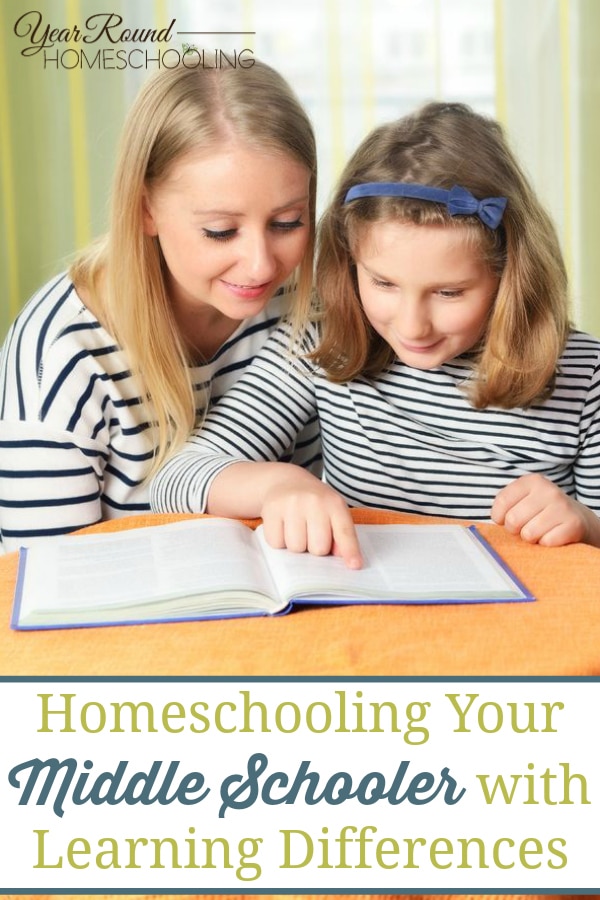 As my children grew, the differences did as well. Social situations became more challenging. Modifying curriculum became a constant struggle. My children were suddenly much more aware of their friend's reading ability or algebraic knowledge.
Homeschooling my middle schoolers has required some adjustments, but it has continued to be the best option for my boys. Along the way there are 3 things that I have learned that have made a big difference in homeschooling my middle schoolers with learning differences.
3 Tips for Homeschooling Your Middle Schooler With Learning Differences
Age Appropriate vs. Child Appropriate
Many children with learning differences also have gaps in execute functioning. Because of these gaps, social and emotional "ages" may be far lower than chronological age.
Because of this basic fact, many standard middle school materials and classes are not always appropriate for my son's emotional ability. I have had to be intentional about finding books and resources that are typically for younger kids, but do not appear baby-ish or silly to an eleven year old.
Hands-On Still Matters
It seems like most hands-on learning activities on Pinterest are for preschool and lower elementary grades. It's frustrating to be sure, because for my boys, hands-on activities are still the best way for them to learn.
Comprehension and retention are much higher for all children when a hands-on component is included, but this is especially true (and often a necessity) for older children with learning differences. A big part of my job as a homeschooling mom this year, has been finding and incorporating hands-on learning into our everyday lessons.
It hasn't always been easy, but it has been 100% worth it. One of my favorite resources for hands-on activities that are appropriate for middleschoolers is Tina's Dynamic Homeschool Plus. There are a ton of free options available – enough for more than a years worth of learning!
Interest-Led Learning Equals Growing Independence
I have always been a more interest-led type of homeschooling mom. When my kids were obsessed with pirates, we studied history and exploration. We ate oranges for snacks to avoid scurvy and we were sure to practice 'ahoy' as one of our spelling words.
Now that my boys are older, I find this interest-led approach to be even more valuable. Since my boys are old enough now to do some research on their own, I find that allowing them to pursue their own interests creates a deeper connection for what they are learning. In addition is also adds more responsibility for their overall education. For instance, when my oldest was in 8th grade, he came to me and asked if he could learn to build computers, part by part. He essentially taught himself how to do it on YouTube and only used my husband as a resource. The responsibility and independence he showed, despite his learning differences, was impressive for any child his age.
Overall, I want to encourage you that if you are homeschooling a middleschooler with learning differences, you are not alone and your hard work matters. The older my children become, the more I realize how powerful our decision to homeschool has been in their education and their lives.
We have fun learning together. We accommodate each other's differences and needs in ways that would not be possible in any other school environment. I wouldn't trade these middle years for the world.
What have you found to be the most helpful in homeschooling your middle schooler with learning differences?
____________________
Shawna Wingert is the creator of Not The Former Things, a blog dedicated to homeschooling children with learning differences and special needs. She loves finding out-of-the-box ways for out-of-the-box learners to thrive. She is the author of two books, Special Education at Home and Everyday Autism. You can follow Shawna and Not The Former Things on Pinterest.