**Please note resources mentioned in this post may have been received for free or I may have received monetary compensation to write this post. However, the reviews are my personal opinion. For more information, please see my disclosure page.*
My kids and I spend a lot of time in the kitchen together, so much in fact that I will be counting this time together as part of our life skills class for the upcoming homeschooling year! As a mom, I don't want to raise children that are unable to feed themselves and have to rely on macaroni and cheese in a box or soup in a cup.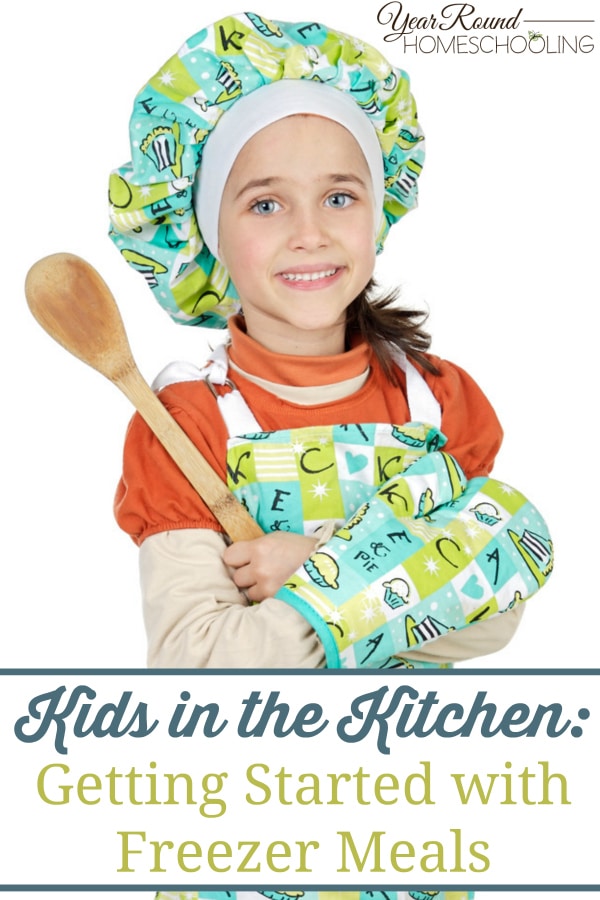 By teaching my children how to cook I will be helping them to be budget friendly, frugal adults because eating out or purchasing ready-made meals can be extremely expensive. Cooking meals from scratch will also teach my children to eat healthy which will contribute to their health throughout their lifetime.
As a busy homeschool mom, family business owner and professional blogger it is important for me to find ways to save time and money to ensure that my family eats healthy, home-cooked meals. I've seen freezer meal recipes online for a couple of years, but I have been too afraid to tackle them on my own because I was afraid I would mess them up and end up wasting both time and money.
I was thrilled when my friend Sharla told me that she was designing Freezer Meal Cookbooks and Meal Plans! Before I even began planning our upcoming homeschool year I knew that these were going to be part our Kids in the Kitchen Home Ec course.
I knew that these were exactly what I needed to become confident in creating freezer meals. My children enjoy spending time with me in the kitchen, so I knew that we all could do this together and learn how to save time and money in the kitchen while spending quality time together making memories!
Our new homeschool year has not started yet, but I did start looking into these resources myself in order to get an idea of what our class time would look like, how long they will take, items we will need, etc.
I know that the Freezer Meal Cookbooks and Meal Plans will be extremely helpful to our Kids in the Kitchen Home Ec course and the knowledge and tips we are going to learn through them will last throughout our lifetime!