How often we hear it said that children are like sponges. That's a big benefit to learning languages early on. Especially if they can be in an environment as they are learning, where they are able to join in conversation.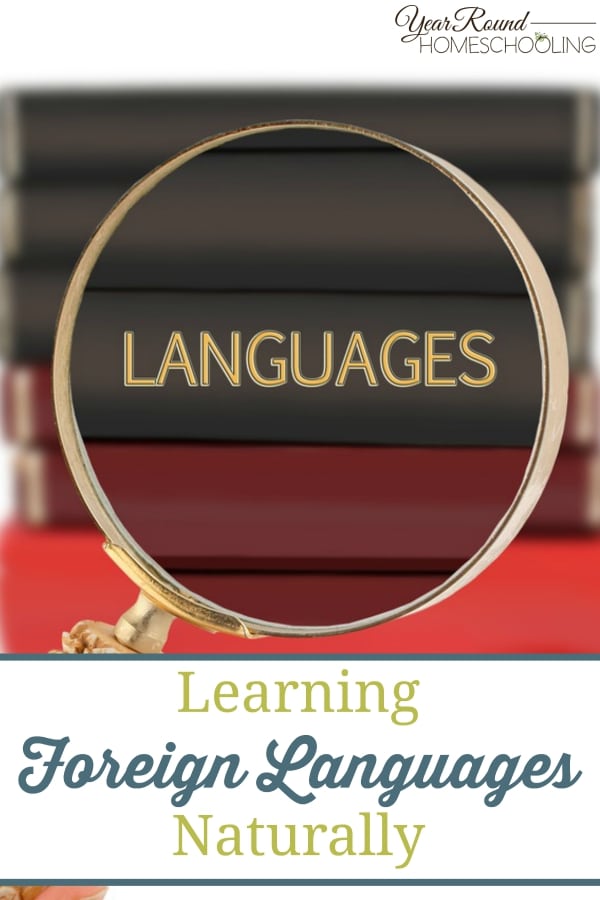 We all know that children learn best by learning and doing. So naturally, when it comes to learning a foreign language we want to encourage them to learn one that they can use. We want to engage them in activities where they have the opportunity to learn.  You start by using simple words and phrases to start.  Our kids have lots to do; I know mine are always super busy! That means when we start teaching a language we need to also begin speaking it right away. Reading and writing the new language can come later. Whatever our children are learning, we want them to be confident in it and that confidence will come from them using what they've learned, as often as they can. It's important to keep in mind that anything that our children are learning is most easily learned when linked to an activity. Vocabulary lists don't do any good alone themselves, when our children learn something that matters, and it is learned in context, it is more likely that they remember them.
You can start off by using simple conversation and useful phrases. Or how about a song that helps them learn a particular phrase? Whatever you teach, make sure it is something useful! Think about what your children enjoy talking about and start there.
Next you can move onto typical daily needs, their family and life (what we do), how they feel, what they like and dislike. How about their interests? My son was thrilled to get a list via email of his favorite superhero names in Mandarin Chinese. It is also good for them to know how to ask questions; getting information helps us in conversation right?
As they understand and become more comfortable with the phrases they have learned and and get used to using them, in time, they will begin to make their own phrases and further developing their speaking abilities.
Consider starting your foreign language learning with phrases like these:
I don't understand
Say it again
How do I do it?
Please
Thank you
Excuse me
Can I  we play?
My name is….
You could make a checklist as well. Remember, our goal is for our children to be able to engage in conversation with others naturally. We also want them to be able to share the things that are important to them, with others. Keep it simple. Remember when your children first began speaking? Use that as a model to guide you in your foreign learning.
There's a fun game we like to play when we are learning about how to express feelings. One of us will pretend to be tired, hungry, mad or sad. One will say "What's the matter?" and then others begin to guess by asking questions like; "Are you embarrassed?", "Are you scared?" and "Are you excited?". We take turns in this way so that we can use the words for the different feelings, while also showing how they can be expressed by others. This also allows us to learn how to respond to those who are feeling certain ways.
As a mom the most important things for me to know are phrases that encourage discussion and explanation. It also helps to be able to ask questions. Questions that are easily answered with a simple "yes" or "no" can be very helpful. I also want to be able to provide praise and direction as needed. Sometimes it is just a simple phrase like "well done" and other times it may be a phrase such as "It's time to clean up."
I know my children love to talk about the things they are doing and the ideas that they have. So, I like to make sure that what they are learning fits their situations and experiences. I like to have my own "checklist", this is not something that I share with my kids, but just something to keep me on track. In this way I can plan and record what we are learning as well as what we need to learn. This can also be a basic outline of what they want to learn (like animals, foods or places to go); I can tailor this to my kid's interests and at the same time include; colors, numbers, shapes, ways to greet a friend or say goodbye.
Numbers ~ how much, how many
Aphabet
Colors ~ What color is this?
Nouns ~ what is this?  classification? plural forms?
Conjunctions ~ and, or ~ "is this a….or a….."
Verbs ~ to be (I am), to have (I've got), questions like "Are you" or "Aren't you?"
Presuppositions  Place~ in, on, under, near ~  Where is it? Where are they?
Instructions ~ Stop, Go, Left/Right, Go Around, Under, Over
Adjectives ~ big, little, happy, sad
Pronouns ~ I, you he/she, we, they, my, yours, his/hers, its, ours, theirs (who/whose)
Verbs ~ want/don't want (apple or to go or park or eat or drink) "are we going?" "can we?", "do you like?"
Time ~ days of the week; meal time, hours/minutes, seasons, morning, afternoon, evening, night; "when"
Family ~ mother, father, brother, sister, grandmother, grandfather, uncle, aunt ~ "who is"
Body Parts ~ arm, leg, so, head, back, feet
Clothing ~ shirt, dress, skirt, pants, tie, shoes ~ "Whose is"
Home ~ kitchen, bathroom, bedroom, furniture (couch, chair, shelf, table, etc)
Transportation ~ Bike, bus, walk, run, drive ~ "how do we go"
Classification ~ a glass of, a box of, a piece of, etc
Forms of Verbs: "I am eating", "I am going", "Did we win" " I went"  "He isn't coming"
Community ~ Doctor, police man, baker, neighbor, teacher, butcher, grocer, sales person, librarian
Places ~ Library, Post office, doctors office, store, hospital, theater, bookstore, ice cream shop, barber shop
Adverbs ~ slowly, quickly, soon, now, hurry, there, here, sometimes ~ when, where, how
Adjectives ~ small, smaller, smallest; big, bigger, biggest ~ which one is smaller? bigger? better? best?
Remember to make it fun! Card games and activities can be built around any lesson!  When learning is fun and natural and fits into the things we do every day, it is amazing how much can be learned.
"He who knows no foreign language does not truly know his own." ~ Goethe