Finding ways to make reading fun can be challenging at times. Each child is unique so this can make things even more interesting! What one of your children defines as fun can be boring or frustrating to another. It's important to pay attention to each of your child's strengths, weaknesses and interests to ensure that they can enjoy reading the way they learn best!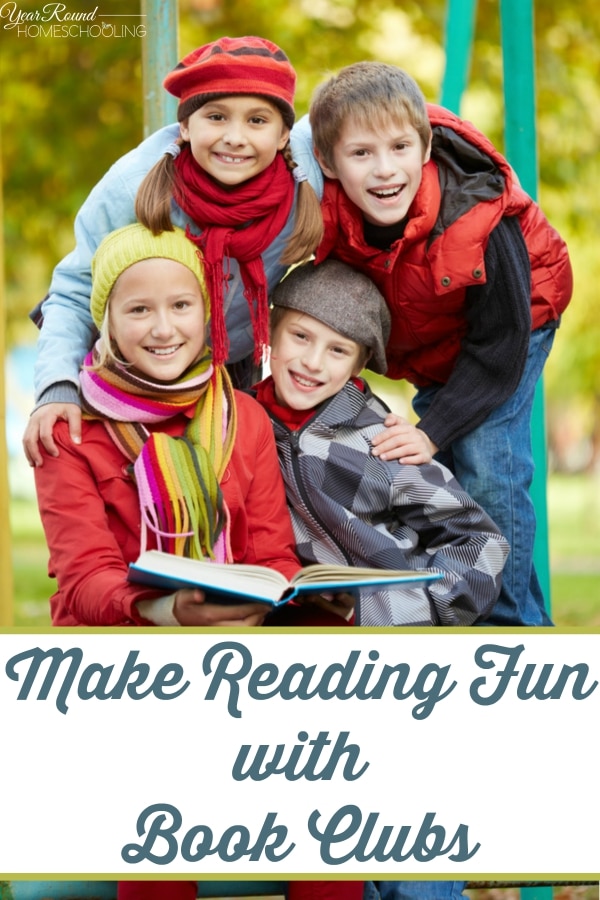 Book clubs are a great way to make reading fun! Kids love to get together with friends, so take advantage of this and add some learning time to it!
Children that are involved in book clubs learn how to discuss literature with others. Often they will face differing views which will cause them to dig deeper, grow their vocabulary and teach them how to research as well!
While they're discussing literature during the book club this will help them learn to speak well in front of others. This will be beneficial to any public speaking they do in later educational years.
Homeschool co-ops or support groups often have book clubs as well. If you're involved with either one, check there first. If they don't have one yet, then offer to start one! It would be a lot of fun and you'll have a say with what pieces of literature the children read for book club.
Your local library may have a weekly book club program in place already, that would be an easy way to get started. I would ensure that you either read reviews or read the book yourself prior to allowing your child to participate. Children's literature is changing with each passing day and you want to ensure that you know what your child will be reading prior to beginning the book club.
Hosting a neighborhood book club can be a lot of fun! Children often spend time with the kids in the neighborhood, why not make one afternoon a week time for a book club? Take time to discuss the idea with the neighborhood moms, put together a plan and decide on a few month's worth of books to read. Make it fun for the kids by adding in snacks, crafts and music that correspond with what they're reading!
Making reading fun is an important step on your homeschool journey. Your children need to enjoy reading to make learning fun! They don't have to read all the time nor does it have to be their favorite thing to do, but it needs to be fun for them so they can enjoy homeschooling!
Just in case you missed the rest of the series, you can find more ideas for making reading fun here!