This year in our history studies the boys and I are covering the Middle Ages.  I personally love this time period in history. It is a heavy time period with lots happening, exciting action and changes in history.  You could easily spend more than one year studying medieval times. This period usually covers the time between the fall of Rome (roughly 476) to 1400AD ( the age of exploration).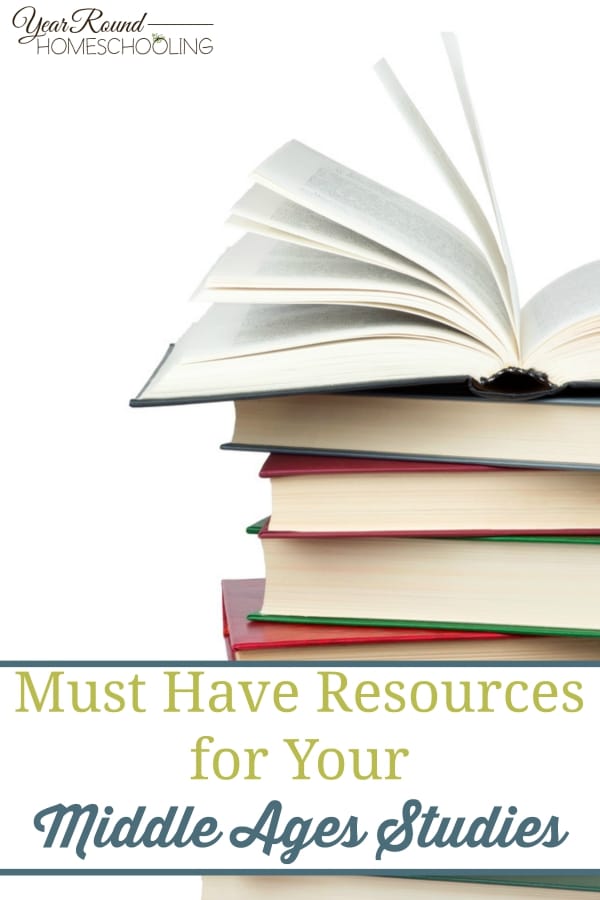 As I looked around at different curriculum I realized that some books should be staples for the study of this time period. So, for those of you who piece together their history curriculum I thought I would give you a list to get you started and then you can look into them.
History Spines for You to use for a Study of the Middle Ages
Usborne Internet-Linked Medieval World: perfect for elementary students
Famous Men of the Middle Ages by Poland & Haaren: great for the whole family, could be used as a read aloud or a textbook.

The Story of the Middle Ages by Samuel B. Harding: free on  the Baldwin Project. You can also find a free audio for it at Loyal Books (used to be called Books Should be Free)
The Story of Europe by H. E. Marshall: Free as well at the same places.
Story of the World: Middle Ages by Susan Wise Bauer: we have always loved listening to the audio versions of this series.
Books on the Middle Ages such as Middle Ages by Mary Quingley, or for the more focused History of Britain: The Middle Ages from the Usborne book collection.
Do not forget to browse your library as well for books on more specific topics and people such as:
Castles, Barbarians, Monks, Medieval Times, Vikings, Byzantine Empire, Islamic Empire, the crusades etc..
Galileo, Charlemagne, Attila the Hun, William the Conqueror, Joan of Arc, Leif the Lucky, Eric the Red, Marco Polo, Martin Luther etc..
I remember when we covered the Middle Ages our first round through (I follow a classical education), I requested almost all the books in the library for elementary kids on castles and vikings, and my kids had a blast browsing through them.
For any extra resources on titles for the Middle Ages, check out A Book in Times, it is an incredible source for your history studies.
In a future post I will share a list of fiction books to read correlating to this time period. In the meantime, don't forget to check out my previous post on Hands-on Books for your History studies, where I share hands-on resources to use for this time period as well.
Just in time for Reformation Day on October 31, which is a Medieval Studies topic, check out this wonderful Reformation Day giveaway! What do you think?