If your kids are anything like mine, they bring home LOTS of treasures from outside. We are overrun with acorns, pinecones, and the pretty leaves we just couldn't leave behind. (I like to pretend it's all because of my children, but I'm just as guilty – especially with leaves.) What, then, do we do with all of this lovely stuff? Just for you, here is a list of fun crafts I found while searching for things we could make with our autumn bounty. I hope you enjoy making some fun nature crafts this fall!
Acorn Crafts:
Crafty PSA: BAKE any acorns or other nuts before using them in crafts. (Soak them in some water to get the dirt off and bake at 200º-250ºF for an hour.)
Trust me, I learned the hard way, there are often things hibernating inside them, and you don't want them to warm up and hatch inside your house. It is quite a nasty surprise when one suddenly finds little creepy crawlies squiggling about on the dining room table.
Acorn Cap Jewels – This is a fun craft and a science experiment in one! – Idea from Kiwi Crate
Acorn Gnomes – These are ADORABLE. – Idea from Icybooh on Flickr
Acorn Candle Holders – So simple, and they would look lovely as autumn décor! – Idea from Creative With Kids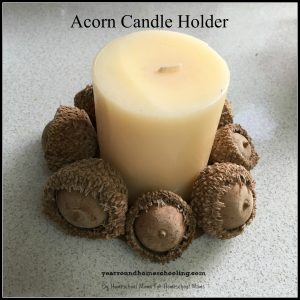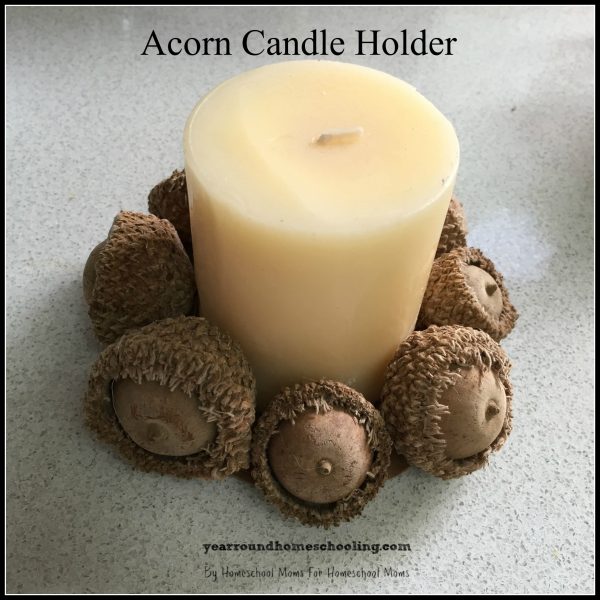 Leaf Crafts:
There is a great post from Buggy and Buddy about preserving leaves using two methods: glycerin, and wax paper. I will have to try the glycerin. Wax paper, which is what I remember doing as a kid, did not work particularly well.
Leaf Rubbings – Okay, this is my little plug for autumn nature study. I love to do leaf rubbings and have since I was a child. Not only do they make lovely window décor, but you can see the details of a leaf in the rubbing that can be difficult to see sometimes. This post has pictures of their lovely leaf rubbings, as well as book recommendations. – Idea from Edventures
Suncatcher Wind Chimes – Autumn leaves look so pretty in the sunshine, don't they? I love this idea that uses canning rings. Take some of your leaf pile, and make a lovely suncatcher to hang in your window, or on your porch. – Idea from Hands On As We Grow
Autumn Leaf Magnets – These would be so pretty on your refrigerator (or other magnetic surfaces)! Idea from Filth Wizardry
Pine Cone Crafts:
Note: You should bake pine cones as you would acorns, in the oven at 200º-250ºF for an hour (I'd recommend putting them on baking sheets lined with foil to catch any pitch). Don't wash them, though. Pine cones close up when they are wet.
Pine Cone Bird Feeders – I wrote a post last fall about making pine cone bird feeders. It's a craft and a nature study activity all in one! Hang them in your yard and watch the birds come in for a feast.
Pine Cone Forest – This has no practical use whatsoever, but I couldn't resist sharing this pine cone fairy forest. – Idea from The Fairy and the Frog
Pine Cone Snowy Owls – Okay, just one last pine cone craft, because who doesn't love snowy owls? – Idea from Art Experiences for Tots
I hope you feel inspired to try some fun fall crafting with your kiddos! What nature crafts have you enjoyed creating in the fall with your kids?