In our family, we try to include Biblical truths in each and every subject. In geography, this includes remembering that the Lord is the One who created our wonderful world and all people groups.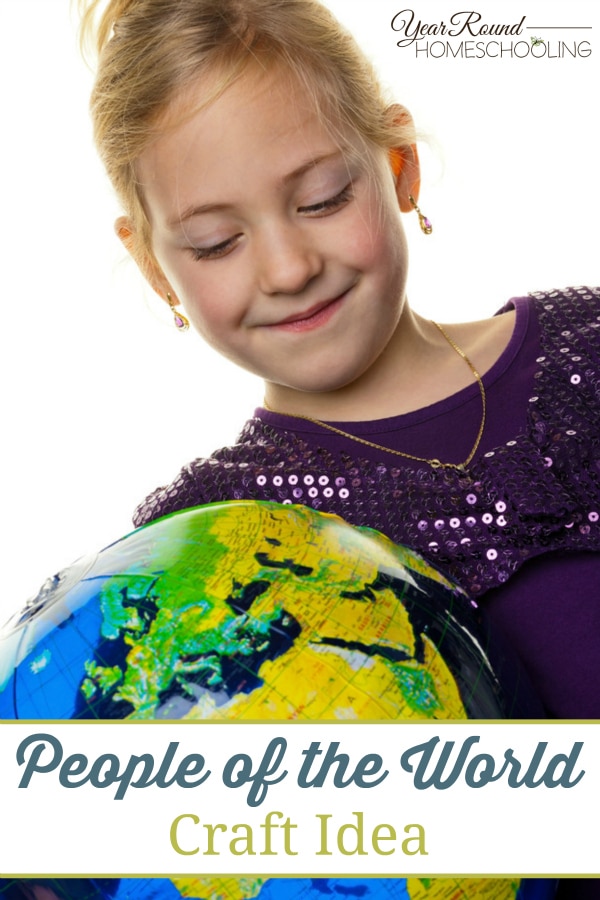 People of the World Craft Idea
Earlier this year, three of my children created a mini-poster to be included in their geography notebook that would remind them of this. It is really easy and this people of the world craft is a fun activity that most elementary age children would enjoy.
What you will need
A Bible Verse about God's Love (We used John 3:16, but there are so many verses that would work for this activity!)
Poster board or construction paper (We used construction paper so that the finished project would fit nicely into their notebooks, but a poster board to be displayed on a wall would work wonderfully as well!)
Old magazines (National Geographic would be perfect for this! We used an old Atlanta Parent magazine that I had laying around.)
Glue
Scissors
Colored Pencils or Markers
Extra Paper (optional)
First, my children cut out pictures of people from the magazine. If your children are artists, they can certainly draw the pictures to be used instead of using clippings from a magazine.
Next, they wrote John 3:16 on a white sheet of paper. Colored pencils, markers, or even crayons can be used. They cut the verse out and then glued it onto construction paper to create a frame.
Finally, they glued the photographs around the verse. What a great reminder of God's love!
So many different variations can be used to complete this craft. Different colored papers can be layered, it can be decoupaged, or a group of children could work together on this to make a spectacular poster board!
If your child takes an interest in a certain people group, don't stop there. Learn more online, and remember to include them in your prayers. This is an easy activity (for the sometimes craft-challenged, like myself). I hope that your family enjoys it!
You'll find lots of fun ways to teach your children about geography by following our Pinterest board below.
Follow Misty Leask's board Homeschool: Geography on Pinterest.