I recently stumbled across an amazing new product. Pick and Draw, by Rich Davis. What is it, you ask?
Pick and Draw is a fun, one-of-a-kind drawing game that teaches you how to make very creative cartoon faces.
At least 60,000 different possibilities in the game (the card deck).
Uses simple shapes everyone already knows; this helps build confidence in even the younger ones!
Endless hours of fun and learning.
Quick and easy to play.
Lots of different activities.
Can be played by one person or a group of people.
Helps inspire and encourage creative thinking and the imagination.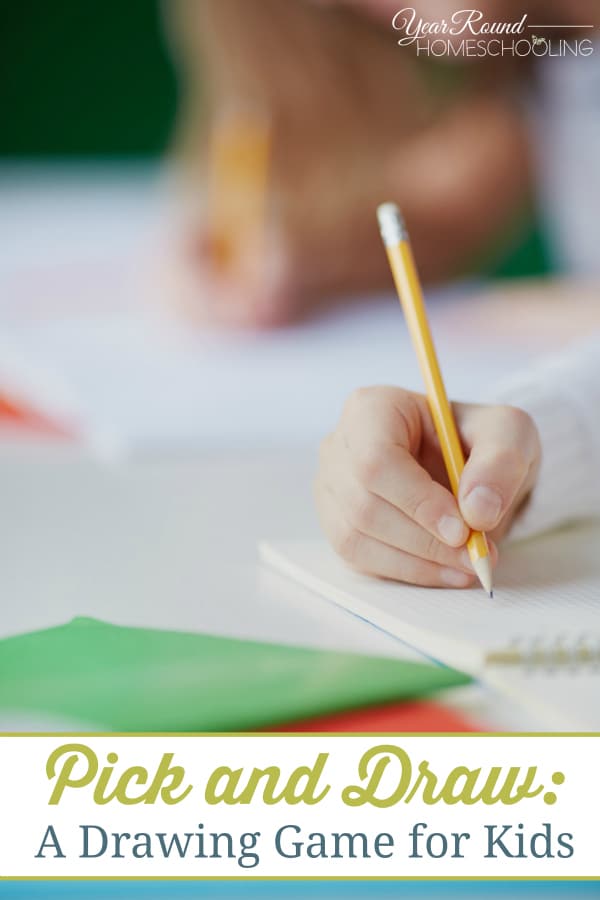 I thought I would reach out and see if this was something I could review with my kids since they all love to draw. I was so excited to get such a quick and enthusiastic response from Rich Davis himself. He even sent me a wonderful book, The Big Book of Pick and Draw Activities. There is also an awesome blog that my son has been frequenting throughout the day, Draw with Rich.
On this site we have learned how to draw a dinosaur, a tractor, the Statue of Liberty…there are lots more too! I had to share this here though because we have spent so much time in this book and playing with the game cards themselves. It has been an amazing adventure and a great step for my oldest son, who has quite a love of drawing. We are still working through this book actually too because each chapter is full of such awesome ideas. For instance, using this as a way to teach talking, writing and drawing. I would have loved this when my boys were still in speech and debate, but its great to use now, preparing for the year to come! How about using this as a way to teach nonfiction or illustrate idioms?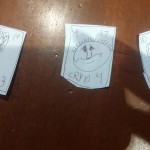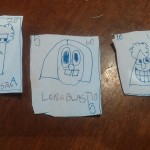 These are my sons' own creations from his first game of Pick an Draw. He even named a couple of them too! As you can see, these are all made up of very simple shapes. Each card has different shapes you put together. There are so many different combinations! Even my 5 year old and three year old like to try their hand at these. Ultimately as you play the game, you also create a variety of cartoon faces. If you are like my son, you eventually transfer those over to animals, fruits and vegetables (think Veggie Tales) – the possibilities are endless! He even started his own comic book with a section on how to write a story in one hour!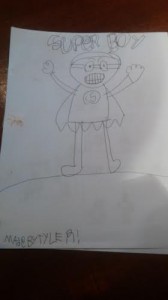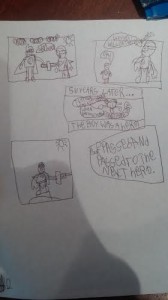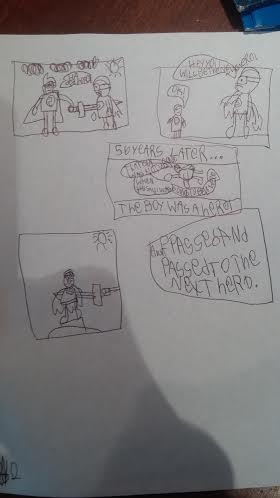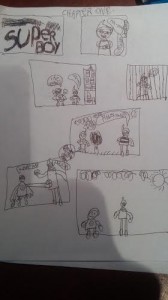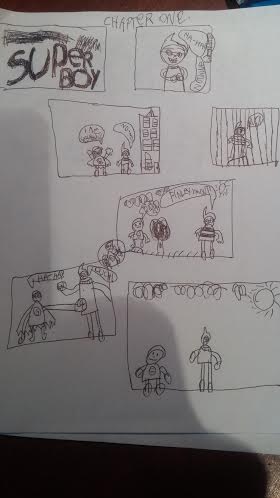 There is even a section on grief counseling that I was so glad to stumble across this past week.  We used this quite a bit in the last few days with my oldest son. He is only nine but when we had to suddenly put down one of our dogs, very unexpectedly, he was just crushed. For kids of all ages there are many great tips in this chapter for drawing, and using those drawings to work out and through, those feelings that come with losing a loved one (furry or not so furry).
Pick and Draw is especially for young kids that really have an interest in drawing (or even those that don't). Whatever a child's ability or skill level this is sure to spark an interest, not just in drawing but in creative abilities – from reading, to writing, to sharing thoughts and feelings. This resource really helps kids make sense of how they really can draw all kinds of different things. It makes a boat, or a cowboy or a spaceship, go from something that's just too hard, in the child's mind, to something super simple. As you draw you learn and see more and more how anything can be broken down into basic shapes for any age, to create a work of art. 

Imagine what your children can learn when their imagination is set free; in the words of Dr Seuss, "Oh the places you'll go."
Have you ever tried using Pick and Draw? If so, what has been your experience?