At the beginning of the year I bought a Living Math curriculum in hopes of teaching my son some math concepts in a real life way. He's pretty good at math but often thrives while seeing it in play in an authentic way. One of the recommendations of his curriculum was to set up a real store where he could practice adding and subtracting money and counting back change. I was very excited to begin this journey with him, hoping to add some enthusiasm to his math lessons. While we work with real money a good bit of the time, there's no way I could support this store of ours with real money all the time, so I opted for counterfeit money here. (I still recommend real money for teaching and solving problems, but play money is just fine for this purpose.) You can learn the benefits of creating a living math store HERE.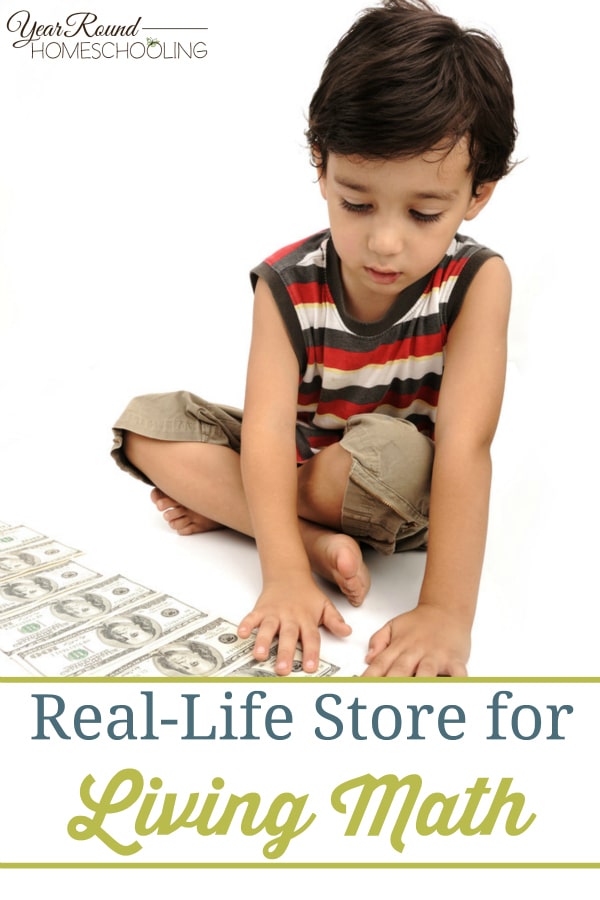 The truth of the matter is most kids like when their learning is happening outside of a math book. Even more, they like to know that what they are learning has real purpose. If they're old enough for transference of knowledge, they'll even transfer their learning to real situations—counting their own allowance and knowing what they can and cannot spend and how much their total and change should be. Since every family is different and each child learns in their own special way, please feel free to tweak this however you deem necessary. My goal today is to simply share another math concept with you. I'll leave the implementation to you.
In an effort to make this as simple as possible, I made 8 "grab bags."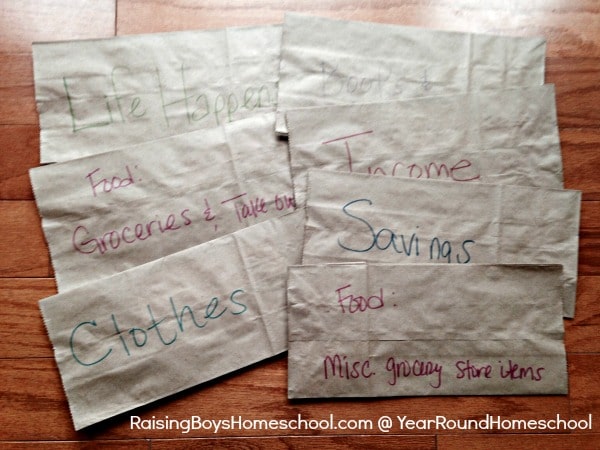 Food (Groceries)
Food (Take Out & Miscellaneous Grocery Items)
Clothes
Toys & Games
Books & Educational Items
Income
"Life Happens"
Savings
(You do not have to add "savings" to runs a store, but while I was planning this store creation idea I thought it best to set it up like he received money, saved money, and spent money. But do not feel the need to add this component just for the sake of "playing store.")
Each bag has cards that I printed off for my son listing the item and its price.
The "income grab bag" has check images made out to him with the assigned amount.
The "savings grab bag" is reserved for him to collect his savings each week for safekeeping.
The "food: take out grab bag" has standard eateries with prices and random grocery items (I printed the random grocery items and wrote in my own prices.
The "clothes grab bag" are of some flash cards I found and wrote in my own prices as well.)
The remaining bags include cards that I made for him to use.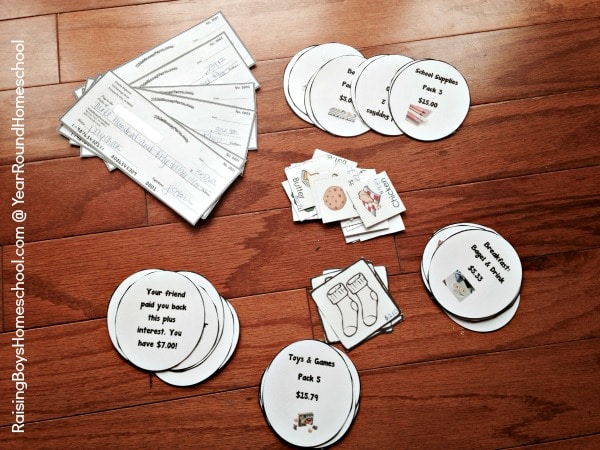 I'd encourage you to make your own cards for the remaining items so they can be personalized for your child. However, I am sharing the cards I made for my son so you can get an idea of how they look. You're free to print and use as well, but consider customizing it for your children.
We sit down once a week to intentionally practice his money skills one on one. He has to choose at least 1 card/check from the income, savings, food, and "life happens" bag plus one from the other three remaining. He is free to choose them all but he has to at least pull from the assigned four bags and one additional of his choice.
We work together with his income in mind about what he can afford, figuring the total for the week, and counting back change. I physically count his income out to him in dollars and cents. The only exception is I have him count back his own change as opposed to me (being the cash handler) doing it for him. He also counts his own money to pay the store for whatever he may need.
We had a great time in our teacher-student, mother-son, and merchant-consumer relationships. Not only does this time allow for modeling, mentoring, and teaching, it gives us a chance to bond and connect. We both look forward to our "store time" and he's is leaps and bounds more sharp, quick, and effective in not only money but in other math topics too such as adding, subtracting, multiplying, division, decimals (tax), percentages (savings), rounding, and mental math.
For some added bonuses, I sometimes throw out some different skills here and there. For example, I'll add on any given day that he has to round each item to figure his computations and we'll compare the actual and estimated prices. At other times, I may say I'm raising the taxes on sales today. So he must figure out his food balance with an 8% tax instead of 6%, for instance. However it comes to you, be sure to add in some bonuses every so often to keep the game fresh and to sharpen other money-related math skills.
How do you teach money in your homeschool? Do you have a "real-life store?"