When exploring geography with young children, sometimes hands-on activities make learning really come alive!  We are currently studying Africa in our homeschool.  During one of the units, we made salt dough to create African animals.  (We aren't the craftiest bunch, but our little kids loved it!)  This dough can be used to easily make land-forms like mountains, rock formations, and plateaus.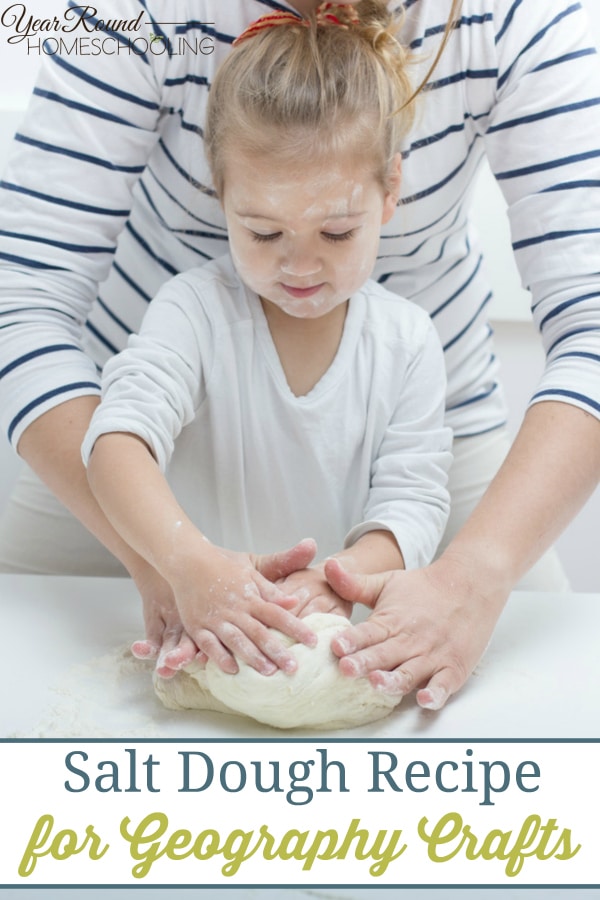 The recipe that we used is simple, and my two-year-old enjoyed helping too!  Let your children join in the fun by finding the ingredients in the pantry, and taking turns pouring and mixing them together.
What you need:
4 cups flour
2 cups salt
2 cups water
food coloring (optional)
Mix all of the ingredients together.  Make your landforms/animals/etc., and then place on aluminum foil.  Bake at 350 degrees for 30 minutes.  Cool completely.
Once your creations have cooled, it is time to decorate them!  If you do not use food coloring in your dough, your children can decorate their creations with paint or glitter.  If you do make animals, a fun activity would be to lay a map on the table for your children place their animals on.  Ask your children to show you where their animals live.
When you are finished, read a book about what your children made.  Whether it be African animals like us, or something different, like volcanoes on the Hawaiian islands, your children will be able to solidify their learning experience through listening to a book about the topic.
My children loved this simple art activity.  In our homeschool, we usually work together on geography through the eighth grade.  This was a great way for my younger children to feel more involved with the lesson.  My two and five-year-olds especially had a great time!
Thank you so much for taking the time to stop by!  I hope that you have a great time with your children if you choose to make salt dough creations during your geography lesson.
What have your kids made using salt dough in their geography classes?

The following two tabs change content below.
Nicole
Nicole started blogging at 
Children are a Blessing
at the prompting of the Lord in 2013. She lives with her family in the beautiful hills of northwest Georgia.  In her spare time, Nicole enjoys sewing, decorating, gardening, and dating her husband.  Above all, she enjoys family time the most, and strives to raise her children with a heart for the Lord and a desire to change the world for His glory. You can find her on
Facebook
and
Pinterest
.