Simple Inspiration: Encouragement for Homeschool Moms was written for homeschool moms around the world. Every homeschool mom needs to know that they are not alone, that the struggles they are facing are normal and that homeschooling is a journey full of ups and downs that we cannot always plan for, because we often do not see them coming.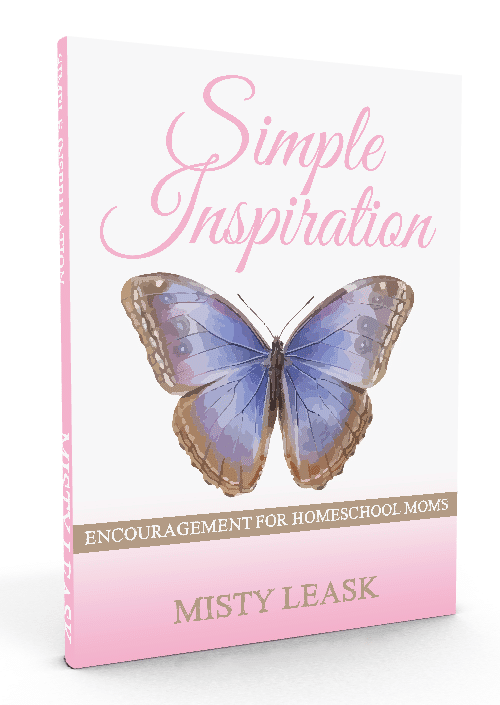 In this book you'll find the following encouraging chapters:
1. A Homeschool Mother's Prayer
2. Balancing It All: Tips for Every Homeschool Mom
3. Homeschooling Through Depression
4. Fun Homeschool Mom Breaks are Necessary
5. Peaceful Homeschool Mom Breaks are Essential
6. Comfort for a Weary Homeschool Mom's Heart
7. Learn to Live Outside Your Lesson Plans
8. Homeschooling Doesn't Require Patience
9. Take Time to Play with Your Kids
10. Confessions of an OCD, Over the Top Planning Homeschool Mom
11. Reflections of a Middle School Homeschool Mom
12. Homeschooling Brings Happiness
13. Homeschool Moms Need Rest
14. Homeschooling: The Journey of a Lifetime
15. 3 Steps to Homeschool through Depression
16. Building Character through Homeschooling
17. Homeschooling is a Privilege
18. The Truth about Frustrating Homeschool Days
19. 5 Tips for Frustrating Homeschool Days
20. Smile like It Is on the Lesson Plan
21. The Importance of Good Homeschool Memories
22. When Your Homeschool Days Seem Too Long
23. When Pushing On Is All You've Got
24. Reclaiming Peace on a Bad Homeschool Day
25. Every Homeschool Day Doesn't Have to be Perfect
26. Put the Books Away
27. Finding Peace Outside of Textbooks
28. Has Your Homeschool Become School at Home
29. Homeschooling through the Winter Blues
30. Organizing a Child Led Homeschool Year
31. The Beauty of Homeschooling is the Journey
You can download a sample chapter of my eBook by clicking here!