Our kids still love to learn about snow even though we live in the south, so we often talk about snowflakes as part of our lesson plans. If you'd like to help your kids learn more about snowflakes, this snowflake unit study can give you some great ideas!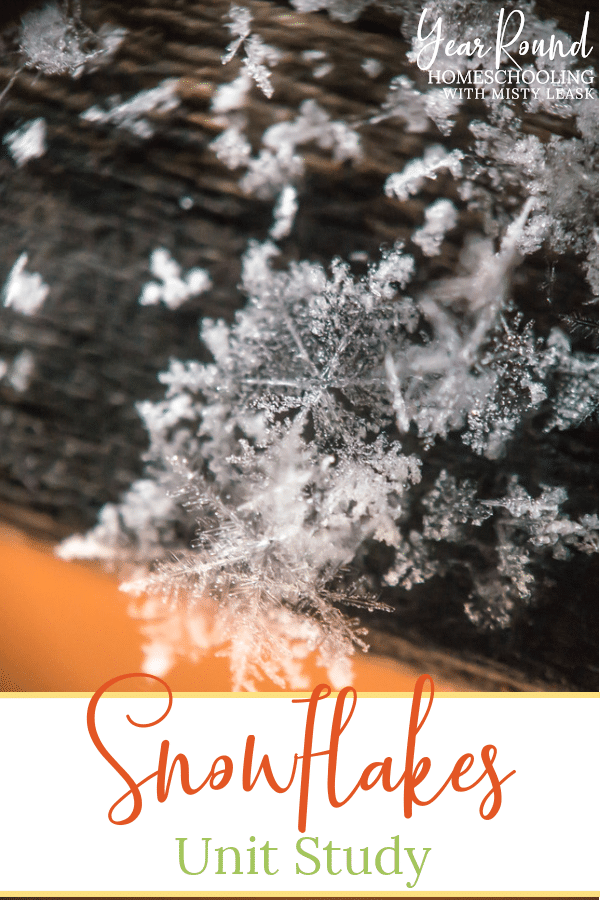 As winter gets closer and closer and the weather gets colder and colder, kids are often excited about seeing the first snow of the year.
Down here in the South, we don't see snow that often, so it's a rare treat to get to witness snowflakes falling. Whether you get lots of snow or keep an eye out for the rare flurry, this snowflakes unit study is a lot of fun!
Snowflakes Unit Study
Where Do Snowflakes Come From?
Review the information about snowflakes at KidzWorld and then ask your kids the following questions:
Where do snowflakes begin? (Answer: As ice crystals inside clouds)
How cold must it be before a snowflake can form? (Answer: 32 degrees Fahrenheit or below)
How many ice crystals make up a single snowflake? (Answer: As few as two or as many as 200)
What shape does a snowflake have when it forms at 10 to 3 degrees Fahrenheit? (Answer: A star)
Why does dirty snow melt faster than clean snow? (Answer: Because the dirt holds a higher temperature than the ice crystals do.)
How Do Snowflakes Form?
Watch the following video and then answer the questions with your kids.
What is snow? (Answer: A water droplet that freezes onto a particle as it falls to earth.)
How do snowflakes develop? (Answer: As ice crystals fall, they accumulate more water vapor which form additional crystals.)
How many different types of snowflakes are there? (Answer: 10)
What determines the shape of a snowflake? (Answer: The temperature and humidity of the air)
How small was the smallest snowflake on record? (Answer: 0.1 centimeters)
How large was the longest snowflake on record? (Answer: 10 centimeters)
Is it true that every snowflake is unique? (Answer: Probably. The development of each snowflake is random and determined by several factors.
Snowflake Crafts and Activities
There's no better way to learn about the unique shape of snowflakes than to make a classic paper snowflake. Use the directions at WikiHow to make a 3D paper snowflake with just a few scissor cuts and some staples! You may even want to have kids color the paper or paint it to make their snowflakes colorful!
To take the learning even further, check out this printable "All About Snowflakes" unit study packed with 30 pages of activities! You can even include math with this free Snowflake Math Factors Printable Pack!
Books about Snowflakes
To learn even more about snowflakes, check out the following kids' books about snowflakes featuring crafts and science activities!
Unit studies are lots of fun and great for times when you need to put the book work away or when your kids want to learn about a specific time or topic.
Follow our Pinterest board below to keep up with the unit studies we share over there!
Follow Misty Leask's board Homeschool: Unit Studies on Pinterest.