Teaching history can be taunting to many homeschoolers. This could be either because they feel they do not know enough history, or because they do not know how to approach it or, another reason could be that they just don't know when to start.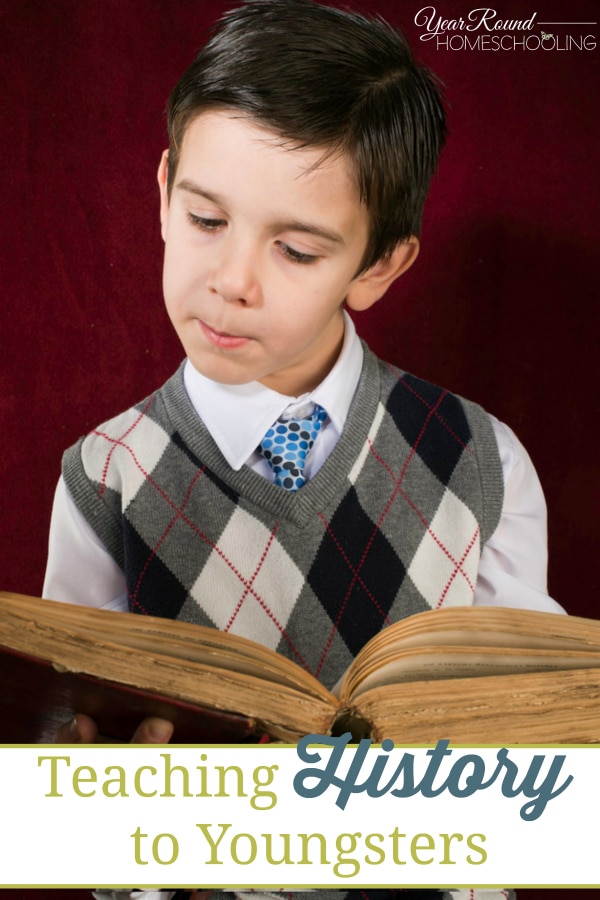 I for one do not think that one need to worry about history curriculum until grade 1 and up. Preschoolers and Kindergarteners have enough to worry about with learning to read, count and the basic 3 Rs. With that said, I am not saying they cannot be exposed to the subject at all, just like everything else, the key is to start slowly and small.
There are an abundance of resources available to us, so the ways in which you can introduce history topics to your kids are numerous, if not overwhelming.
This month I would like to share with you some resources and tips on how to introduce history topics to your youngsters.
Make use of videos: videos are excellent ways to introduce history topics to your kids. The library carries some and, of  course, there is always Netflix, or Amazon Prime.
A few good ones would be:
Liberty Kids, also on You Tube
Adventures in Odyssey (audio CDs)

Torchlighters: Heroes of the Faith (animated)
Inspiring Heroes (Nest) (Animated)
Use unit studies on specific historical figures or events, start by studying a President around President Day, Columbus around Columbus day, a Black figure during Black History Month, the Pilgrims around Thanksgiving or the Civil War around Independence Day. Currclick is a good resource to search though for historical unit studies.
Study countries and people by reading living books and non-fiction books. This is a great way to engage your little ones, while at the same time introducing them to Historical topics. Kids love stories, so let's give them stories that teach.
Here is a list of series that would work well for this age:
Marie Pope Osborne Magic Treehouse Series
You can also check the Tapestry Primer of Tapestry of Grace for a nice list of History books for that age.
Add some hands-on and recipes. Youngsters learn extremely well, and I would say best, when they use their hands and bodies. Cooking and making crafts at that age has tremendous learning power.
Go on field-trips. This is another really good way to get young kids wondering about history. You'll find countless ideas for field trips listed by State. If you are not sure where to go, this is a great place to start.
These locations are great field trips for studying history.
History section of your local museum
Gettysburg
Colonial Williamsburg
Connect history topics with other subjects, such as science, geography and/or any other subject your students are interested in. For example if they like planes, or trains, you can talk about when the first steam engines came about, or who built the first planes, when it is Olympic times, talk about the history of the Olympic Times and Ancient Greece, etc…
Talk about your family history. Some of us have very interesting and rich family history, this is a great way to introduce history topics.
Use art as a springboard for history topics. If your family loves arts, when you study artists, make connections with the time periods in which they live.
Your youngsters will enjoy learning about history when you take time to bring it to life and encourage them to love learning about the history of things they already enjoy!
What have you done to teach history to your young children? Share with us in the comments!