Music Appreciation is one of those subjects that seems to scare people away. But it doesn't have to! Music Appreciation is simply the study of how music affects us – physically, emotionally and spiritually. While it does help to have a foundation of some musical knowledge, it's not necessary. You just simply need access to music from different genres and eras (Medieval to Modern) and you're set!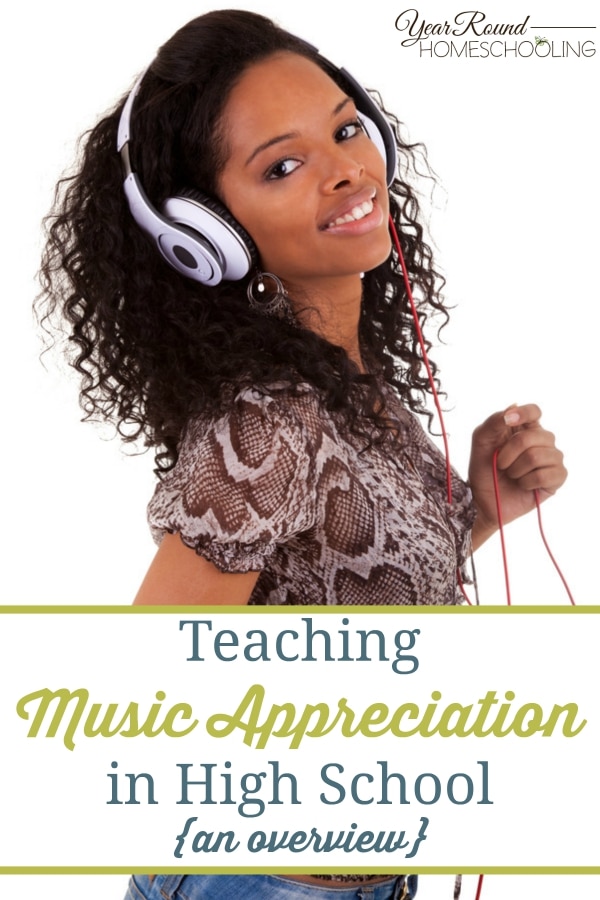 Still don't believe me? Well, let me give you an outline of what I would teach in a Music Appreciation Overview Class. This is by no means a class that music majors should take, unless they just want to get their feet wet. This is simply an overview of music through the ages in hopes that kids will better understand and hear how the early music eras shaped what we listen to today.
Here's an outline I would use to teach this class. You could easily do this in a semester, but I recommend spreading it out through an entire year as to give more time for listening and really diving in to the different eras of music. If you are teaching this as a high school class, I recommend doing it 2-3 times a week. I am not sure the number of credits this class would give for high school (as I don't have high schoolers), so you will need to determine that on your own.
Elements of Music – It is important to study the different elements that make up music in its simplest form. While you don't have to be a musician to appreciate music, you must know how it is formed. Just as you would need to know formulas for science experiments, you need to know what makes up music.
Melody
Rhythm
Harmony
Tempo & Dynamics
Scales
Transposition and Modulations (this can be studied later as it isn't introduced in music until the late Baroque/early Classical eras)
Musical Instruments – Again, you don't need to know how to play an instrument to appreciate music. But, you do need to know the basic groups/categories and what instruments fall in them. Knowing them will better help you hear them as you begin to listen to music in later lessons.
Strings
Woodwinds
Brass
Percussion
Other (piano, organ)
Musical Periods – As you study these musical periods, choose some pieces to listen to from that era. You can find just about anything you want or need on YouTube. NOTE: Use caution when searching YouTube as questionable material can pop up. Monitor your child's searches.
Middle Ages: Medieval & Renaissance – Sacred & Secular Music. There will be a lot of chants in this time period, but the way they are structured is what you need to listen to in this time period.
Baroque Era – Listen to both instrumental and vocal pieces from this time period
Classical Era (18th century) – Listen to chamber music, symphonies and operas from this time period
Romantic Era (19th century) – Read about the Spirit of Romanticism in music, this time is the height of Romanticism. You will also hear more piano pieces (solos, duets, etc.) and choral pieces.
Post-Romantic & Modern Era (20th century) – This era is the height of Impressionism and it comes across in the music you hear. Dissonance and counterpoint are introduced and become widely popular. You will also begin to hear Jazz, Blues and Rock music emerge.
Relating Classical Music to Current Music Trends
Rap – While not my music of choice, listen to the rhythms and patterns these people use in their music. It is founded in classical music, even back as early as the Gregorian Chants in the Middle Ages. NOTE: Use discretion when choosing rap songs to listen to. Some do not use kosher language suitable for…well, anyone. I leave that up to you, the parent, to choose what is appropriate.
Rock – If you listen closely, you will hear melody lines similar to those heard in early classical music. These are usually popular songs that they have taken and put a unique twist on them with new and modern technology.
For me, this class in college was a real eye-opener. While I'm definitely a classical music girl, I can now appreciate music as a whole since I understand it better. I can also appreciate the "genius" some of today's musicians as I hear the classical music foundation in their songs.
I hope that all makes sense. This is a the best and easiest way to approach music appreciation. While some people say not to go in chronological order, I think it is important to have a foundation of knowledge from the earlier composers and the emerging music. It is also important to see how it changed through the ages and evolved in to what we have now. While we might hear some new melodies, the popular saying is true…there is nothing new under the sun. Music has been influenced from its inception and continues to change, while still holding to some of its first foundations.
Have any questions about teaching Music Appreciation? I would LOVE to help!