The Nutcracker is probably my most favorite ballet of all time. Possibly because it's the first ballet I ever saw in person. At the age of 7, I was completely captivated by the costumes, the story line and everything it represented. From then on, I watched it on video every Christmas. Not the same as going in person, but a close second for me. I loved it so much, that I even danced in it as an extra in our local ballet theater company for several years. It was my most favorite time of every year.
Now, I want to pass that same love on to my children. I don't care whether they love the dancing as much as I did, but the music is absolutely fabulous and needs to studied each year! I'm sitting here listening to it right now as I write this. Did I mention I love it? In fact, it is difficult for me to concentrate because I literally know this ballet by heart. I can see the dancers moving about the stage as the music plays.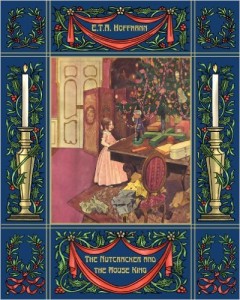 So how can you bring this story to life with your own kids? First, most people may not know that The Nutcracker ballet is based on a book written by E.T.A. Hoffman entitled, "The Nutcracker and the King of the Mice." Although the storybook and ballet differ in detail, the plot remains the same. So, I recommend starting with the book so the children have an idea of the basic plot before they watch the ballet.
Then, I recommend listening to just the music or parts of the music to become familiar with what they will hear when watching the ballet. I find this best to do before watching the ballet, so they can listen and respond to the music before they know what happens in the ballet. They can also try to match the storybook to the music and then when they watch the ballet see if they were right or how close they were. You can listen to the ENTIRE score by Tchaikovsky here on YouTube for free.
If you're only going to listen to highlights, I recommend the following pieces:
Battle Scene & Journey through the Snow/Waltz of the Snowflakes
Those are the key dances in Act II: The Land of Sweets, with the exception of the Battle Scene, and they are short pieces, so they are easy to listen and evaluate at different settings. I recommend doing only one or two of them per day so the kids don't get confused with the pieces.
After you have listened to all the pieces, or at least some of them to familiarize the kids with it, I then recommend watching the ballet. Of course, in person is best, but video will work as well. I don't recommend watching it on YouTube as those tend to be blurry, which makes it difficult to keep a child's attention.
I have created a short, but simple mini unit for you to use as you study The Nutcracker this year. You can download it below.
If you're looking for more inspiration and activities to do with this wonderful, Christmas classic, here is a list of others around the web.
Nutcracker Preschool Printables | Preschool Mom
Teachers' Study Guide (scroll to the bottom) | San Francisco Ballet
Peter Ilyich Tchaikovsky Study (click on Download this month's activity sheet at the bottom of the first box) | Classics for Kids
Nutcracker Lapbook | Cynce's Place
Nutcracker Lesson Plans | Fun Lesson Plans
Tchaikovsky biography for kids | Making Music Fun
Nutcracker Ballet Worksheet | Twisty Noodle
Nutcracker Cut & Paste | Making Learning Fun
Nutcracker Mad Libs | Teachers Pay Teachers (free)
Nutcracker Math Coloring Page | Teachers Pay Teachers (free)
Nutcracker Number Game | PreKinders
Nutcracker Coloring Pages | Super Coloring
The Nutcracker Reading Comprehension Sheets (6-12 grades) | ESL Printables
Crafts & Activities
Nutcracker Toilet Paper Roll Craft | DLTK
LEGO Nutcracker building instructions | Lego My Momma
Nutcracker Mask  (instructions are in English) | Llevo el invierno
Nutcracker Study | A Faithful Attempt
Sugar Plums recipe | About Food
Nutcracker Puppets | Printables4Kids
Snowflake Ballerinas for Little Hands | Krokotak
DIY Nutcracker | Mama Miss
Nutcracker Craft Puzzle | Teachers Pay Teachers (free)
I created a fun mini Nutcracker study. The study includes:
55 total pages
Poster Page
Coloring Pages
Copywork
Notebooking Pages
This freebie is available to our subscribers only. Please enter your email below to claim your freebie.