The Lord of the Rings movies are great options for your family movie nights! Kids and adults will enjoy the adventure, imagination and magic found in each movie. What I love most about these movies is that they are based on the classic literature series by J.R.R. Tolkien. I've learned that it is often harder to read a book once you've seen the movie. So, whenever possible I have my kids read the book before they watch the movie. This was especially true for The Lord of the Rings series. The books are must read before watching any of the movies.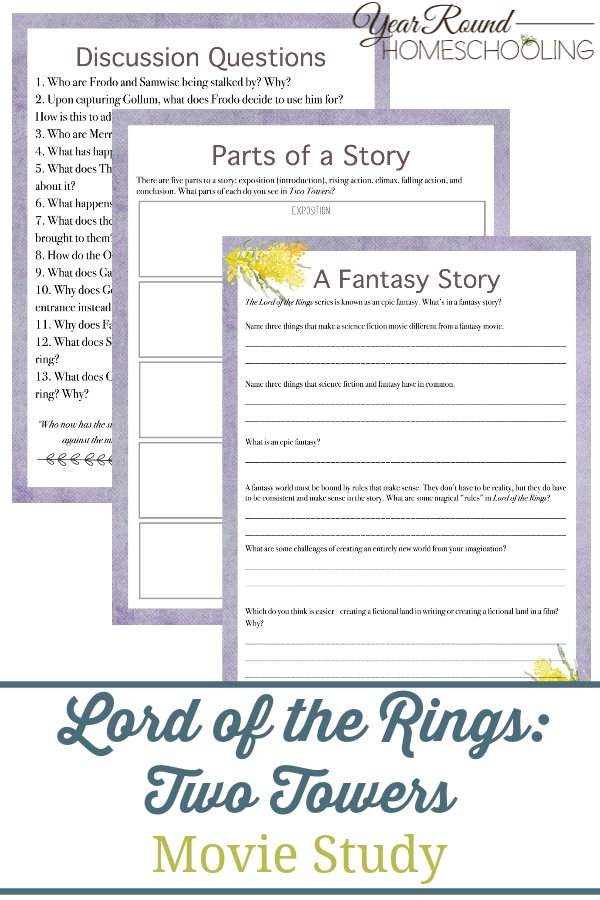 The Fellowship is broken and now Frodo and Sam must journey alone to Mount Doom in the heart of the Enemy's territory called Mordor. While they journey on Pippin and Merry are carried off by Orcs. However, Aragorn, Legolas, and Gimli rush to save them before it is too late. In the Two Towers you will meet many new friends and foes alike ranging from living trees to Uruk-Hai. This story has many unexpected turns in the plot which will keep you on your toes the whole time you journey with Frodo.
Before your kids complete this Two Towers Movie Study Study, I encourage you to have them read and complete the The Hobbit Book and Movie Study, the Fellowship of the Ring Book and Movie Study and the Two Towers Book Study first.