If you've poked around my site for any amount of time it is no secret that we are big Star Wars fans. As a homeschool mom, it is likely no surprise that literature is also a big part of my family's life – both in our homeschool and our every day lives. I love to read and so did my children. In fact, they would be ecstatic if all of our homeschooling were done by reading books. So, being a Star Wars and literature loving family, I decided to compile an ultimate Star Wars book list with amazing books for your littlest and biggest Star Wars fans!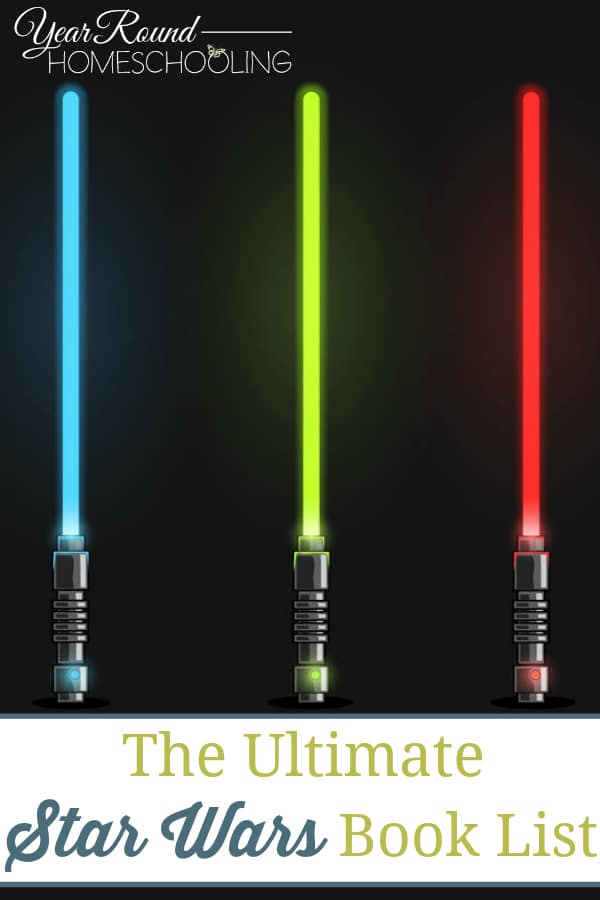 I know that everyone has a different opinion about reading lists by age/grade level, but I wanted to put these books to have a semblance of order as I would recommend them being read. I only listed books in a grade level that I would allow my children to read them. For the high school level, I did my best to eliminate books with unnecessary language and inappropriate content.
It is my hope that you and your children discover at least one new to you Star Wars book to enjoy together or on your own! Reading is such a wonderful past time that kids of all ages can enjoy!
The Ultimate Star Wars Book List
Star Wars Books for the Littlest Fans
Star Wars Books for Young Fans
Star Wars Early Reader Books
Star Wars Elementary Books
Star Wars Middle School Books
Star Wars High School Books
Star Wars Activity Books
What is your child's favorite Star Wars book or series?