Winter learning fun with lapbooks is a great way to keep your kids busy throughout the long winter days.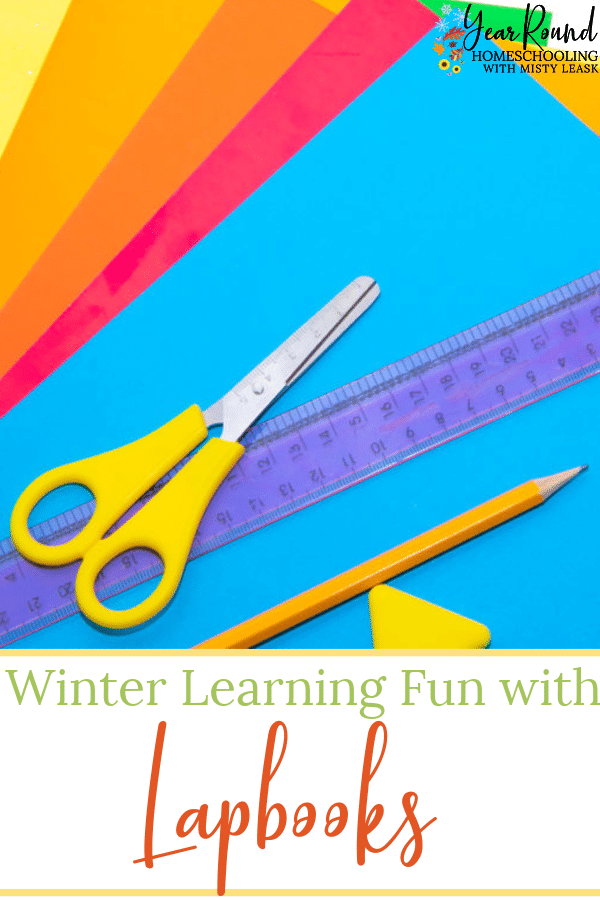 After the excitement of the holidays and the anticipation of the new year, homeschoolers sometimes find themselves hitting a winter slump.
I know I've felt that way from time to time. That's when we turn to lapbooking to inject some creative learning fun into our days.
4 Ways to Make Winter Learning Fun with Lapbooks
Take a Virtual Field Trip
Since the weather can prevent us from getting out and about, we find winter a good time to study other places, by taking a virtual field trip.
Are your kids curious about another country? Do they want to visit a famous landmark but it's too far away? Why not try a lapbook to create your own "travel folder" as if you were really making the trip.
Below are some of our favorite lapbooks to study landmarks and other countries.
Travel the World Country Reports Lapbook
Country Studies Lapbook (You can use this resource over and over to study any country in the world)
America's Historical Landmarks lapbook
Curl up with a Good Book
When the weather outside is frightful, it's a great time to just cuddle up with a good book.
Whether you're doing read-alouds with your kids or they're reading on their own, creating a lapbook to display what they've learned can suddenly turn a good book into a cross-curricular lesson plan! There are tons of choices for literature based lapbooks, but below are just a few examples.
The Lion, the Witch, and the Wardrobe
Study the Weather

While you're watching the snow fall, try learning about it with a lapbook!
You can learn all about why snow is white, winter weather patterns across the country and even polar habitats and the animals that thrive there.
What is Snow? Lapbook project pack
Winter Activities
From ice skating to skiing to sled dog racing, it's fun to study the activities that are unique to winter time!
I hope these ideas can help you beat the winter doldrums and inspire fun learning with lapbooks!
What are your favorite winter lapbook resources?