Homeschooling is the journey of a lifetime. Getting started is both overwhelming and exciting. There are so many options to choose from and decisions to make. How do you know what is right for you?
As a second generational homeschooler, I know all too well the choices you have to make as a homeschool mom. Plus, they are all important! So, where to begin?!
Once you've taken the first step and chosen to homeschool your children, I believe that one of the biggest decisions you need to make is in regards to your homeschool schedule.
When I first became a homeschool mom, I had no idea that there were different types of homeschool schedules. So, I began with the "normal" September through May school schedule.
It didn't take me long to discover that it wasn't going to work for my family. We needed more flexibility than a 9 month schedule could provide.
I began doing research online and chatting with fellow homeschool moms trying to find something that would work better for us. Unfortunately, the countless hours I spent looking into homeschool schedules didn't turn up what we needed.
That didn't stop me. I decided to create my own homeschool schedule, one that would fit the needs of my family. That is how we became year round homeschoolers. I designed a homeschool schedule that worked for us, not against us.
I didn't know what it looked like because at that time it had never been done, but I knew what my family needed most was flexibility.
Perhaps you too are looking for the ultimate flexibility for your own family's homeschool schedule. But, you aren't sure how it could or should look and don't have any idea where to start.
Take a deep breath because I have just what you need! A resource that I designed with you in mind!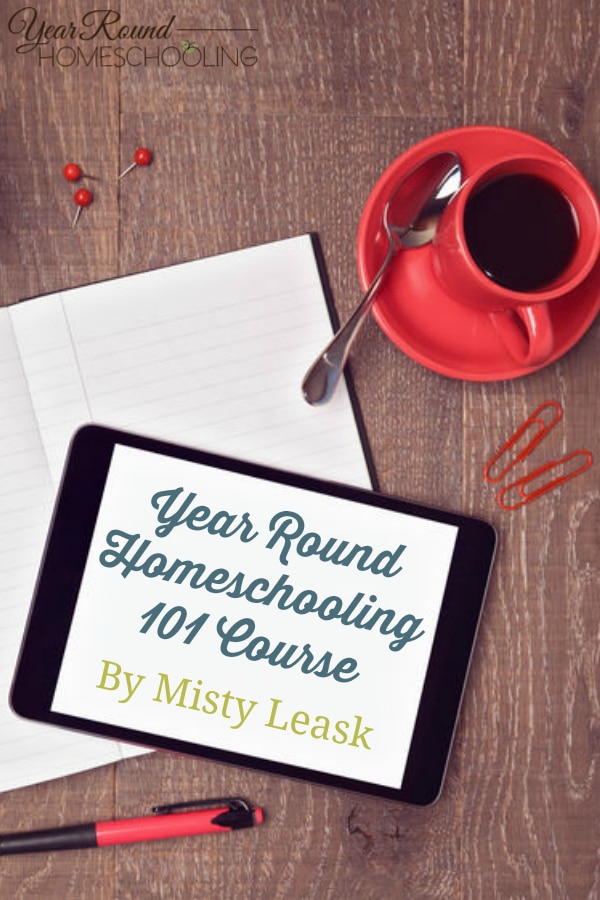 The Year Round Homeschooling 101 Course is a 24 mini-lesson video course that I created to share the benefits and blessings surrounding a year round homeschooling lifestyle.
Throughout the course you'll learn all about year round homeschooling; from schedules to resources, from planning tips to summertime homeschooling and of course, my favorite benefits of year round homeschooling.
Each mini-lesson is under 10 minutes, perfect for busy moms that struggle to find a moment for themselves.
For those of you that like details, below you'll find the titles for each mini-lesson that you'll find inside the Year Round Homeschooling 101 Course.
The Year Round Homeschooling 101 Course
The Basics of Year Round Homeschooling
What is Year Round Homeschooling?
The Benefits of Year Round Homeschooling
Why I Believe Year Round Homeschooling is the Best Option
Who is Year Round Homeschooling Best For?
How to Get Started Year Round Homeschooling
Year Round Homeschooling Scheduling Tips
Why You Should Have a Schedule for Year Round Homeschooling
Types of Schedules for Year Round Homeschooling
What Type of Schedule Works Best in My Opinion
How Do I Choose a Year Round Homeschooling Schedule?
How to Take Breaks as a Year Round Homeschooler
Planning Tips for Year Round Homeschoolers
How to Make Plans as a Year Round Homeschooler
The Best Planning Tips for Year Round Homeschooling
How to Add Field Trips and Activities to Year Round Homeschooling
The Best Planners for Year Round Homeschooling
Summertime Homeschooling 101
Why Homeschool in the Summertime
What Summertime Homeschooling Should and Shouldn't Be
How to Homeschool in the Summertime
Making Summertime Homeschooling Fun
Curriculum Help for Year Round Homeschoolers
How to Pick Curriculum for Year Round Homeschooling
Curriculum Shopping Tips
My Favorite Homeschool Curriculum Publishers
Additional Resources for Year Round Homeschooling
Monthly Resources for Added Year Round Homeschooling Fun
Why I Love Unit Studies for Year Round Homeschooling
Seasonal Studies Opportunities for Year Round Homeschooling
Plus! 3 Bonus Videos!!
How to Make Everyday Life Part of Your Homeschool
Out of the Box P.E. Ideas
Why I Love Child Led Learning
Year round homeschooling truly does provide the most flexibility of any homeschool schedule because it is a lifestyle. It allows your homeschooling journey to be part of your everyday life taking away the stress of state requirements, taking unscheduled days off, planning vacations around your homeschooling instead of your homeschool around vacations and so much more.
And just in case you're wondering, year round homeschooling does not mean that you homeschool 365 days a year. I promise.
I would love to share the opportunities, benefits and blessings of a year round homeschooling lifestyle with you! Will you join me?
You can get started today. Before a new homeschool year, in the middle of a homeschool year or at the end of a homeschool year. There is no time like the present!
Brand new to homeschooling? Discover how much freedom your family could have by starting off with a year round homeschooling lifestyle before you even begin!
Additional bonuses!!
Through the purchase of the Year Round Homeschooling 101 Course, you'll also receive access to a private Facebook group where I will be available to answer any questions you might have as you go through the course.
In addition to the course and Facebook group, I also offer one-on-one mentoring sessions for those that would like personal help designing their unique homeschooling journey. With the purchase of the Year Round Homeschooling 101 Course, you'll receive a discount for 30 minute and 1 hour mentoring sessions.
When you combine a homeschooling journey with a year round homeschooling lifestyle you'll receive the ultimate flexibility that homeschooling can provide. Discover the benefits and blessings that can be part of your family's year round homeschooling journey today!
---
Please note, I am extremely passionate about being real and that is evident throughout this course.
What exactly do I mean by this?
I recorded all of the videos (except for the introduction) in my truck while my son was at TaeKwonDo.
The videos are imperfect because I am imperfect.
I decided to publish this course without professional videotaping and/or video editing because personally, I grow weary of seeing the "perfect" video courses out there. When watching "perfect" videos, I often find myself losing confidence and fighting feelings of failure.
I hope that by choosing to be imperfect me that you'll feel more connected with me and what I'm trying to say because I am a homeschool mom just like you! I have too many plates that I'm trying to balance, struggle to prioritize properly and strive to provide my children the best education possible while stumbling along the way.
---