As I mentioned before, I am no science genius. I do not have a science degree and while in school, though I loved science, I used to think that science did not like me. My husband on the other hand, is a science major, so I can relax and not worry I'll mess my kids up.
Now, that said, just because a homeschool mom is not a science geek, and is not married to a science geek, that does not mean she can't teach her kids how to enjoy science and learn science.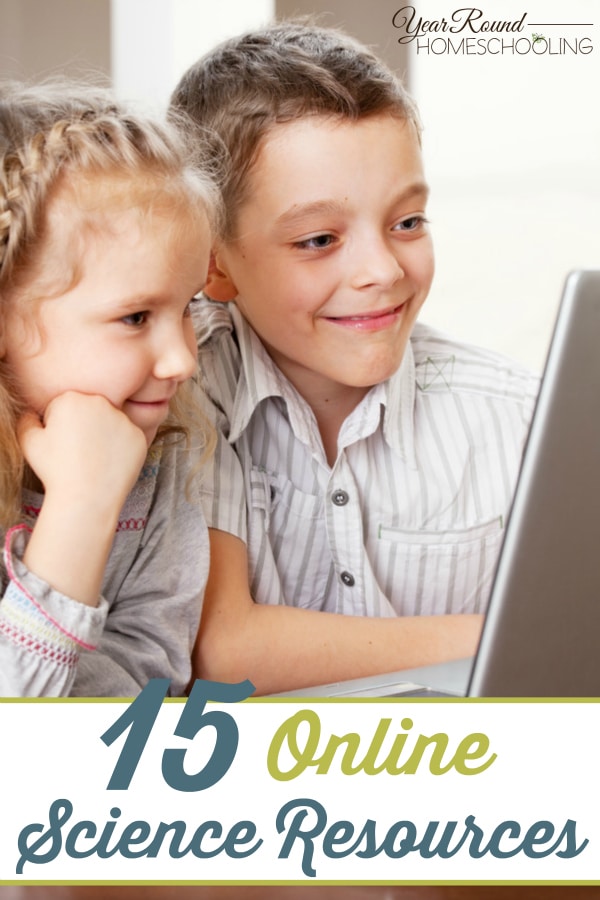 Last month I shared about how media is a big tool in our homeschool when it comes to science. This month I would like to share with you 15 online science resources that you can use to help you teach science to your kids. These are especially good for elementary and middle school kids!
Free ones:
MS Nucleus. Free science lesson plans.
Science Kids: A site full of games, experiments to try, lesson plans to teach science to your little one.
Make Me Genius: Science site where you can watch science videos, play games, watch power point presentations, and take science quizzes, all for free.
Mr Donn Science: Wonderful site for resources such as games, videos, and PowerPoint presentations.
Ology: a packed-full site with info and activities on a lot of scientific topics.
Kid's Health: A site all about the human body and health. Lots of info to learn there.
Edheads: A site for the inquisitive minds. You will find there elaborated games and activities that promote scientific and critical thinking.
Magic School Bus: For those with kids who love the Magic School Bus DVDs, you will find there science games and experiments. Learn more while you play, and do hands-on at home.
Ellen McHenry's Basement Shop: A site with lots of free interesting science resources, among other things.
Chem4kis, Physics4Kids, Cosmos4Kids, Biology4Kids: a family of sister sites that teach you about these different fields of science.
Paid Ones:
Science 4 Us: Another interesting interactive Science site.
Supercharged Science This site is a comprehensive, packed-fulled with science experiments and covers all grades. It is arranged by grades or by topics, so easy to navigate.
Time 4 Learning. This site is another interactive site where you can learn science along other subjects.
Standard Deviant: This site is also a multi-subjects site with a very comprehensive science component, suitable for middle grades and up.
I hope this list helps you find something that you can use in your homeschool to add to your science studies.
What are some of your online Science resources if you have some?