This 1st Corinthians Kids' Bible Activity Pack is a fun resource to add to your homeschool Bible class or family devotion time.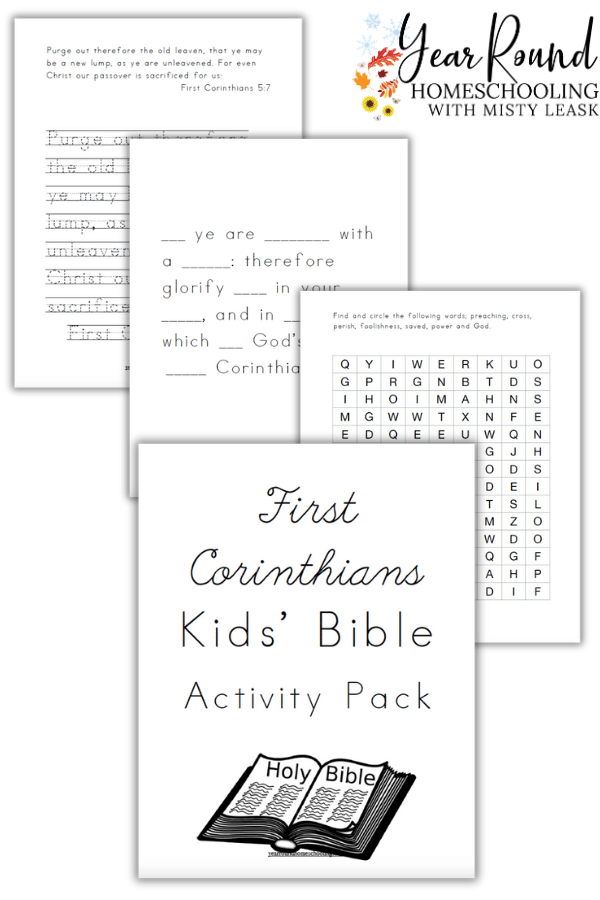 When I was growing up, we always had family devotion time together in the evening. This was in addition to our Bible studies in our homeschool.
The Bible has always been a part of my life since before I was born. Thankfully, the same can statement can be repeated by my children.
When I take time to think about it, I am truly blessed to have been born into a Christian family. It is easy, in the day-to-day, to forget that blessing.
That is why it is important, as parents, to keep our children in God's Word on a daily basis. There will come days in their lives when they need to turn to the Lord.
If we don't teach them to do so from a young age, then it will not come as easily to them as it should when they've grown up and moved away.
Inside this 1st Corinthians Kids' Bible Activity Pack, you'll find over 140 fun pages including; penmanship pages, memorization games, word searches and more!
I didn't design this Bible activity pack to be used alone for your Bible classes but to aid in the memorization and love of God's Word. Please ensure that you take time to read through the books of the Bible with your children as you utilize these Bible activity packs in your home and homeschools.
For even more Bible printables to use throughout the coming year, be sure to check out my store page here.