Depression can make homeschooling difficult, but not impossible. I deal with depression several times throughout the year and many times I've been able to continue homeschooling through depression. It isn't easy, but it is necessary because I know that in order to pull through my depression I need to focus on the positive. My children's education is often the positive I choose to focus on when depression hits.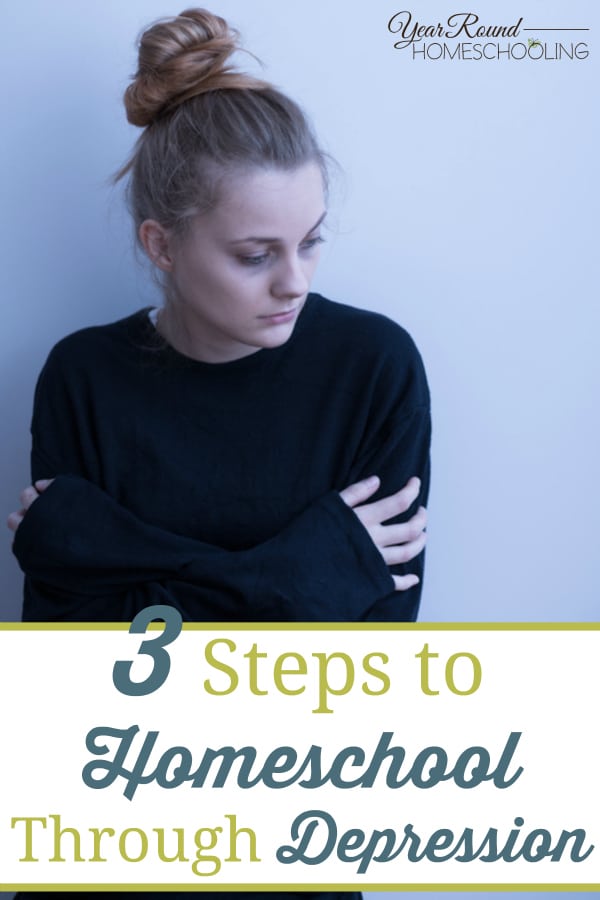 Over the years there are a few steps that I've learned are important to take in order to be able to homeschool through depression. It is my prayer that these simple steps will help you on your journey to homeschooling through depression.
The Hardest Step
Choosing to homeschool through depression all begins with one choice, to get out of bed. This is often the most difficult step. When we are hit with depression staying in bed is typically where we want to spend our days. We don't feel it is possible to face the difficulties that the day will bring, we just want to stay in our warm bed where it is safe. The truth is that our bed is not a safe place to be in depression. Staying in bed keeps us from moving beyond the depression and causes us to sink further and further into the darkness of depression.
The Easiest Step
Take a hot shower or a hot bath. Spend some time alone clearing your head before you tackle homeschooling your children while you're depressed. If you need to cry, this is the perfect time to do it. No one is there to watch or walk in on you crying, they won't ask you what's wrong and how they can help, just let the tears fall. There healing in your tears and they will help your heart start to mend.
The Most Important Step
Don't take on an entire homeschool day. When you're depressed your energy level is often zapped which means your patience level is going to be lower than normal as well. If you try to take on a normal homeschool day you'll end up frustrated and your kids will wonder what they did wrong. Instead of making progress on your homeschool journey, you'll find yourself going backward if you try to take on a normal schedule for homeschooling while you're depressed.
Homeschooling is a journey and it is part of your life, when you struggle with depression you know that at some point they are going to collide. We need to take time to acknowledge this truth, take steps to prepare for it and then do our best to continue to homeschool our children through depression.
There will be days that we know we need to homeschool through depression, but we'll need a break from normal book work. Whether you use educational apps, read alouds, art, You Tube videos or watch the History channel with your kids, these are all great resources that can help you continue to homeschool your children while you're fighting depression.
If you're trying to homeschool through depression, please know that you are not alone. There are countless homeschool moms around the world that are having to make the same choice you are today. It will be easier to take these steps on some days, while other days it will feel impossible, but you can do it. I know you can because I do it. I don't do it every time, some days I don't get out of my bed either. I do know that the days when I take these steps and choose to homeschool my children through depression, I am able to push through the depression quicker than I am if I stay in bed. I believe wholeheartedly that this will be true for you too.
What steps help you continue to homeschool your children through depression?