It's true. Homeschooling doesn't require patience…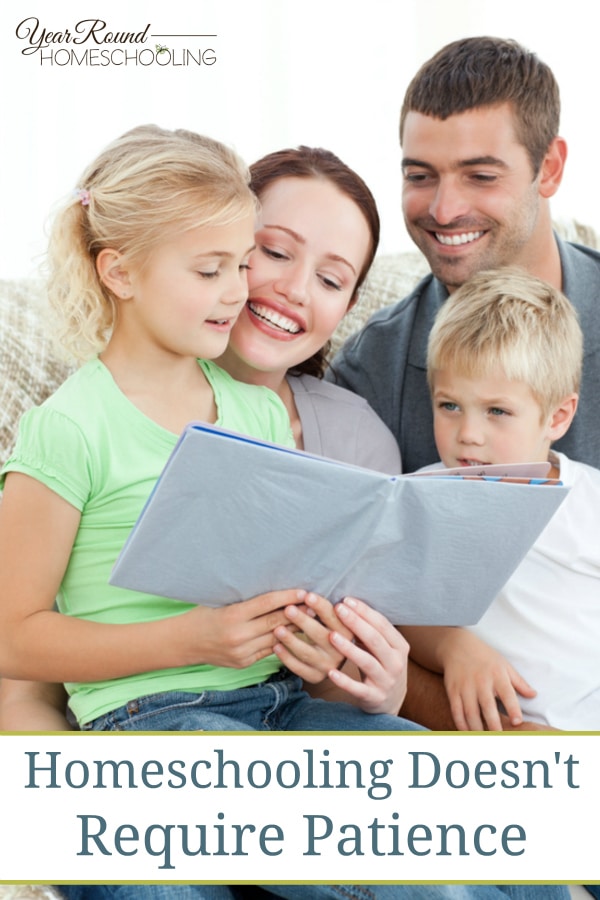 …anymore than motherhood does. After all, isn't it part of every mother's journey to educate her children whether or not she chooses to actually homeschool them?
I can't tell you how many times over the last seven years that I've heard the following statements; "I don't know how you do it.", "I don't have enough patience for that." and "I can't imagine being at home with my kids 24/7.". I could give you countless examples of statement that moms have said to me when they've found out I homeschool, but these are the top three statements that I hear time and time again.
As a homeschool mom, I want to encourage all moms to consider the following facts before writing themselves off as too impatient to homeschool. 
From the time children are born a mother's responsibility is to care for her children. Part of caring for our children requires teaching them how to get dressed, tie their shoes, brush their teeth and clean their room. These lessons are all part of a child's education and each one requires a mother to be patient. A child's view on an appropriate outfit for a trip to town my cause a bit of drama, as could attempting to teach them how to tie their shoes for the hundredth time. So, once again the truth is that a mother's patience is required whether she homeschools her children or not.
If you have considered homeschooling your children, you can do it. There are so many amazing homeschool resources both online and in book form that will help you throughout your homeschool journey! Also, there are many willing homeschool moms that would love to help you get started and be there throughout your homeschool journey.
The patience you need to homeschool is the same patience you will use throughout your motherhood journey. 
As a homeschool mom, I want to encourage other homeschool moms to remember that our homeschool journeys are a part of our motherhood journeys. The patience we need in our homeschool days is already in us. We use it each time we remind our children to put their laundry away again, hang their winter gear up or take the trash our for the tenth time.
So, the next time that your homeschool day seems to be requiring more patience than normal, remember that you have options! Consider putting the books away, take your kids for a walk in the park, play with your kids for the afternoon or visit the playground in town. Sometimes everyone, (including mom!), just needs a break from the lesson plans!
[Tweet "#Homeschooling doesn't require patience anymore than #motherhood does."]
Homeschool moms, how do you handle questions regarding the patience you must have to homeschool?
Non-homeschool moms, why do you believe/feel that homeschool moms require patience than you do?