Many people believe that homeschooling is actually more expensive than sending their children to public school, but that is simply not true. Actually, homeschooling is more affordable than public school by far!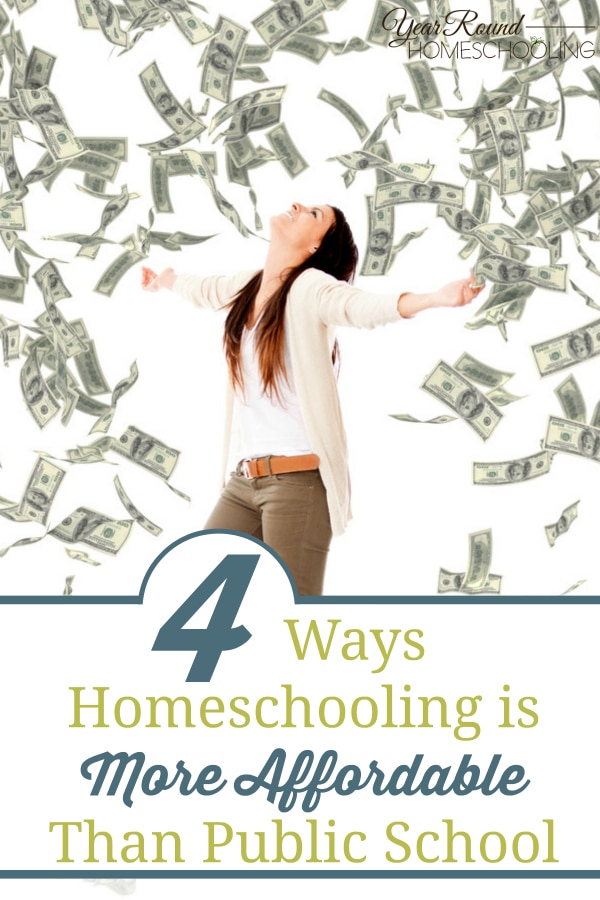 It is true that homeschoolers do not get a break on homeschool curriculum, we pay taxes for public schools' and we still have to pay full price for our own homeschool curriculum. While this may upset some homeschool families, I'm thankful to have the freedom to homeschool my children, no matter what the cost is it is worth it to me! Even with the cost of homeschool curriculum each year, homeschooling is still more affordable than public school.
Public school requires the purchase of many necessary items 
Backpacks, school clothes (in style and name brand preferred!) and resources for class projects, not to mention the countless notebooks and folders, specific branded pencils, pens and highlighters that get put into a community pile and passed out to all students.
Public school students pay fees to participate in almost any activity
Whether your children are interested in cheerleading, sports, drama class, etc. there will be fees that you are required to pay in order to have them participate. Some activities require the purchase of uniforms and safety gear as well!
Public schools fundraise throughout the year
The PTA has fundraisers, classrooms have fundraisers, clubs host fundraisers and more! You'll feel obligated to give to these fundraisers for your kids' sake and then you'll have to ask family and friends to sponsor them too!
Public school special occasions/events require tickets
Tickets for the prom, sports events, camps, dances and drama productions are just a few of the events that you'll have to pay for while you're kids are in public school.
Please note that this is NOT an all encompassing list, there are many other things that your children will need finances for throughout the public school year. 
Homeschooling is by far more affordable than public school! While we do participate in sports and need school supplies, we have choices as to when and what our children play and we only have to buy the school supplies that we want and need for our children alone!  We also enjoy attending concerts, plays and sports events, but most of the time we are able to find events that are free. If we do wish to go to an event that requires the purchase of tickets, we include the cost of them in our homeschool budget and should we find that it we can't afford it, then we don't attend. When your children are involved in the public school and takes part in these events, you are compelled to attend and thus spend money to buy tickets to attend an event that you helped paid for in the first place! One has to wonder where all of the public school tax dollars are going to when students and parents have to pay for so much!
How have you found homeschooling to be more affordable than public school?