For the first 4 years that we homeschooled we followed a traditional school schedule. We started each new homeschool year just after Labor Day and finished the year May 31st. There were many reasons that we stopped doing so 3 years ago, what I've found to be the biggest blessing of becoming year round homeschoolers wasn't even one of them.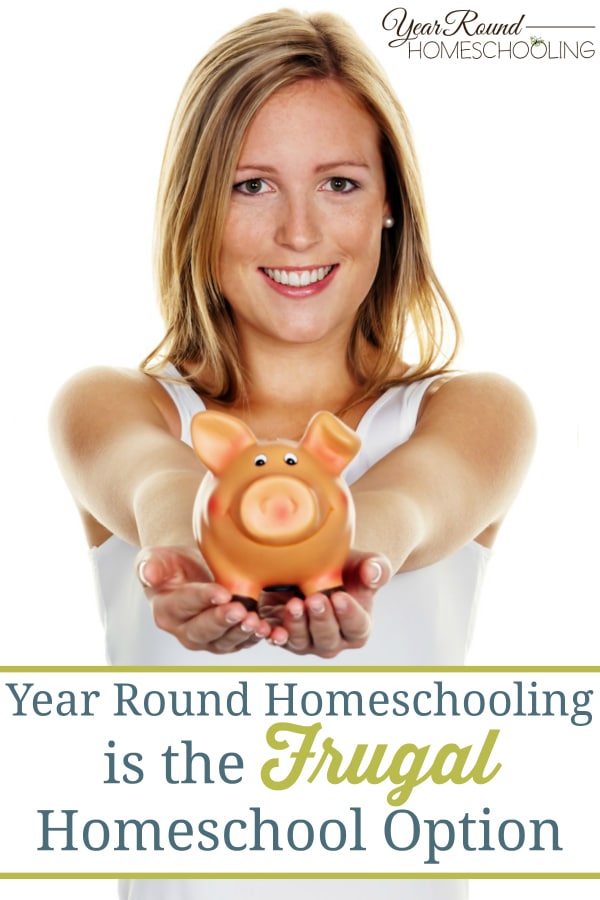 I love to plan, in fact I'm a bit OCD about it, so every April I looked forward to pouring through all of the homeschool curriculum catalogs, reviews and sales preparing for the next homeschool year. Before I began I had to sit down and determine just how much money we could afford to spend on homeschool curriculum, I had to have a budget or I would spend more than we could afford. I believe that my children's education is extremely important, but I have also learned that just because a curriculum has a big price tag that it doesn't mean it is any better than a reasonably priced curriculum option. So, having a budget for our homeschool curriculum is very important to help keep me on track, focused and prevents me from making impulse purchases.
Even as an OCD planner, I never could determine exactly how much homeschool curriculum we would use in one homeschool year. I spent hours each year researching and arranging every day of our homeschool year to ensure that we completed all of the lessons for that year. What I couldn't plan for was life. After all, life happens when you homeschool and there is no way that you can plan for it.
Some homeschool years I found myself with left over homeschool curriculum, while other years I had to purchase more curriculum in the middle of the homeschool year. I had planned out all of our homeschool curriculum to the minute detail, but my plans didn't always work out. I never could plan well enough for an entire homeschool year. Whether my kids learned more quickly, faced challenges or life happened, each homeschool year we either had too much homeschool curriculum or we didn't have enough.
My mom raised me to live frugally and every year that I found myself having too much curriculum on hand, I felt wasteful. Years that I didn't have enough and had to buy homeschool curriculum at the last minute, I cringed spending money that was not in our budget.
Since becoming year round homeschoolers, I've learned that I can't plan out an entire homeschool years lessons because each year is different. Every year I take time to spring clean our homeschool, this helps me begin the search for next year's curriculum. After I've sorted through old and unused curriculum, I make a list of what we'll need for the next homeschool year.
My kids and I shop for homeschool curriculum together and I allow them to pick just one resource for each subject to start off the new homeschool year. Often times my children find rabbit trails to follow throughout the homeschool year, so that one resource will last much longer than I had planned. Sometimes, they soak up the materials and want to learn more about that particular study, so we have to find another resource to further their education.
By homeschooling my children year round, I do not have to purchase every single resource that I think we'll need throughout the whole year at once. I have the ability to purchase homeschool curriculum only when we need or want it. I don't have to come up with a large amount of money to homeschool my children, because I order our homeschool curriculum in small amounts.
What my children are interested in at the beginning of the school year, may not be what they want to learn about later in the year. So, if I were to purchase all of our homeschool curriculum at the beginning of the homeschool year, I would have two choices; I could make my children push through and face difficult homeschool days or I could purchase new homeschool curriculum breaking my homeschool curriculum budget for the year. Being year round homeschoolers, this is no longer an issue because I am able to purchase homeschooling resources a little at a time.
The biggest blessing for year round homeschoolers is that it is the most frugal homeschool option. I'm able to ensure that my children have a quality education, learning about things that interest them all year long without spending money unnecessarily!
How do you ensure that you remain frugal with your homeschooling resource purchases?