Homeschooling and running a family business is no cake walk, but surprisingly it is not as difficult as one might think. Following a year round homeschooling schedule certainly does make it a lot easier than a traditional 9 month school schedule would for sure. In fact, now that we've been running a family business for over a year, I can't imagine how I could even attempt to juggle my kids being public (or private) school and run a family business.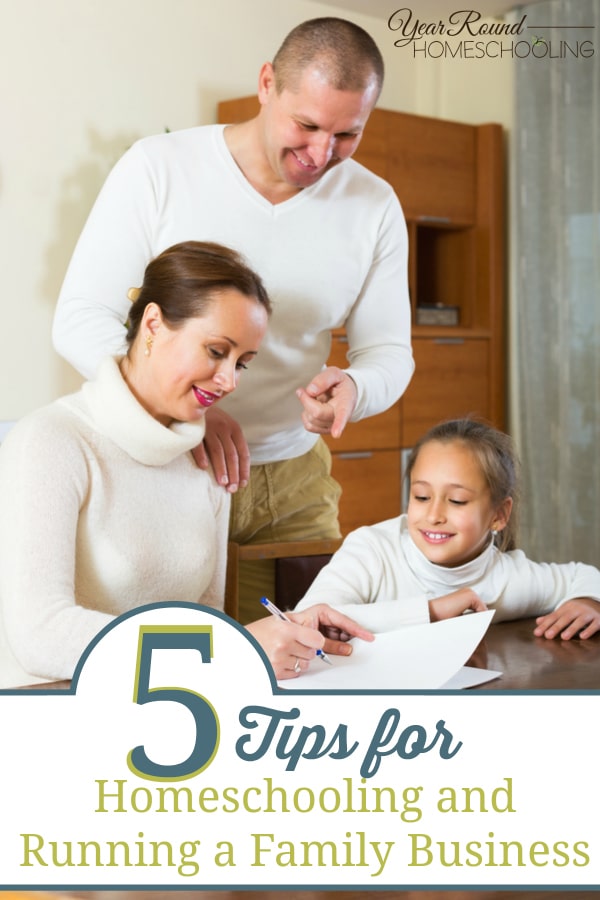 After purchasing our family business, I was unsure how homeschooling would go or what changes would need to be made to make the two work together. What I did know was that God had called us to homeschool our children and that He had opened all the doors necessary for the purchase to go through, so I simply trusted Him to give me the directions I needed along the way to continue to homeschool my children and run a family business.
Teach your kids to be independent learners. 
No matter what age your children are, you can begin to teach them to learn independently. This is an essential step to homeschooling and running a family business, because there will be times when you need to take care of business things and your kids need to be able to be given a task and stick with it until it is completed. Ensure that you teach them that asking legitimate questions vs. doing the work incorrectly is absolutely necessary.
Always be ready to change your homeschool schedule.
Our homeschool schedule changes quite often, as a homeschool mom I've learned that living life is just as much a part of my children's education as school "lessons" are. Whether your business has busy seasons or your family takes vacation at a different time of the year, don't hold so tight to your homeschool schedule that you put unnecessary stress on you or your kids, or let keep your family from having quality time together.
Make your family business a part of your homeschool.
Running a family business provides countless opportunities for your kids to learn! There will likely be days when you do not crack a homeschool book, but that doesn't mean your kids have not done any learning. Take time to figure out how your kids can be involved in the family business and then include those things on your homeschool lesson plans or in your homeschool portfolio.
Give yourself (and your kids!) grace.
When running a family business things do not always go as planned. You may have an emergency come up, a guest to take care of or the weather may require additional work from you and the kids, you'll need to give yourself grace for the days that you planned to homeschool and it just doesn't happen. Your children's education will not be ruined from taking off from a formal homeschool day to run the family business. These are the days when your children will learn the importance of prioritizing each day throughout life!
Having a family business has inspired my daughter to start a small business of her own, one that she can run right here within our family business. While we are not tackling her project just yet, I know that it will fit well with our family business. I love that at 10 years of age she is already showing signs of being an entrepreneur!
My son has learned countless lessons that will help him throughout his life as a man, a husband and a father. Thanks to our family business he has already learned how to roof a home, take care of maintenance projects within a home and the feeling of pride after a job well done.
Running a family business has provided more lessons than I could honestly ever teach even in 12 years of homeschooling my children. I'm thankful that God has given us the opportunity to run a family business together, it has brought us closer as a family and that is the greatest gift that I could have ever asked for!
What are your best tips for running a family business and homeschooling your children?