The weather is finally starting to shift here as spring begins to show its beautiful colors. The ice in the lake is beginning to melt and the river is pushing its way towards us on shore. Walking outside on the deck and hearing the sound of open water, birds singing in the trees and feeling the sun shining on my face is amazing! It seems that spring has decided to show up in Maine!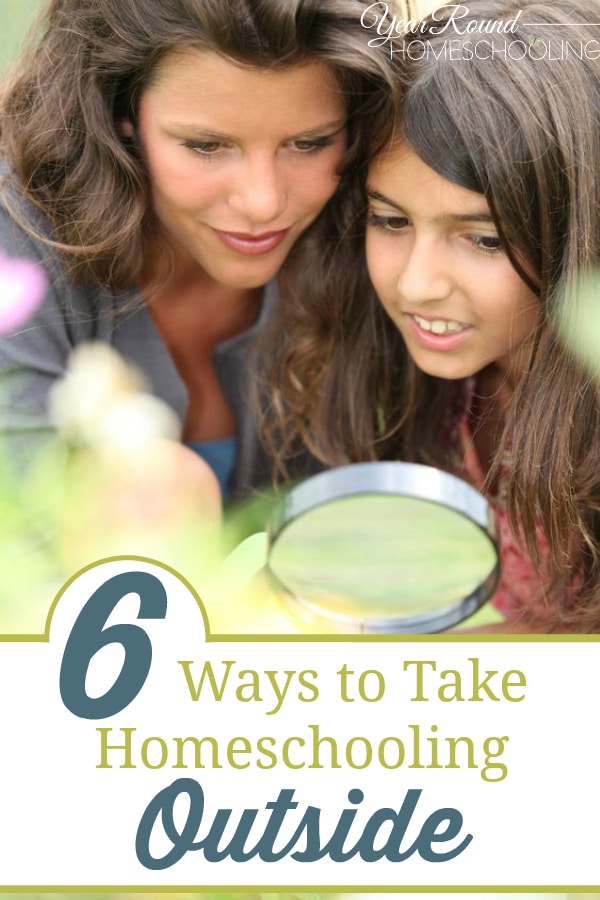 When springtime hits we are more than ready to be outside. As a Texas girl, I spend most of the winter months inside hiding from the -20 degree temps. Unlike myself, the kids have grown up in the north and actually enjoy spending most of the winter outside doing some type of winter activity. However, the winter months are long in the north woods of Maine and even my winter loving kids get tired of the gear and work that the cold temperatures require. So, when spring comes we look for as many ways to take homeschooling outside as we can find because we're just tired of being in the house.
While taking the textbooks and lesson plans outside is a great place to start, there are many more ways to take advantage of homeschooling outside!
Our Favorite Ways to Take Homeschooling Outside
Grab your current or favorite read aloud book and a picnic lunch. Then head to your local part or sit under your favorite tree and spend the afternoon (or entire day!) reading and discussing literature together! This will make for amazing memories, teach your children how to talk about the books they're reading, build vocabulary, relationships and so much more!
I remember my mom reading this book to my brothers and I growing up and there were many summer days that I read it to my children as well. If your family hasn't read it yet, I highly recommend it for your next read aloud.
In the springtime we love to take walks outside in the woods and find as many buds, nests, animals and plants as we can! The kids like to bring along our camera and take pictures of their discoveries. My daughter enjoys creating art journals of our finding as well and researches each plant and animal we see to make notes next to her drawings.
Bringing along a full size art or sketch pad isn't always ideal for nature walks, but it is easy to pack a pocket journal or sketch book like this if bringing a camera isn't an option.
My kids love science experiments. I do not love them…because they make a mess. However, since my children do not typically love science, I have learned that doing experiments is needed for their education. By taking our science experiments outdoors it allows the kids to really enjoy the activity and learn without mom stressing about cleaning up as they go along.
This is a book set that we have really enjoyed using for "just because" science experiment days. Most of the supplies can be found in your home, so there is no need to run to the store.
We like to go on most of our field trips in the summertime when school is out because we find that even on the busy days they are less busy than during the normal school year. Our favorite local field trips are the farm, zoo, battle fields, historical sites and museums. The kids and I visited Amish country and Gettysburg a few years ago with my parents and to this day the kids talk about how much fun that trip was for them.
I have put together a few field trip ideas for every state in the US and some for Canada too! I hope you'll check them out and if you see anything missing let me know and I'll add it!
When my kids were little art class was always completed outside because it was messy. Paint, glitter, glue, sequins, feathers, noodles and beans would end up all over the place if we tried to create art inside. A clean loving homeschool mom does not make for a fun art teacher, so outdoors was the best location for art class with little hands.
This was my favorite resource for keeping art class somewhat neat with my little ones. Now that my children are older, we still enjoy taking art class outside for landscape and nature painting and/or sketching. Last year we purchased a table top easel, (similar to this),  for my daughter at Christmas and she loves it!
There really isn't any part of our homeschool days that we are unable to take outside. Our favorite Math curriculum can be used on a laptop on the picnic table, English requires one textbook, a pencil and paper, Spelling can be completed on their Kindle Fires, History is currently being learned through literature studies and Geography is a lapbook resource this year. No matter what we're completing in our homeschool day we can pick it up and take it outside.
It is important for homeschoolers to get outside the four walls of their home sometimes. For us, that means homeschooling outside as much as possible. It might mean something different for you and that is perfectly fine. Homeschooling looks different from one family to the next.
What is your family's favorite way to take homeschooling outside?