When we began our homeschooling journey nearly six years ago, I never dreamed of all the ways I would be blessed on this journey. Not every day is easy, but it is always worth it. Every year I seem to find new things that I just love about homeschooling. However, there are a few that are constant.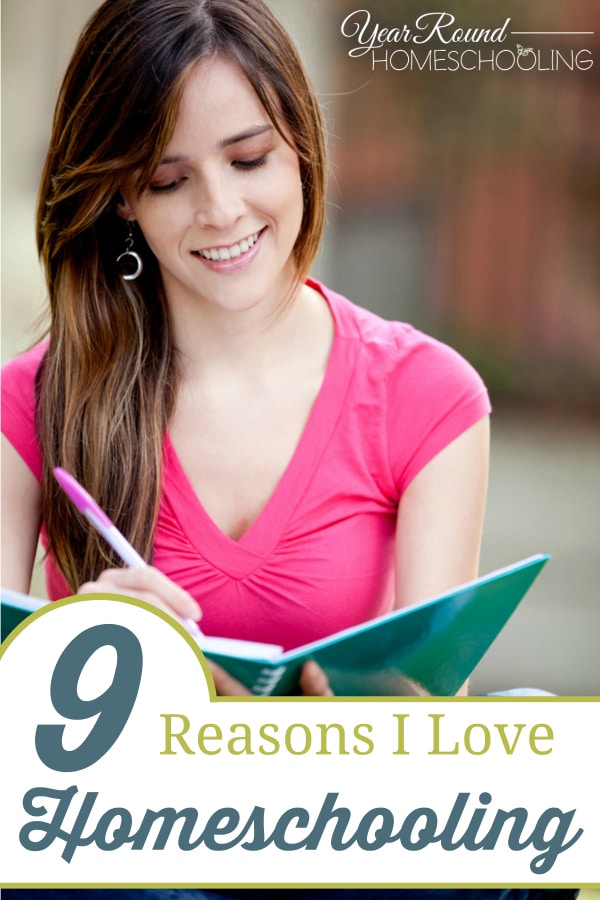 The Top 9 Reasons I Love Homeschooling
1. Teaching from a Biblical Worldview – I love that we are able to teach any and every subject from a Biblical worldview. We can pick and choose the curriculum that fits our beliefs and the needs of our family best. I also love that we can pray anytime we want or need to. One fun thing I have started to implement is the SKIP method – Stop. Kneel. Invite. Pray. When the kids start to argue or fuss, we simply SKIP. It helps us reset our minds and hearts and get back on track when we waiver. Look for the free printable sign down below.
2. Lightbulb moments – Before we homeschooled, I never realized just how rewarding those "lightbulb" moments were. The first time my oldest read his first sentence all by himself, I cried like a baby! Seriously. I was a blubbering mess. It was embarrassing. Then when he finally understood math – another blubbering mess. Now as my middles are working on their reading skills and learning math, my tears fall like water spickets. It is amazing to watch them grow and blossom in their love of learning. To watch their minds work is just pure joy to me.
3. Helping them through their struggles – On the opposite end of the joyful moments are the real struggles. While at times they take a great deal of patience and persistence on my part, it is a different kind of joy that I feel when I am able to help them work through a problem or struggle. Again, we can easily stop and SKIP to help them refocus and then work on the issue. The ability to stop everything and help them right then and there is immeasurable to me.
4. Vacations are flexible – Now that we live over 600 miles from family, this has been HUGE for us. We able to adjust our school schedules to fit when people are coming to visit or we need to travel back to our families. Sometimes we even take a minimal amount of school with us and we don't miss a beat.
5. Games count as schoolwork – My kids love to play games. I love that we can use everything from Bananagrams to Candy Land as part of our school! It's so fun seeing them learn as we enjoy each other and play games together. My oldest enjoys strategy games such as Jenga and this fun LEGO The Hobbit game, which encourages memory and strategy. Use games like Twister as part of Physical Education as well as color recognition!! You can have so much fun with games!
6. Snow Days are still school days – Living further North now, we have many cold days and lots of snow that keeps us in for days at a time. I love that we don't have to miss school just because it's snowing outside. Or worry about delayed start days. We can go about our regularly scheduled day or put a fun twist on it with some snow-filled learning!
7. Crafts – Even though I'm not big on the crafts, my girls do love them. I am thankful we can spend time making crafts together as part of their learning. They enjoy it, we are reinforcing what they have learned that day and it's a win-win for everyone!
8. No pick-up lines after school – Oh how I envy the mom's sitting in that afternoon pick-up line at school – said NO ONE EVER!! Enough said.
9. NO early wake ups!! – Kids are all different. Some need more sleep than others. Some are early risers. Some take naps even when they are 6 or 7 years old. I love that homeschooling offers the flexibility to each student according to their needs – even sleep. I have two early risers who are ready to conquer schoolwork about 8 am, while the other two are sometimes not out of bed until almost 9 am. Homeschooling allows us to tailor the needs of each child individually. PLUS…it really helps with the cranky, crabby attitude issues that arise when they don't get enough sleep.
Just so you don't think our days are all filled with roses and the silver lining, don't miss these 5 Things I Hate about Homeschooling!
What are some of your favorite reasons for homeschooling?