Field trips are a great way to give your children time to explore. This Arizona Field Trip Guide makes it easy to head out and start exploring 'The Grand Canyon State'.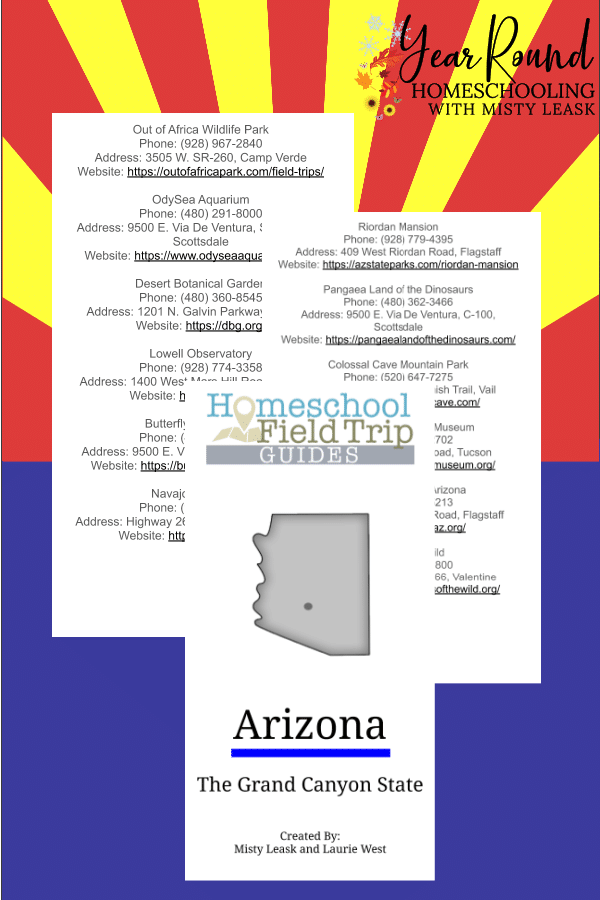 Exploring is a key to learning. It allows for experiences which are essential to understanding what is being taught.
Traveling the United States is a wonderful way for children to learn geography. Sometimes it is difficult to visualize a place you read about. Visiting a particular destination gives you so many opportunities!
Before you head out or start to virtually explore the state of Arizona, make sure your kids have learned all about 'The Grand Canyon State'. This Arizona State Study is a great place to start! There are also notebooking pages, a coloring pack and an Arizona Road Trip Adventure Journal that are fun additions to a study of the state of Arizona.
Inside this Arizona Field Trip Guide, you'll find 20+ field trips in Arizona as well as their contact information, phone number and clickable website address.
I've tried to include something for everyone in this guide. Options include museums, outdoor locations, hands-on activities, historical places and much more.
If you're unable to get out and explore Arizona, these virtual field trip options might be a great resource for you.