I believe that travel is one of the greatest gifts that you can give. The experiences that travel give often don't cost a dime. When you're ready to hit the road, grab a copy of this Arkansas Field Trip Guide to help you find fun activities along the way.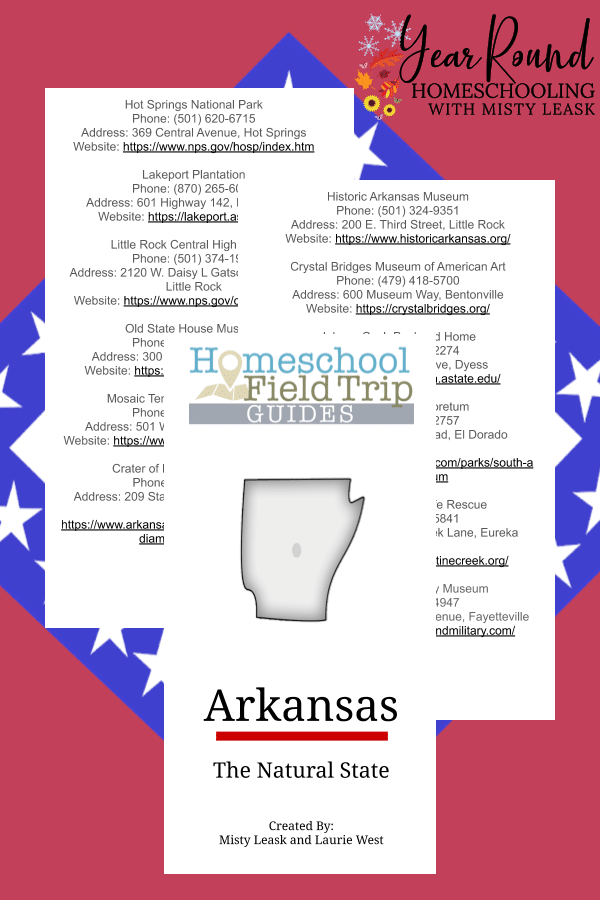 Children are natural explorers. They love to get out and discover new things. That is why it is important that we make time to travel with our kids.
While you may not be able to travel the world or even the country with your children, there are plenty of places to explore in your neck of the woods.
If you are unable to travel too far, do a quick search for field trips in your state and start there.
However, if you're ready to hit the road and head to Arkansas, make sure your kids have learned all about Arkansas before you head out. This Arkansas State Study is a great place to start! There are also notebooking pages and a coloring pack that are fun additions to a study of the state of Arkansas.
Inside this Arkansas Field Trip Guide, you'll find 20+ field trips in Arkansas as well as their contact information, phone number and clickable website address.
I've tried to include something for everyone in this guide. Options include museums, outdoor locations, hands-on activities, historical places and much more.
If you're unable to get out and explore Arkansas, these virtual field trip options might be a great resource for you.