Learning about aviation history is a subject that kids will love! They love watching airplanes flying high above their heads and enjoy seeing birds soar through the sky.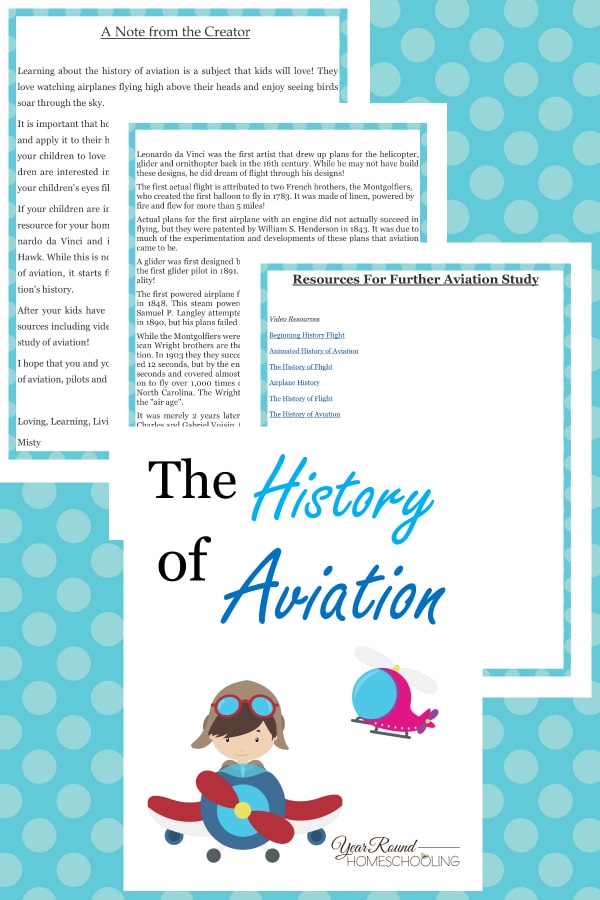 If you enjoy planning your homeschool studies by theme or holiday, then you can use this lesson to learn about aviation, pilots and airplanes and celebrate National Aviation Day which falls on August 19th each year.
It is important that homeschool moms learn to take their children's interests and apply it to their homeschool journey because this is how you encourage your children to love learning! By taking subjects and topics that your children are interested in and adding it to your homeschool days, you will see your children's eyes filled with light as they enjoy learning!
If your children are interested in airplanes, pilots or aviation, this is a great resource for your homeschool! The History of Aviation Study starts with Leonardo da Vinci and includes Amelia Earhart, space flight and the Global Hawk. While this is not an in depth study of any particular part of the history of aviation, it starts from the beginning of flight and highlights all of aviation's history.
After your kids have completed this study there are links to additional resources including videos, online articles and printables that can further their study of aviation!
We also have several fun aviation themed printables to make your study even more fun and educational too! You'll find aviation themed printables for Preschool through Middle School via the links below.