Every homeschool mom longs to discover the secret to balancing it all. There is always laundry to be done, dishes to be washed, children to teach, meals to be made, husbands to be cared for and much, much more. Each day can be exhausting to homeschool moms, especially if they do not learn how to balance everything well.
Homeschool moms do not just wake up one day and magically know how to get everything done. Learning to balance it all happens over time.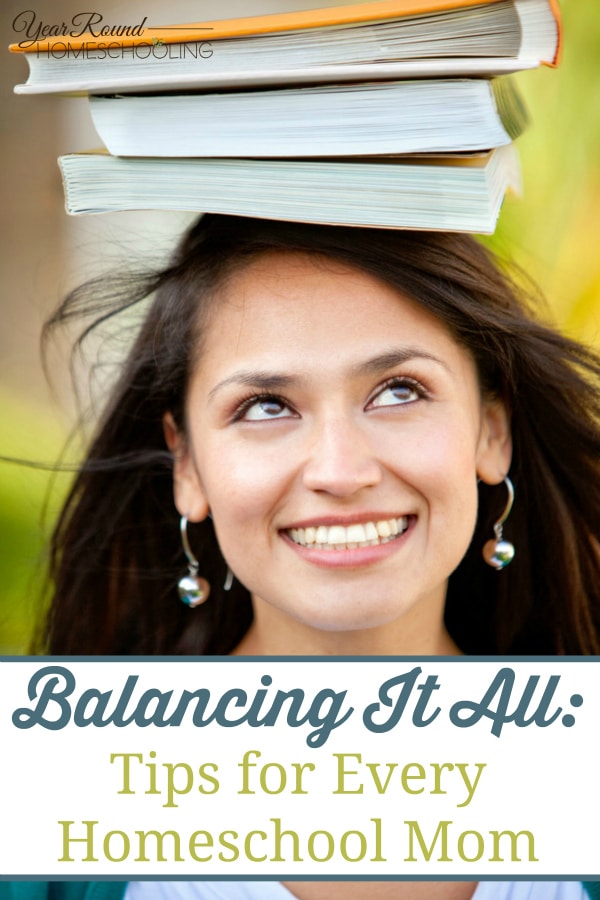 Throughout our homeschooling journey I've learned a lot about my children and my husband, but more than anything I've learned a lot about myself. The lessons I've learned about myself over the last seven years have taught me how to balance my marriage, my children, my home, homeschooling and businesses well. I haven't always been able to balance it all, that is why I said learning to balance it all takes time. At the beginning of our homeschooling journey I tried to do everything right all the time. I was exhausted. I was frustrated. I was unhappy. 
Looking back I can't believe all of the things that I did because I felt that in order to be a good wife, mother, homeschooler, homemaker and businesswoman that I must get it all done each and every day. It's no wonder that I was stressed and depressed much of the time.
In order for a homeschool mom to determine how to balance it all, she must accept one truth. Each homeschool mom has different tasks to balance, so balancing it all will not look the same for every homeschool mom.
You won't get everything done today
Stop trying. Even if you do your very best, something is going to fall through the cracks. You'll remember what it is when you lay down to go to sleep, I promise.
Make a list of your priorities
Take a few moments and make a list of your priorities. Once you've made your list tape it somewhere you'll see it often, on the fridge, next to the stove or in your homeschool room. (Ex. My priorities are my time with the Lord, my marriage, my children, homeschooling, my home and my businesses – in that order.)
You should touch your priorities in some way each and every day. Refer back to your list of priorities often if you find yourself overwhelmed and struggling to balance it all. (Ex. Prayer time, conversations with my husband, quality time with my kids, educating my children, cooking meals and getting a day's work in on my businesses are my daily priorities. Time for myself, detailed housework and date nights do not happen every day, because they are not my priorities.)
There may be occasions when you find time in your margins that aren't filled. Do not fill them ahead of time. When they come your way you'll know best how to fill them, do not pre-fill them.
Homeschool moms must remember that balancing it all requires that we know what our priorities are and then we must determine which one needs our attention each moment and focus on it. How we balance it all will change each day because our priorities will require something different from us from one day to the next. There will never be a day that looks just like another, balancing it all will look different today than it did yesterday.
Don't worry about how what you're doing looks. Focus on what priority needs you in this moment, in the next and continue on throughout your day in the same way. Balancing it all isn't as hard as it may seem, but you must first know your priorities.
How do you, as a homeschool mom, balance it all?