Writing is not every student's favorite thing. These Bee Mine Notebooking Pages may not help your student's love for writing, but they can make it a bit more fun.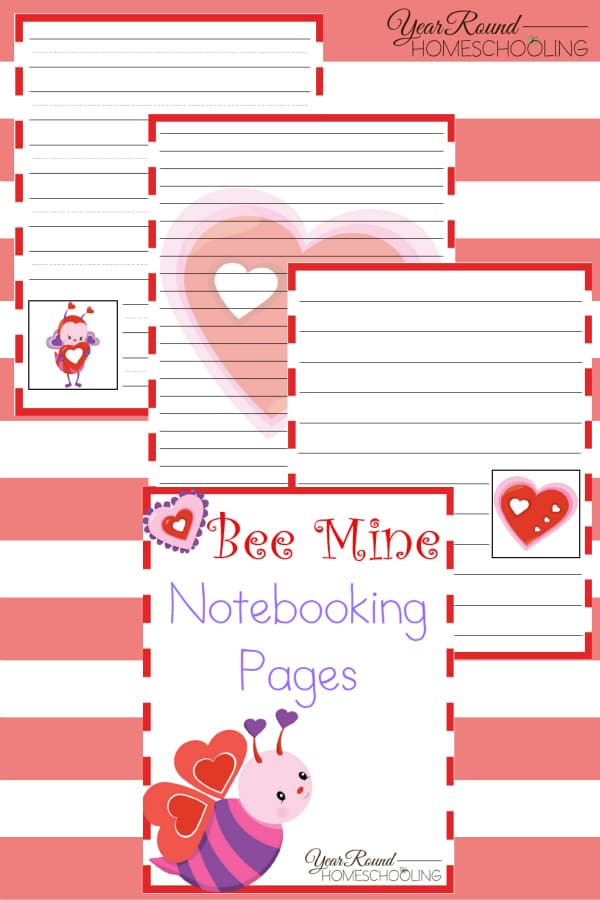 I have a future author and a reluctant writer in my homeschool. One can't survive a day without writing a story or another chapter in her book. The other would rather wash dishes than write anything.
Having one of each has, at times, made tackling writing in our homeschool. I found that by allowing my reluctant writer to share his thoughts on topics and things he has an interest in has actually helped him enjoy writing. While he doesn't jump up and down when receiving a writing assignment, he does complete the task and do it well.
Paying attention to how your children learn and what they enjoy is key to creating a homeschool journey in which they will thrive. Writing is no exception.
There are so many fun ways to incorporate writing into your Valentine's Day studies. Whether your kids write letters to their loved ones, make a list of reasons they love each of their family members, compose a poem, draft a love story or pen a report on the history of Valentine's Day.
These Bee Mine Notebooking pages are the perfect resource for all your Valentine's Day writing needs!
If you'd like more fun learning resources to use in your homeschool for Valentine's Day, be sure to check out all of my holiday resources in my store here.