While organization looks different for everyone, I've found the best organization tool for homeschoolers! No matter what your organization system/method looks like, I'm certain it will make your life SO much easier.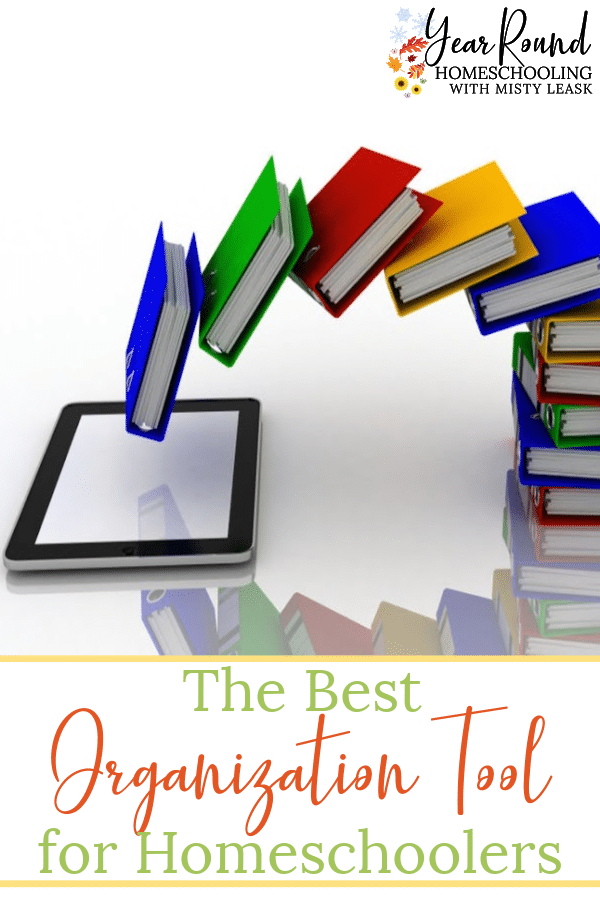 Being organized is important. Not everyone enjoys being as organized or planned out as I do, but organization is essential. Especially for busy homeschool families.
I learned organization from both of my parents. My mom homeschooled my brothers and me from K-12, while my dad was in the U.S. Navy for 23 years. Organization was a part of our everyday life.
As a family-business owner, professional blogger and homeschool mom, I'm extremely grateful that I learned how important being organized was from a young age. I have no doubt that if I hadn't, I would be struggling (more than I am!) with all the plates I balance each day.
Over the years, I've used many different methods to try and keep everything in my life organized. I love planners, but couldn't find one that worked for homeschooling year round. That's why I created my own and I love it. Yet, there are a few things that even the planner I created can't do that I needed help organizing.
I'm a very visual person, so it is no surprise that my children are as well. Finding a way to keep their homeschooling resources, schedule and lesson plans organized was always my biggest struggle. Not only did they need to be able to see what they had in front of them for the day, week, month and year. I also needed to be reminded of what I spent hours upon hours planning.
Thumbing through papers is all well and good until your child is standing in front of you wanting an answer. Which unit study do I do next? Where is the book I need to read for history? What subjects do I need to complete today?
This became a big issue for our family when my children entered high school. They wanted to have the ability to keep track of their own homeschool days and resources. To be honest, I needed them to as well. After all, lessons in responsibility have to start somewhere, why not as part of their education?
The hardest part was finding a resource that both helped me organize and was still flexible enough for our lifestyle. We all know that days can take a swift turn sideways requiring well-made plans to change. When you throw in a family business, it can create even more of a challenge for homeschooling.
With the very word, flexible, in the name, I knew I had found a gem when I discovered the Flexible Homeschool App.

5 Key Features of the Best Organization Tool for Homeschoolers
This is one of my favorite features of the app. The student logins allow your children to access the schedules and lesson plans that you've assigned to them.
The weekday labels are one of the newest features of the app and they make weekly scheduling a breeze! For subjects that you only complete specific days of the week, label them that way and that's how they show up for your students on their schedule.
This is where you store all of the things. Books. Apps. Videos. Textbooks. Audio. Links. Literature. All the things. Beyond having every resource you'll need throughout the year organized in one place, you can mark each resource individually indicating whether you 1) own it, 2) borrowed it, 3) need it or 4) returned it. Brilliant. If you can't tell, this is my favorite feature of the app.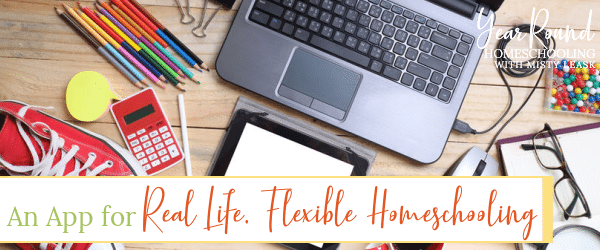 Thankfully, I live in a fairly easy state to homeschool. Still, there have been times when I've needed reports showing what we've done throughout the homeschool year. If you need or would like reports showing what your students have covered each year, you will truly appreciate the ability to print reports directly from the app.
Coming soon! I'm really looking forward to seeing this feature in action. When live it will allow you to organize and print reports based on the subject rather than the school year.
I love the Flexible Homeschool App for so many reasons, but I truly appreciate that they're always looking towards the future. With digital resources, it is easy to be leery of using them for fear of them just being gone one day when you try and log in. You don't have to worry about that with the Flexible Homeschool app, you can see the vision for the future via their roadmap.
Those of you with younger students, it may not seem like you need the level of organization that the Flexible Homeschool App offers right now. I can assure you that the earlier you start organizing your homeschool and your students, the easier your life and homeschooling journey will be.
Get started today. Use coupon code yearround for two month's free access.
Stay flexible. Be organized.