In the past couple of years, nearly everything has moved online, allowing for everyone to have access to services and programs that once were limited by what was available locally. That means, finding a tutor for your homeschool is easier than ever before!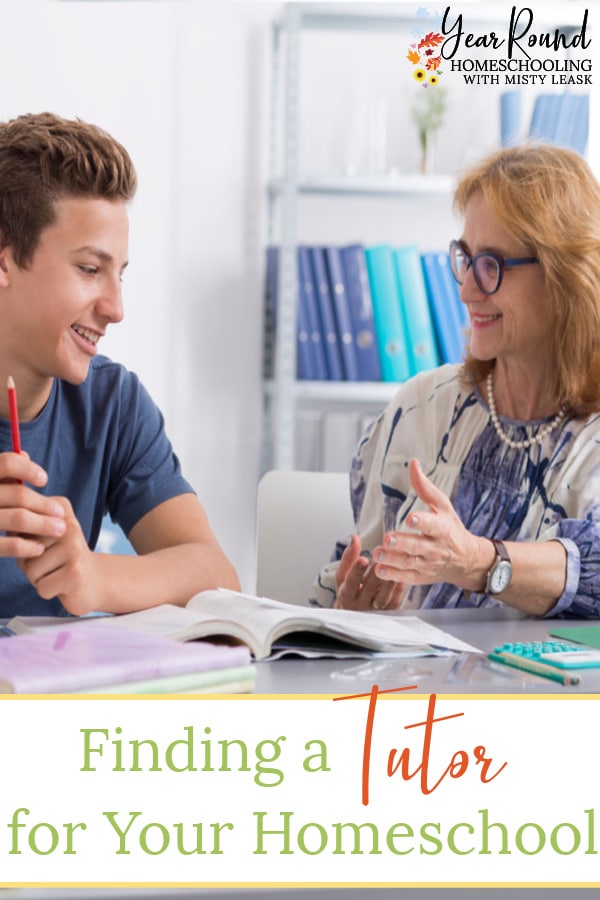 It used to be that to get a tutor for your child you had to find someone to work with your child at the local high school or college and if you did not have tutors available locally you were out of luck. Now, thanks to the internet and programs like Zoom, you can find a tutor online for your child to help them learn no matter where you live, all from the comfort of your own home.
Deciding if your homeschool needs a tutor, is a conversation that you need to have with your child. In addition, there are a few things you'll want to consider before you take the next step.
Why use a tutor?
A great way to get a fresh look at ways to help your child understand what they are learning is by using a tutor for your homeschooler. Sometimes kids simply need someone else to explain things in a different way than we do for them to understand what they are learning. A tutor allows you to find the right person to do this so your child can get the help they need even if you do not live in an area where those with knowledge in that particular area of study are abundant.
Using an online tutor allows you to take advantage of the time your child has available to study and learn by using on-demand services or allowing you to search and find a provider that can work around the time you have available so tutoring can fit your schedule rather than you needing to make changes to fit the extra help in.
Fresh eyes when studying for a major test. If your child is prepping for a major college entrance exam, having an online tutor that works as a professor or is a student that passed that exam themselves in the past few years can give your child a fresh look at the material that could make all the difference in their scores.
Where to find a tutor
Start by asking friends and family. You may know someone that is experienced enough to tutor the subject you need that is willing to give you a reasonable price for online tutoring. While some may be available locally, you may discover the perfect tutor lives far from away you. Thanks to the world wide web, this is no longer a reason for not hiring a tutor.
Varsity Tutors is one of the most popular online tutoring sites that help connect you to live online classes and personalized online one on open tutoring.
Tutor.com offers a wide range of tutoring services and programs including one that is designed solely to help your teen score well on the SAT for the best chance at getting into the college of their choice. Tutor.com offers programs specifically for military families to help make keeping kids keep up through moves easier than ever.
Tutorme.com allows your child to jump right in for help instantly and is currently offering a free trial you can use to see if the service is right for your child. simply describe what your child needs help with and the program will help connect them to an online tutor that uses a digital whiteboard to help work with your child as if they were in the same room and follows up on the lesson with a review to be sure your child understands the information after the lesson is complete. If you are struggling to teach your child a math concept this can be an amazing tool for helping them understand.
Skooli.com offers instant tutoring online from any device allowing your child to work whenever and wherever they have time to sit and focus. This can be a great program to sign up for so that your child can go on and get help whenever they need it when working on subjects you may not be able to help them with fully.
Club Z helps connect you to online and in-home tutors allowing you to use the service to find just what you need even if things change and you decide that you need more than an online tutor and would like to find someone to come to your home to work with your child. This can be great for families that are unsure about online tutoring and want a service that can help them on-site if they so choose.
SpecialEdTutoring.com understands that not all children learn the same and some need help to learn in a different way. For kids with learning disabilities and struggles or p[particularly gifted children, Special Ed Tutoring can connect your child to a tutor that can work with their unique learning style. A special education expert works with parents to help make a plan that connects a tutor to the child and helps work towards your child's overall goals.
Choosing to find a tutor for your homeschool can be the best decision you've made for yourself and your child. Everyone has different skills and passions, by allowing our children the opportunity to learn from someone who is skilled or passionate in a subject that we are not, we're giving them an amazing gift!