There are so many homeschool curricula and resource options on the market that it makes shopping for each homeschool year very difficult for homeschool moms. We don't want to purchase the wrong curriculum for our kids and end up wasting both our time and our money. So, spend countless hours (and sometimes days or weeks!) researching homeschool curriculum and resources to try and ensure that we get the right items for our homeschool.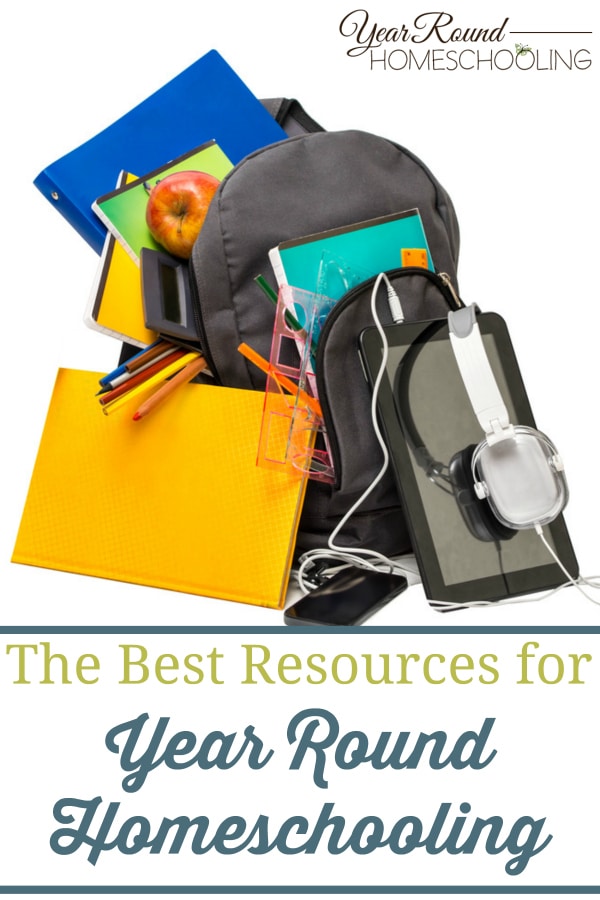 The homeschool resources I used prior to becoming a year round homeschooler were different than what I use now. Over the last several years I've discovered that the best resources for year round homeschooling aren't what I used when following a "normal" school schedule. As a homeschool mom I prefer to read reviews and recommendations from fellow homeschool moms prior to purchasing homeschool curricula and resources, so I wanted to share what I believe are the best resources for year round homeschooling to help you prepare for the upcoming homeschool year!
My Favorite Resources for Year Round Homeschooling
I love using unit studies in our homeschool for many reasons, but my favorite reason is because we can pick and choose what we want to study according to my children's interests, as well as the seasons and holidays very easily. You'll find my unit studies here, but I also highly recommend unit studies by Amanda Bennett and Techie Homeschool Mom as well.
As a year round homeschooler it is impossible to find a bound homeschool planner that follows a September through August layout. I designed The Essential Year Round Homeschooling Planner to use because I could not find a resource that I loved. If you prefer a printable teacher's planner option, then you may love mine! Aside from homeschooling, I use my Erin Condren Life Planner to keep other parts of my life on track, from housework to online work and our family business. The best part is that all of my to-do lists and plans fit inside this one planner!
Beginning this fall I'll be using Dropbox to organize and assign my children's lessons for the entire homeschool year. I am looking forward to having all of their digital homeschool curriculum in folders for them to access from their computer.
When my children were younger I attempted to use lapbooks, but I was exhausted from all of the prep work that came with getting them ready for my kids. We really enjoy using the amazing lapbooks/studies from In the Hands of the Child.
Netflix, Amazon Prime Video and/or Roku
Textbook learning isn't always the best way to teach our children. As the saying goes, seeing is believing, so having access to video streaming options for your kids to use throughout the year as part of their homeschooling journey is important! There are countless documentaries, science, history, music and art video resources available via Netflix (make sure to add parental codes and set up a children's profile), Amazon Prime Video or Roku to add depth to your children's homeschool lessons!
Encouraging children to write about the subjects or topics that they are learning about is not always easy, but when you have themed notebooking pages it can make it more fun! You'll find 1000s of printable notebooking pages for history, science, art, geography and much more! If you become a lifetime member you'll gain access to all of the current notebooking pages and ALL future products as well!
Literature is an amazing resource that doesn't have to cost a fortune thanks to your local library. You're likely to find everything you need to teach any subject/topic that your children want to learn about anytime of the year inside your local library. Many libraries have interlibrary loan systems in place that allow you to borrow books from other libraries in your region or state should your local library not have a title you need.
Since my children lead their own homeschool journey, they often want to learn about a particular topic or subject on a moments notice. Having a membership to SchoolhouseTeachers.com allows my children to have access to over 200 topics/subjects with the complete study available for them immediately no matter what time of the year it is and I don't have to wait for shipping!
Playing games is a great way to add fun to your homeschool journey! We have games that we use for math, geography, spelling, history, art, Bible classes and more! If you need ideas for fun, educational games for your homeschool you'll find over 80 educational games separated into 10 different categories here!
Year round homeschooling is an amazing journey for the entire family all year long! There will be countless educational experiences and opportunities that everyone will learn from and enjoy together. I hope that my favorite resources for year round homeschooling are helpful to you and your family's year round homeschooling journey!
What are your favorite resources for year round homeschooling?