Virtual field trips open up the entire world to us without needing to have a travel budget and weeks of spare time. There are many places that we wouldn't likely see in our lifetime that are available to us through virtual field trips.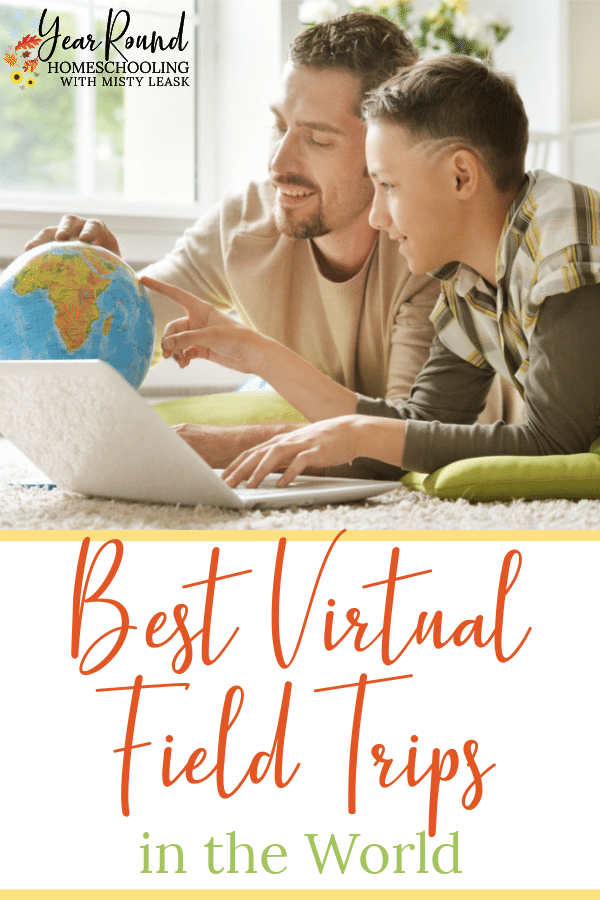 While ideally, we would all be able to take our children around the world to see every amazing landmark in person but most of us do not have the budget or the time for this.
The good news is that many of these amazing places offer virtual field trips that allow us to explore and learn without having to travel.
The Best Virtual Field Trips in the World
Amazing World Landmarks
The Great Wall of China
Visit The Great Wall of China with this free mini tur video clip or pay for a more in-depth video tour allowing you to explore the landmark from a view like never before.
Chichén Itzá
Take your own tour of Chichén Itzá as you explore the Mayan world thanks to this amazing virtual tour and dive into the Arts and culture of the Maya world.
Christ The Redeemer, Brazil
Virtually fly on down to Brazil to explore the massive Christ The Redeemer statue up close and personal with a 360-degree tour and a host of photos courtesy of Google.
Petra, Jordan
Explore and learn about the ancient city of stone, Petra, in this virtual field trip available thanks to Google Earth. This massive city made almost entirely of stone is an amazing example of ancient architecture.
Taj Mahal, India
The Taj Mahal is perhaps the most romantic monument in the world. This stunning mausoleum is available for a virtual tour that your children will love.
Colosseum, Italy
Studying Ancient Rome in your homeschool? You can explore several amazing virtual field trips to explore Ancient Rome, including the amazing Colosseum.
Machu Picchu
This mysterious monument is believed to be an estate for Inca royals or a religious site for Inca leaders. The true purpose for this beautiful and massive ruin is unknown but full of potential as you explore with this virtual tour of the Machu Picchu ruins.
The Great Pyramid of Giza, Egypt
Want to explore the Pyramids of Giza? Add this virtual tour of the Great Pyramid of Giza to your Ancient Egypt unit study to bring this wonder of the ancient world to life for your child, along with other amazing Egyptian monuments in 3D.
Great Sphinx of Giza
The Great Pyramids are not the only wonders of Egypt to explore. Take a virtual tour of The Great Sphinx.
Acropolis of Athens
The Acropolis of Athens is a fortified central remaining from ancient times. Take a virtual tour of this amazing piece of history today.
Palace of Versailles
The Palace of Versailles is an amazing home to past french royalty. This virtual tour is the perfect addition to your study of French history. You can even explore this one in VR.
Eiffel Tower
Take a tour of one of the world's most well-known landmarks, the Eiffel Tower in Paris, France, for a breathtaking view you will never forget.
Leaning Tower of Pisa
Take a 360-degree tour of the amazing and perplexing Italian landmark The Leaning Tower of Pisa.
Big Ben
Explore a 360-degree tour of London, including Big Ben on VisitLondon, to explore some of the most famous places in London.
Statue of Liberty
Ever wanted to explore The Statue of Liberty and Ellis Island with your homeschoolers? Thanks to the National Parks Service, you can explore virtually from the comfort of your own home.
Mount Rushmore
Ever want to explore Mount Rushmore when learning about past U.S. Presidents? Take a 360 virtual tour of Mount Rushmore today.
The best museum virtual field trips
While visiting historical sites is an amazing privilege, virtual field trips to these museums can be an amazing experience in art, history, and science without having to travel around the world to see it all.
Henry Ford Museum of American Innovation
The Henry Ford Museum and Greenfield Village are some of the most amazing places to explore when studying American history. From cars to printing presses and Thomas Edison's lab, there are so many amazing things to explore and experience here. This virtual tour has a selection of small units so you can blend them into your
The Smithsonian National Museum of Natural History
The Smithsonian National Museum of Natural History offers virtual tours of current and past exhibits, allowing you the opportunity to work even long gone exhibits into your homeschool lessons.
National Museum of Modern and Contemporary Art, Seoul
Travel the world and explore amazing award-winning art at the National Museum of Modern and Contemporary Art in Seoul with this virtual tour from Google Arts & culture.
The British Museum
The British Museum offers an amazing virtual tour of world history and all of its connections. The studding timeline on the home page makes exploring different time periods easy.
Vatican Museums in Rome
The Vatican offers 360-degree virtual tours of the museums they offer. This is a great addition to history and adding to your religious studies in your home school.
NASA
NASA offers a host of virtual tours and augmented reality apps allowing your child to learn and explore space and earth science in a whole new way.
Natural History Museum
The Natural History Museum in London, England, has a collection of 14 amazing ways you can explore the museum from your own home.
Anne Frank House
Explore the Anne Frank House where Anne Frank lived and hit with her family during the holocaust to bring her book and the history of those lost in this virtual field trip of the Anne Frank House.
The Detroit Institute of Arts
One of the best art museums in the country The Detroit Institute of the Arts brings fine art to life with its Live Virtual Field Trips. This one has a charge but offers live zoom tours where your students can talk to actual tour guides during their tour.
What is your favorite virtual field trip?