I've found that notebooking pages provide kids with a twist of fun to share their stories, thoughts, research and papers. When you visit 'The Golden State' or study California for geography, add these California Notebooking Pages for fun.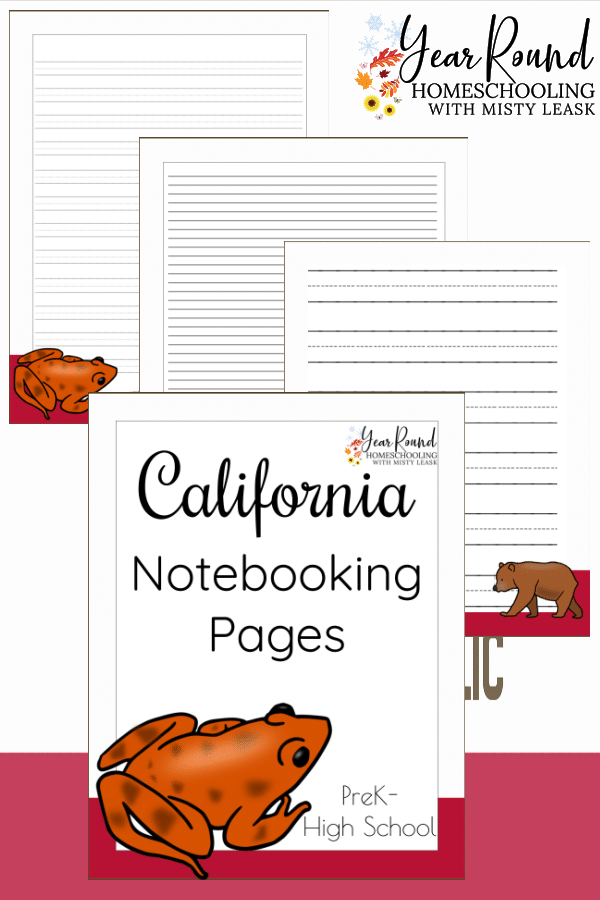 My daughter loved California. I think, like me, she loved that in November we were able to run along the beach and not be bundled up for winter.
While I could never live in California, I would like to visit with my husband and kids and show them the California Redwoods.
Even though we live in the North Woods of Maine and there are trees all around us, they are nothing like the Redwoods in California.
If you ever have the opportunity to visit California, I encourage you to take time to see the Redwoods.
I still remember my family's visit to King's Canyon on our first trip to California, when I was 5 years old.
When traveling with my kids, I like to have them share their favorite experiences, what they learned, interesting things they saw and what they would like to do if we were ever to visit again.
Inside this California Notebooking Pages Pack, you'll find fun California-themed lined pages for all your students from Preschool through High School; featuring the state animal, state tree, state flag and much more!