There are probably almost as many homeschooling methods as there are homeschool schedules. If you're struggling to find the right homeschool schedule and think that year round homeschooling might be it, but you are concerned that switching schedules would mean you'll have to also change your homeschooling method, let me assure you that is not true! You can homeschool year round with any homeschooling method!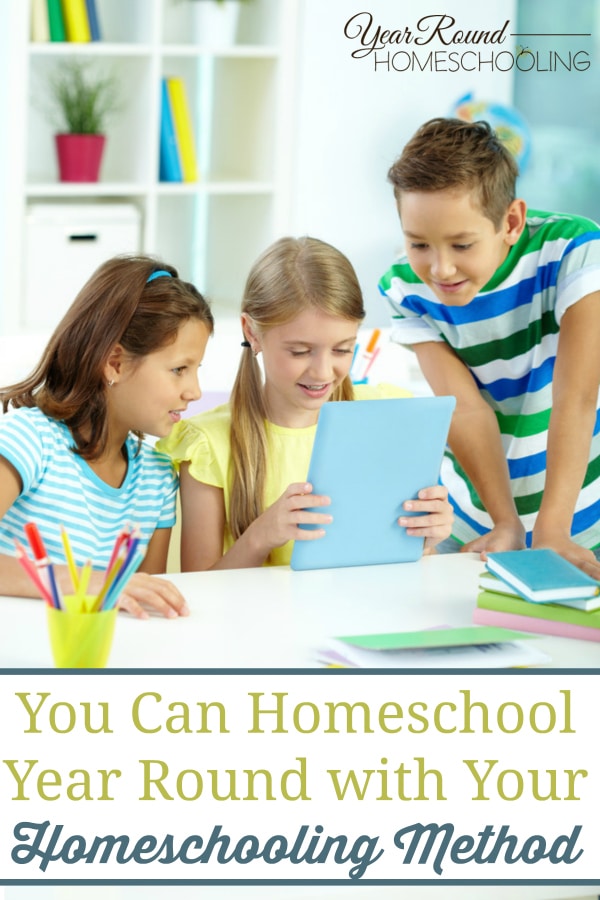 We are heading into our 8th homeschool year and over the years our homeschooling method has changed a few times. We've been "traditional" school (textbook based) homeschoolers, eclectic homeschoolers and currently we are child led homeschoolers. During each of these homeschooling methods, we have followed a year round homeschooling schedule and it worked beautifully.
"Traditional" School Homeschoolers
You can determine when your chapter tests will fall and schedule your homeschool breaks according to them.
Charlotte Mason Homeschoolers
Your homeschool studies follow nature a lot, so year round homeschooling is perfect for you! You'll be able to study the changes in nature as it is happening instead of relying solely on literature!
While you're traveling across the country you can focus on your actual lessons/studies and then take educational/hands-on learning breaks each time that you arrive at your educational planned destination.
Your homeschooling method requires that you design your own lesson plans, so you can easily add a year round homeschooling schedule to your homeschool planning!
You are probably already homeschooling year round, even if you didn't plan to since learning for you happens through daily life!
As your children go through the three stages, they simply progress from one to another, so a year round homeschooling schedule can easily be used by you too!
Since you follow your children's desire to learn, you can simply take breaks when your children are more interested in outdoor play or quiet indoor reading/play time.
A particular homeschooling method should not keep you from finding the right schedule for your family's homeschool journey. Just as your homeschooling method may change, so can you homeschool schedule. Choosing to homeschool year round could be the best decision you've made for your homeschool!  Don't be afraid to make changes to any part of your homeschooling during, before or after each homeschool year. Homeschooling is meant to provide freedom to your family, not add stress or restraints.
What homeschooling method and homeschool schedule do you follow?