Learning about people from history provides the opportunity for history to come to life for your children. Merely learning facts and memorizing dates will not inspire your children to want to learn about history. The stories of people's lives will encourage your children to love learning about history! Do you know who Clara Barton is? What about your children? Clara Barton's life is a great history study for your homeschool.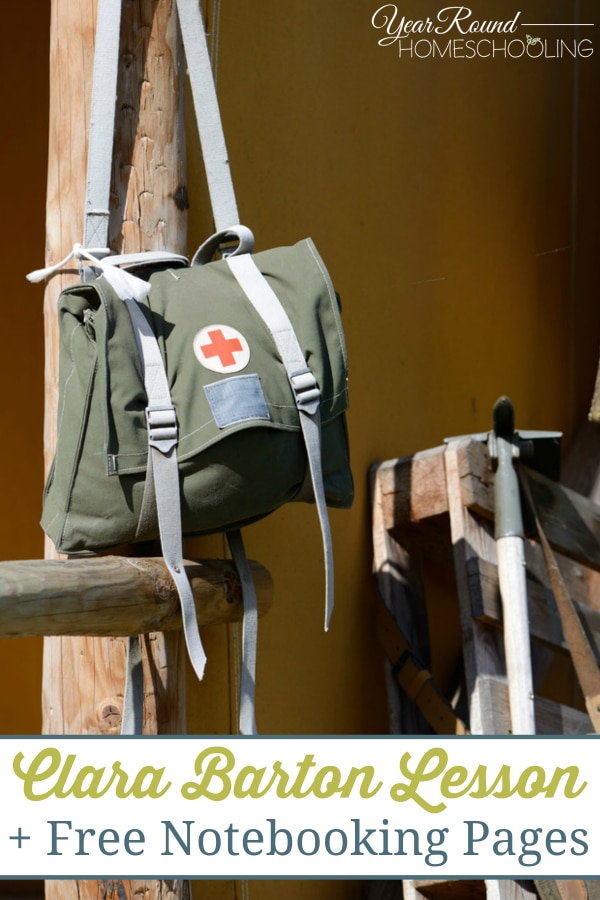 Clara Barton's birth name was, Clarissa Harlowe Barton. She was the baby of the family, the 6th child born to the Barton family on Christmas Day, December 25th, 1821 in Oxford, Massachusetts. Clara died in Maryland, at her home, Glen Echo, on April 12, 1912.
Clara was a very shy child, so it is surprising that at the age of 15, her first job was a summer school teacher. Her classes were lively, but she also ensured that her students remained orderly while in class. She taught school in Massachusetts for several years, but while visiting friends in New Jersey she was given the opportunity to teach a boy's school. While living in New Jersey she was shocked to discover that there were children with no school to attend because there was not a free school for them. After learning of this, Clara worked with the town to open the first free school in 1853, in Bordentown, New Jersey. Her love of helping others began at a very young age as she worked hard as a school teacher to ensure all children received a good education.
A trip south, to Washington D.C., in 1854 was needed as Clara was in search of a warmer climate and some must needed rest. Even though her trip south included taking care of herself, when the Civil War broke out, she was among the first to respond when soldiers were wounded and in need of medical help. Clara began bringing supplies, food and clothing to the wounded soldiers, she also could be found talking with, reading to and writing to family for them as well. She saw combat first hand in 1862, in Virginia, where she was given the nickname, "Angel of the Battlefield". Once on the battlefield Clara didn't shy away from the fighting, she went where she was needed and provided medical supplies, support and food for wounded soldiers.
Not only did Clara help care for the wounded soldiers during the Civil War, she also helped families back home find missing persons. With the help of President Abraham Lincoln and The Friends of Missing Persons, both she and friends wrote over 60,000 letters which helped identify over 20,000 missing men. This service is now one of the most important activities of the current American Red Cross today.
After the ending of the Civil War, Clara went in search of rest again, this time in Europe. While she was visiting Switzerland, she learned about the Red Cross in Geneva. When the Franco-Prussian War broke out in 1870, Clara's intricate knowledge of what the wounded soldiers were in need of caused her to volunteer to help with the International Red Cross' efforts. Upon her return to the US, Clara began to appeal to President Hayes to sign the Geneva Treaty, which would include the US in the International Red Cross network. While President Hayes refused to sign the treaty, President Garfield was planning to prior to his assassination, but it was President Arthur that finally put pen to paper in 1882.
Prior to President Arthur signing the Geneva Treaty, Clara founded the American Red Cross in 1881. She was the president of the American Red Cross from it's beginning through 1904. In 1884, the American Red Cross suggested that the Geneva Treaty be amended and that not only would the International Red Cross provide support during wartimes, but also during national disasters. It is thanks to Clara Barton, that the "American Amendment" was passed at the Third International Red Cross Conference in Geneva.
Through her work and the American Red Cross, Clara was able to help provide assistance and relief to soldiers and their families, forest fire, flood and famine victims (and more) around the world! Beyond her work with the American Red Cross, Clara was also an articulate speaker that was able to share her experiences in vivid detail to attendees. Her love for helping others was evident throughout her life and it continues on through the lives of people around the world who continue to be a part of the American Red Cross.
What did you learn (that you didn't know!) about Clara Barton through this lesson?
Grab your Free Clara Barton Notebooking Pages by clicking on the image below!