**Please note resources mentioned in this post may have been received for free or I may have received monetary compensation to write this post. However, the reviews are my personal opinion. For more information, please see my disclosure page.*
It has taken us just over two years to get settled into our new life here in the north woods of Maine, so we're beginning to add activities back into our schedule that we've missed since we moved.  Before we started our family business our children were taking piano lessons on a weekly basis. Our son loves playing the piano, but up until now I hadn't been able to figure out how to incorporate piano lessons into our homeschool. Earlier this year I discovered an amazing resource that is finally getting our homeschool music class back on track!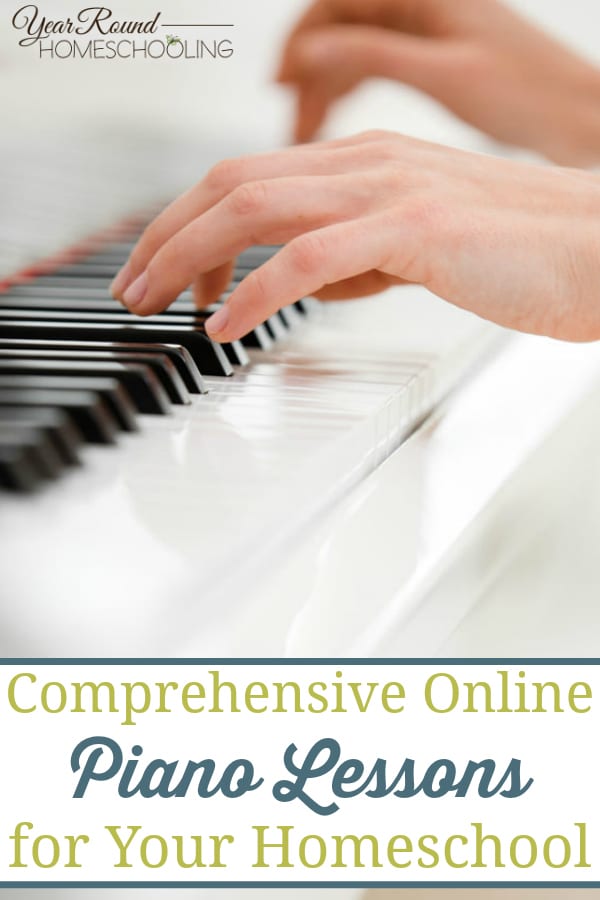 My parents enrolled me into piano lessons when I was 7 years old and I continued taking them until I was 16…when I picked up my first violin. I have always taken music lessons at a teacher's home or in my own home when a teacher chose to come to me. So, the ability to utilize online piano lessons didn't come to me at first. Even when I did consider it as an option, I wondered if it were possible to truly teach any comprehensive music program online.
I began to do some research as I started looking into online piano lessons. There were many free piano lessons to be found on You Tube and various other websites, but I wanted something more than just short video lessons. I wanted my children to not just be taught how to play a song, but also to be taught sight reading, rhythm, musical terms/vocabulary, ear training and more!
As I was searching for online piano lessons I stumbled upon Hoffman Academy, which actually offers over 150 free online video piano lessons! I was excited to be able to access all of their videos and check out the technique, skill level and length of the lessons. After determining that their online piano lessons covered a broad range of skill and technique, I knew that I wanted to see what else they had to offer as part of their music program.
I was thrilled to discover that their online video piano lessons combined with the rest of their resources provide a comprehensive music program just like I was hoping to find! As premium members we have access to printable lesson books and sheet music for each unit, online learning games, progress tracking, support, audio files for weekly practice and more!
This was exactly what we needed for our homeschool music class and it wasn't going to break my homeschool budget to add it! In fact, the monthly premium subscription is LESS than one private music class!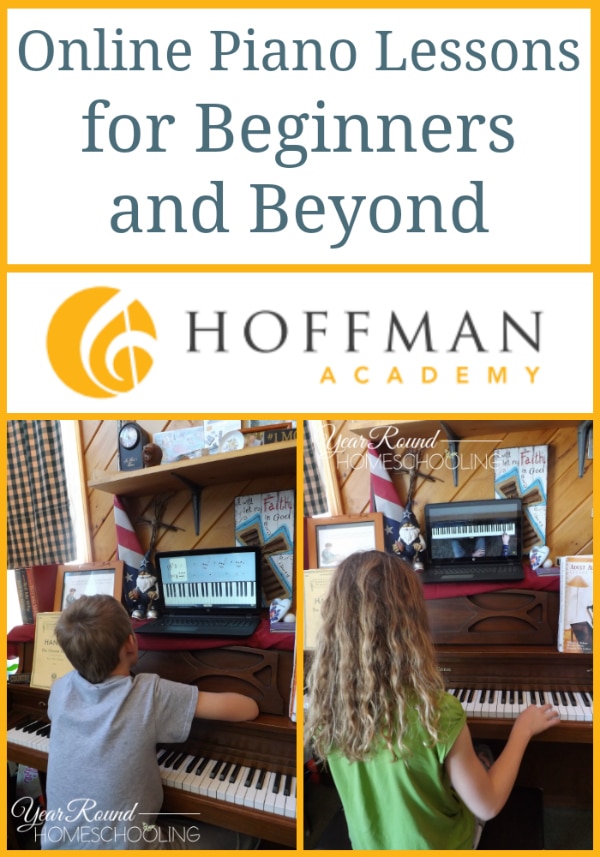 Since my children had been taking piano lessons previously, I did not feel like they had to start with lesson one. So, I gave them the choice as to where they wanted to begin. My son who tends to follow the rules began with lesson one, while my daughter chose to jump ahead a bit. They both have been completing a few lessons a week for music class.
After watching their online piano lesson, each of my children sit down to complete the assigned worksheets provided to premium members. The activities vary depending on the lesson, but they cover rhythm, sight reading, technique, terms and more! There is also an achievement page included that allows children to challenge themselves to master the song or skill they are learning each week. I remember loving the stickers my piano teacher gave me each week as I completed my lesson. I have found that this is a great resource to use to encourage children to not only complete their online piano lessons each week, but to challenge themselves as well! If you are not musically inclined, you'll be thrilled to know that there are answer key pages included with each unit's worksheets!
Our son is looking forward to the day when he can sit down and play the Star Wars Theme Song and the Imperial March and our daughter wants to learn how to play Let It Go soon.
Psst…all three of those songs are available as online piano lessons from Hoffman Academy.
It has been a long time since I've had time to sit down and tinker the ivories. I did take time to look into the lessons myself and was surprised to discover that even in the first 20 lessons there were some techniques and terms that I had never been taught in private music classes. So, as time permits I will be sitting down to both learn and refresh my memory so that I can sit down and enjoy playing the piano like my children do.
Since we live in the north woods of Maine, I'm so thankful to have discovered the amazing online piano lessons that Hoffman Academy offers. If I had not found their resources I would have to not only add in a piano teacher's fee (for each of our children) into our homeschool budget, but also the cost of gas to and from since we would likely have a significant drive to find a piano teacher. In all honesty, I don't know that this would have even been an option for us due to the commitments of our family business.
I'm excited to watch and listen to my children as they continue to progress through all of the online piano lessons that Hoffman Academy has to offer!
What resources do you use for your homeschool music class?