Are you studying 'The First State' and have a struggling writer? Perhaps your kids need to practice writing in a straight line? These Delaware Notebooking Pages are a great resource for either situation.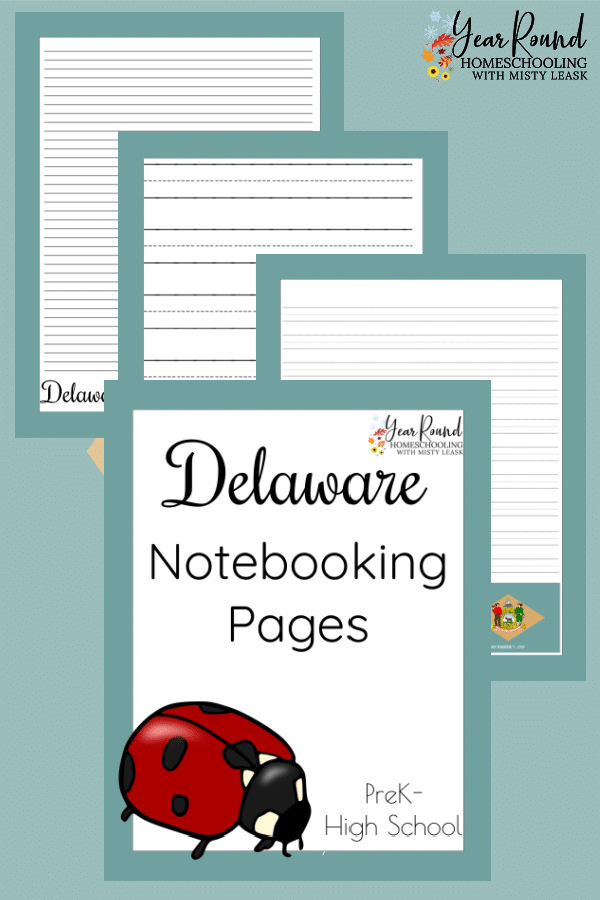 Notebooking pages are one of the most underused homeschooling resource in my opinion. They can be used for any subject, age, grade, learning style or homeschool method.
All children need to learn how to write and write well, no matter what their future holds. With notebooking pages, you can both teach and encourage any of your children to write.
It is true that not everyone will love or be good at everything. However, we need to ensure our children know that there are times when you just have to get things done whether you like the task or not.
Writing is often one of the subjects that children just have to learn to get done. Yet, there are ways to make it more fun for even the most reluctant writer.
My son never liked writing. He would rather clean his room than write a paper. That didn't keep me from giving him writing assignments though.
Instead, I allowed him to choose what he wrote about most of the time. He was given a word or page count and then he had the freedom to pick the subject/topic.
The exception to his freedom in writing was when he needed to complete a book report or curriculum-specific paper.
Notebooking pages were a big part of his homeschooling and provided inspiration as well as fun.
As you're studying the state of Delaware, I encourage you to use these Delaware Notebooking Pages with your children.
Give them the freedom to share something that they enjoyed learning about 'The First State', write a story based in Delaware or practice their penmanship by writing down the words of Delaware's state song.