Studying the US as part of your homeschool geography class this year? This Delaware State Study is full of fun facts, resources and information covering all your kids need to know about the state of Delaware.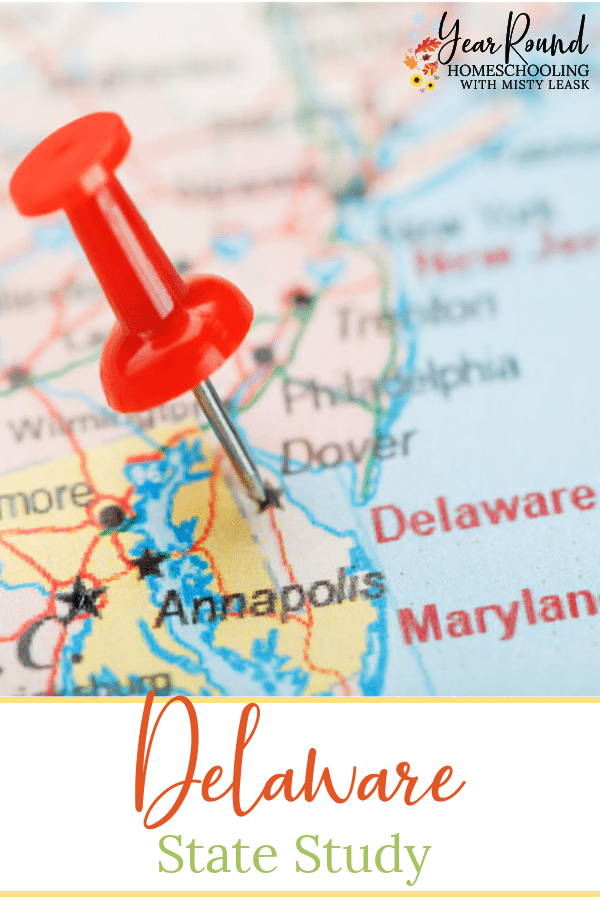 Delaware is a state that I've traveled through many times. In fact, on many of my road trips south, I stay in Delaware overnight.
As a very visual person, I recognize where I am based on my surroundings and in Delaware, the most memorable site for me is the Delaware State Fairgrounds. I've never been to their state fair, but the fairgrounds make it look very inviting.
Whether you've been to or through the state of Delaware or not as I have, there is so much to learn about the 2nd smallest state of the US.
I designed this Delaware State Study to make learning about 'The First State', both a fun and educational experience. I've included videos, articles, literature options, state facts, famous landmarks and more to provide thorough learning opportunities for your children.
Delaware State Study
Delaware Literature and Research Resources
All About Delaware
Year Delaware became a State
January 9, 1788 – One of the original 13 colonies
State Capital
Dover
State Abbreviation
DE
State Population
974, 764 (2019 est.)
State Size
2,489 square miles (ranking 48th in size)
State Name Origin
The state of Delaware derives its name from the Delaware River, which was named in honor of Thomas West, Lord De La Warr who was the governor of Virginia when the river was discovered in 1610.
State Motto
'Liberty and independence' was adopted as the state motto in 1847 when it was added on a ribbon underneath the state seal.
State Nickname
The First State – Delaware was the first state to ratify the Constitution of the United States on December 7, 1787. December 7th, Delaware Day, is celebrated each year as a holiday in Delaware. The Nickname was officially adopted in 2002 when requested by the first-grade class of Mrs. Anabelle O'Malley of Mt. Pleasant Elementary School.
Other nicknames include: "The Diamond State", "The Blue Hen State", and "Small Wonder".
State Song
Our Delaware: Song of the Dimond State was written for a statewide contest by George B. Hynson and William M.S. Brown and has a verse for each county of the state. It was adopted as the state song in 1925.
State Flag
The background of the state flag is a colonial blue color. It has a buff-colored diamond in its center bearing the state seal, underneath which is the date December 7, 1847, the date that Delaware ratified the Constitution.
State Bird
The Delaware blue hen was adopted as the state bird on April 14, 1939. During the Revolutionary War, it is said that colonial soldiers from Delaware brought blue hens with them when they went off to war. When they were not fighting, they would amuse themselves by holding cockfights. The blue hen became known among the American troops for its fighting abilities, thus in battle, the valiant Delaware soldiers were often compared to these fighting cocks.
State Tree
The American holly tree was adopted as the state tree of Delaware on May 1, 1939. It is also known as Christmas holly.
State Freshwater Fish
In 1981, the weakfish was adopted as the state fish of Delaware.
State Wildlife Animal
The grey fox, indigenous to Delaware, was adopted as the state wildlife animal on June 10, 2010.
State Butterfly
June 10, 1999, the tiger swallowtail was chosen to be the state butterfly.
State Marine Animal
The horseshoe crab was chosen as the state marine animal on June 25, 2002. More horseshoe crabs live in the Delaware Bay than anywhere else in the world!
State Fossil
Belemnite became the Delaware state fossil in 1996.
State Star
On June 30, 2000, Delaware became the first state to have a star registered in the International Star Registry. The Delaware Diamond is located in Ursula Major and can be seen with binoculars or a telescope.
State Flower
The peach blossom was adopted as the Delaware state flower in 1895.
Geography
Major Cities

Pike Creek

Brookside

Claymont

Wilmington Manor

Seaford

Middletown

Smyrna

Edgemoor

Elsmere

Georgetown
Rivers

Appoquinimink River

Broadkill River

Choptank River

Christina River

Delaware River

Hershey Run

Indian River

Leipsic River

Little River

Mispillion River

Murderkill River

Nanticoke Rive

Pocomoke River

St. Jones River

Sassafras River

Simons River

Smyrna River

Blackbird Creek

Brandywine Creek

Broad Creek

Lingo Creek

Marshyhope Creek

Mill Creek

Naamans Creek

Pepper Creek

Red Clay Creek

Shellpot Creek

White Clay Creek

Lakes

Lums Pond

Millsboro Pond

Records Pond

Silver

Trap Pond

Forests
Highways
Interstate 95 – North and South

Interstate 295 – East and West

Interstate 495 – Northeast and Southwest
National Parks
State Parks
Famous Landmarks
Famous People
Caesar Rodney

(October 7, 1728- June 26, 1784) was born in Kent County while Delaware was merely a colony. He was an American founding father and president of Delaware during the Revolutionary War. He was also one of the signers of the Declaration of Independence.

George Read

(September 18, 1733- September 21, 1798) was born in the colony of Maryland and later moved to Delaware where he served as President for one year. He was one of America's founding fathers and is one of only two statesmen who signed all three of the most important United States documents: The Petition to the King of 1774, the Declaration of Independence, and the Constitution of the United States.

E.I. du Pont

(June 24, 1771- October 31, 1834) was born in France, but came with his father to live and establish his business in the United States in 1800. By 1802 he had established his home and business, E. I. Du Pont de Nemours and Company, on the Brandywine Creek in Delaware. His gunpowder manufacturer company grew to be the largest chemical company in the world and is now known as Du Pont de Nemours, Inc.

Henry Heimlich

(February 3, 1920- December 17, 2016) born in Wilmington, DE, was a medical surgeon and inventor who is most well-known for inventing the Heimlich Maneuver. He also invented the Micro Trach (the portable oxygen system used by ambulances), and what is known as the "flutter valve" which is used to drain blood and air out of the chest cavity.

Clifford Brown

(October 30, 1930- June 26, 1956) born in Wilmington, DE was an American jazz trumpet player and composer. His compositions Sandu, Daahoud, and Joy Spring are Jazz standards today. Clifford Brown was awarded "New Star of the Year" in Downbeat magazine in 1954. Two years later, in 1956, he died in a car accident.

Delino DeSheilds

(January 15, 1969- present), also known as Bop, was born in Seaford, DE. He is a former professional baseball player and a current first base coach for the Cincinnati Reds. During his career as a second baseman, he played for the Expos, Dodgers, Cardinals, Orioles, and the Cubs.

Joe Biden

(November 20, 1942- present) was born in Pennsylvania but his family moved to Delaware when he was 10 years old where he lived and went to university. In 1973, he became a senator for the State of Delaware. He became Vice President to Barack Obama in 2009 and in 2021 he became the 46

th

president of the United States of America.
Interesting Facts
Delaware's altitude is approximately 60 feet above sea level making it the lowest state in the Union.

Delaware has only 3 counties making it the state with the fewest counties.

Despite its size, Delaware is the state with the highest percentage of Ph. D's and the state with the most patents.

Delaware was the first state to fly the colonial flag.

Delaware was home to the very first John Deere tractor.

The first beauty contest in the United States was held in Delaware and Thomas Edison was one of its judges!

Delaware had no national monument until 2013!

Delaware enjoys the highest internet connection speed in the world apart from South Korea!
Delaware Learning Resources
What did your children enjoy learning the most about the state of Delaware?