Fall can be a tricky time of year to get your children back into the routine of reading, after a summer of fun in the sun without the constraints of a strict schedule, it's not easy to get back into a routine of reading. This Fall Reading Bingo Card can make the transition back to homeschooling a bit easier for kids of all ages!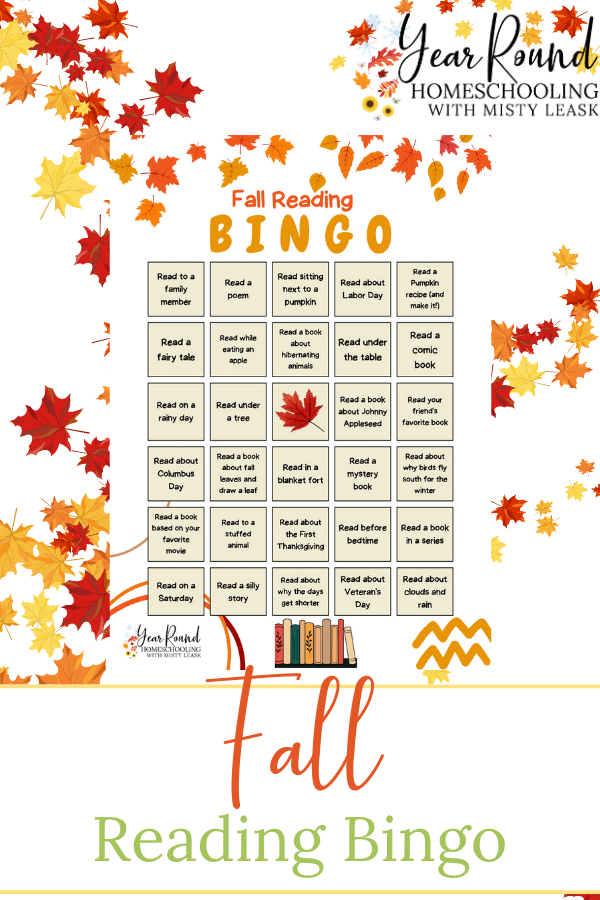 Many children view reading as drudgery; especially if reading doesn't come as easy for them or they don't find it to be their favorite activity.
As parents, we can either confirm their idea of reading being a drudgery, or we can help them discover the fun in reading even if it never becomes their favorite activity. It's all in the approach.
The great thing about reading is that you can take your book with you wherever you go. Plus, nowadays it's even easier to carry stacks of books with you by investing in an e-reader. Reading has never been more flexible or portable than it is today.
One way we can inspire our reluctant readers is by pairing reading with a fun or silly activity. Making this simple change can do wonders in changing how your child views reading, and may help to inspire them to think of other fun things to pair up with reading to take reading from being a drudgery to being exciting.
That is why this Fall Reading Bingo Card is a must-have for every mom of a reluctant reader.
The Fall Reading Bingo Card is filled with 29 fun, fall-themed activities and challenges paired with reading to help inspire your child to view reading differently than before. Some of them include: Read under a tree, read a pumpkin recipe and make it and read about why the days get shorter.
The great thing about the Fall Reading Bingo Card is that you can use it in a lot of different ways.
You can think of a special activity or award for your child when they reach their first BINGO, and an extra-special one if they fill up the whole card. The great thing is that there are 30 spaces for all of fall, so the challenge isn't too hard to reach.
You can do each challenge as a family to help make it more fun and even create a bit of competition with prizes.
You can even create a reading club and encourage your child to do the Fall Reading Bingo challenge with their friends and plan a special field trip when everyone fills up their card.
There are many ways you can use the Fall Reading Bingo Card to help make reading fun for your child.